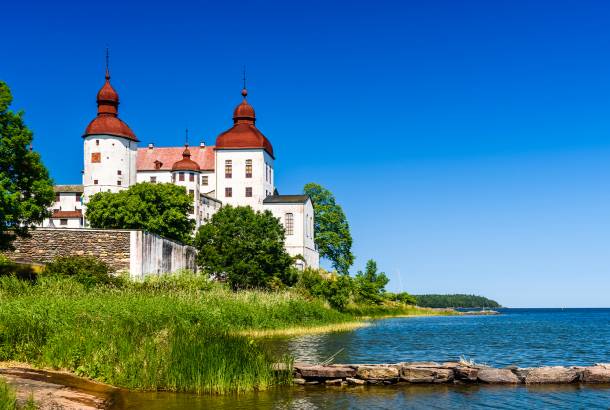 If you're looking to make Sweden your next travel destination, then make sure to have a read of our guide to visiting. It's packed with useful information about shopping, drinking water, Wi-Fi, what to eat and much more!
What vaccinations do I need for Sweden?
You should seek medical advice from your local health practitioner before travelling to Sweden and ensure that you receive all of the appropriate vaccinations. Just make sure you're up to date for recommended vaccinations for your home country, including measles, mumps and polio. Other vaccines to consider are Tetanus and Tick-borne Encephalitis. Visit the NHS Fit to Travel page or the CDC Traveler's Health for more information.
Is it safe to drink the tap water in Sweden?
Sweden's tap water is some of the cleanest in the world. It's safe to drink water from taps and also from drinking fountains
What's the food like in Sweden?
Swedish cuisine is a delightful reflection of the country's rich cultural heritage, diverse landscapes, and the ever-changing seasons. It blends traditional flavors with modern innovation, creating a unique and inviting culinary experience.

At the heart of Swedish cuisine is its strong connection to the sea and lakes. With an extensive coastline and numerous water bodies, fish and seafood are integral to Swedish culinary traditions. Herring is a classic staple, often served in various pickled forms, while gravlax, a dish of raw salmon cured with salt, sugar, and dill, is another iconic seafood specialty. Smoked salmon, cod, and crayfish are also beloved choices for Swedish diners. Meat, particularly beef and pork, plays a significant role in Swedish cuisine. Swedish meatballs (kottbullar) are internationally recognized and cherished. They often accompanied by lingonberry sauce and creamy mashed potatoes which are a dietary staple in Sweden and served in many forms.

Sweden's dairy products are diverse and prominent, with filmjolk, a fermented milk product similar to yogurt, being a favored choice. The country's tradition of enjoying coffee with dairy-based pastries is known as "fika," creating a special social ritual. Swedish pastries, such as cinnamon buns (kanelbullar) and cardamom buns (kardemummabullar), are a delight to the palate, often enjoyed with a warm cup of coffee or tea.

Swedish cuisine is a celebration of the country's natural bounty, showcasing its connection to the land and sea. It invites visitors to explore a rich mix of flavors and culinary traditions, from hearty comfort food to innovative, contemporary creations. Whether savouring a bowl of warming pea soup on a cold winter day or enjoying a cinnamon bun during a fika break, Swedish cuisine offers a diverse and delightful culinary journey that beautifully encapsulates the essence of Sweden.
Is it standard to tip in Sweden?
Tipping in Sweden isn't necessary as the service charge is often included in the bill. Even so, tipping does still happen as even though it is not expected it is welcome. If you do choose to tip it is common to round up to the next big number. For example from 270 SEK to 300 SEK.
Is it safe for solo female travellers in Sweden?
Sweden is generally considered a safe and welcoming destination for solo female travelers. The country boasts low crime rates, efficient public transportation, and a culture of respect for personal space and boundaries. However, as with any travel, it's important to exercise common-sense safety precautions. Be aware of your surroundings, especially in crowded tourist areas, and safeguard your belongings. Stick to well-lit and populated areas at night and inform someone you trust about your travel plans. Overall, Sweden offers a secure and picturesque backdrop for solo female adventurers to explore.
What is the duty-free allowance for Sweden?
Goods not subject to duty (From EU Countries):

Tobacco products: 800 cigarettes or 200 cigars or 1kg of other tobacco products.
Alcoholic beverages: 10 liters of spirits over 22%; 20 liters of alcoholic beverages, other than wine or beer with less than 22% volume; 90 liters of wine; 60 liters of sparkling wine; 110 liters of beer
Goods not subject to duty (From non-EU Countries):
Tobacco products: 200 cigarettes or 50 cigars or 250g of other tobacco products.
Alcoholic beverages: 1 liter exceeding 22% alcohol volume; 2 liters of alcoholic beverages, other than wine or beer with less than 22% volume; 4 liters of wine; 16 liters of beer
Prohibited goods (into Sweden):
Weapons, firearms and ammunition require import permission from the Swedish Police.
Cats and dogs require a health inspection at first point of entry.
Endangered animals, plants, and their derivative products protected under the Convention on International Trade in Endangered Species (CITES) may require protected species permits.
A health certificate is required to bring in meat, milk, and other dairy products from non-EU countries.
Narcotic drugs and all performance enhancing substances require permission.
What is the currency in Sweden?
The official currency in Sweden is the Swedish Krona. Check OANDA for latest exchange rates.

British Pounds, US Dollars and other major currencies can be exchanged at ATMs or a bureau de change prior to departure. However, Sweden is a largely cashless country and many restaurants and shops don't accept cash. Credit cards such as Visa and Mastercard are widely accepted in most of the major hotels, restaurants and shops. Use of American Express is not as common.

Traveler's Checks are not recommended as they're often difficult to exchange and incur high fees.
What do things cost in Sweden?
Sweden is known for its high standard of living which comes with a higher cost of living, and many items and services can be relatively expensive compared to other countries. The cost of things in Sweden can vary depending on the region, with cities generally being more expensive than rural areas. Eating out in Sweden can be costly. A budget meal at a local restaurant can cost around USD $10 - $20 per person, while a mid-range meal can range from USD $30 - $50 per person.
What sort of plugs do I need for Sweden and what is the voltage?
Standard voltage is 230 volts and Sweden primarily uses two round-pin plugs. We recommend that you pack a universal travel adaptor. You will need a voltage converter and plug adaptor in order to use U.S. appliances.
Is Wi-Fi widely available in Sweden?
As a modern European nation, you won't be surprised to hear that Wi-Fi is easy to find across Sweden. Most restaurants, bars, cafes and hotels are likely to have Wi-Fi, especially in the big cities. As with anywhere, connection may be a bit patchier in the countryside.
What time zone is Sweden in?
Sweden lies in the Central European Time Zone, which is 1 hour ahead of Greenwich Mean Time (GMT +1).

During summer, daylight-saving is observed in Sweden, where the time is shifted forward by 1 hour so it becomes 2 hours ahead of Greenwich Mean Time (GMT +2). After summer the time in Sweden is shifted back by 1 hour to Central European Time.