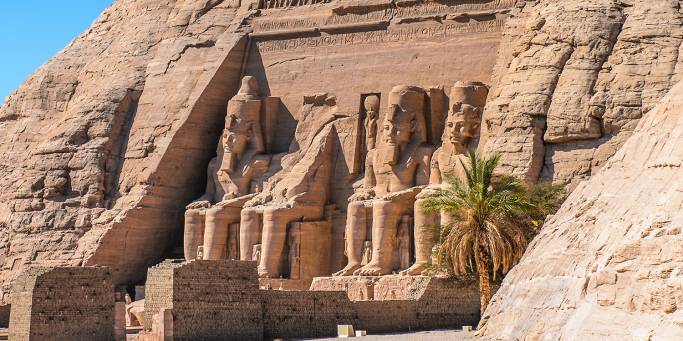 Possibly the most awe-inspiring temple of all ancient Egypt, with its gargantuan rock-cut facade is the magnificent Abu Simbel. Guarding the entrance to the temple are 4 colossal seated statues of the pharaoh himself, staring out across Lake Nasser.

Over the centuries the temple was all but lost to humanity due to shifting desert sands, however it was rediscovered by chance in 1813 by a Swiss explorer and eventually in the early 60's an excavation team restored it and once again the full glory of the temple of Abu Simbel was revealed to the modern world. This excursion is not to be missed!

This add-on can be added to any group tour that travels through Aswan.
| Prices | Dates | Price/Person | Single Supp. |
| --- | --- | --- | --- |
| Abu Simbel by Road | All Dates | $255.00 | - |
Additional Information
A minimum of 2 persons is required to operate this trip. Why not join one of our Sun Festival tours? The incredible Sun Festival of King Ramses II event at Abu Simbel is available twice a year.
What's Included
Return journey by road in a private vehicle from Aswan - Abu Simbel (approximately 4 hours each way).
Guiding of the temples within the site by a qualified Egyptologist tour guide.
Entrance fees excluded, budget approx USD$20.