Where to Travel in April 2024
Spring has officially arrived and here's where's best to enjoy the season
Where to go on holiday in April
In the Northern Hemisphere spring has officially arrived, making it the ideal time to witness the beautiful cherry blossoms in Japan or to go trekking through the Himalayas, as the climate begins to warm up. You'll also find cherry blossoms in parts of China and South Korea. The Middle East is ideal at this time of year - the heat has yet to reach its peak and so sightseeing around the ancient sites is far more pleasurable. It also means the Red Sea resorts are great for a beach break. The weather is still good across Central America, with calm winds and only small showers before the climatic chaos of the approaching wet season. Easter often falls in April, and we offer all manner of trips in some of the best places to visit at Easter!
If you're looking for a wildlife adventure, cruising the Amazon is a great option, with high water levels making many more canals navigable by boat. The wet season in southern Africa means Victoria Falls is at its most impressive and it's whale watching season off the west coast of Sri Lanka. To help you plan a holiday for April 2024, we've put together some of the top destinations and experiences at this time of year, as well as our guide to where's hot for a beach break and where to go for a wildlife adventure.
Best Festivals and Events in April
April is a month of renewal for many cultures, as the new lunar year begins and the season of spring breathes life into people and landscapes. It's a month of frivolity and reflection, though in other parts of the world it's a time to remember the tragic events of the past. Here are some of the best festivals and events happening in April each year. If you're struggling to decide where to go in April, then why not time your trip to coincide with one of these annual events?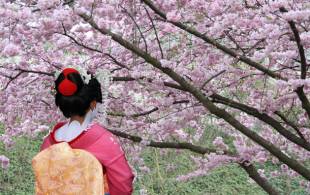 Where? Countrywide, Japan

For a few days in April, most of Japan is decorated with delicate pink cherry blossoms and a sense of fun and optimism prevails. This is Japan at its most picturesque, with parks in bloom and ancient castles framed by pretty flowers. The Japanese will often picnic under trees, sharing food and drinks with friends and family. It's an extremely popular time to visit Japan so book early.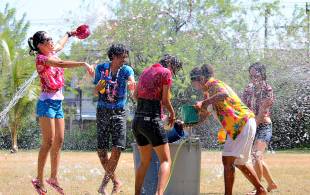 Songkran
Where? Thailand

April heralds the lunar New Year in many Buddhist countries, but Thailand's version of Songkran is the best-known. Over the course of a weekend, it's celebrated with parades of temple statues, traditional dance performances and playful water throwing. Similar water-based festivities are held in neighbouring Laos and Cambodia too.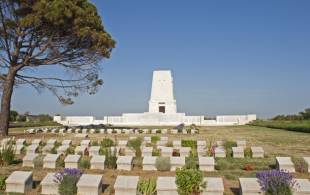 Where? Gallipoli, Turkey

Every year on the 25th April, visitors from around the world flock to Gallipoli to commemorate the deaths of thousands of soldiers who lost their lives during the fateful ANZAC (Australian and New Zealand Army Corps) campaign during WWI. From the dawn service, to the parades held at Lone Pine and Chunuk Bair, it's an evocative time to visit Turkey.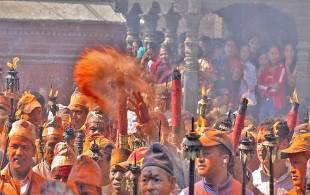 Sindoor Jatra
Where? Thimi, Nepal

Holi has become the best-known Hindu festival in the world, but in Nepal, little-known Sindoor Jatra is an equally riotous display of colour and merriment. A procession of over 30 palanquins are carried by male representatives of the local villages as crowds of people hurl vermillion powder at the parade. The highlight of the event is the arrival of Ganesha's effigy.
Best Beach Destinations in April
As temperatures continue to rise in the northern hemisphere and the southern half of the world sees temperatures start to drop, the best beach destinations are slowly moving north. April is a very transitional month, with unpredictable weather in the majority of places - the odd shower is common wherever you go, however, there's still a good offering of places that are great at this time of the year.
Best Wildlife Destinations in April
April is a month of climatic transition as the rains of the wet season start to disperse, ushering in the dry season. In terms of weather this can be a great time to visit Africa as temperatures are moderate and there's not as much rainfall as in previous months. The landscapes are still lush from the rains so it's not necessarily the best time to be on safari but some destinations still offer a good wildlife experience.
Recommended Tours for April
Still can't decide where to travel in April? Here's a selection of our tours that are perfectly suited for the month, from the deserts of Jordan to the beaches of Vietnam.
See more of our Travel Calendar