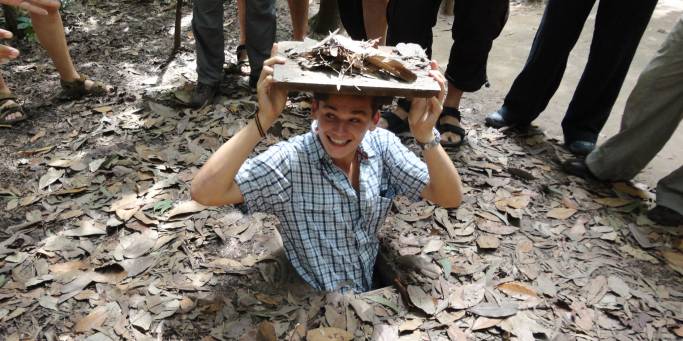 This add-on is a 2-day tour that includes the Cu Chi Tunnels that can be booked in conjunction with any of our SE Asia Signature group tours, city breaks or private tours.

Nowhere else is the tenacious spirit of the Vietnamese more evident than in the underground tunnels of Cu Chi. Giving a unique insight into the dark times of the Vietnam War when an under supplied army of guerrillas defeated one of the most well-armed military powers in the world, the US.

The Cu Chi area was the site of some major battles during the Vietnam War and one of the most heavily bombed in a failed operation to destroy the tunnel network. The Cu Chi tunnels are a 250 km long underground maze which played a significant role during the war, even acting as the base of operations during the Tet Offensive in 1968. The Viet-Cong were constantly expanding and repairing the network of tunnels and the three levels penetrated deep into the ground and included living areas, weapon factories, field hospitals, kitchens and even a tiny cinema for down time.

Often lead by a relative of a Viet Cong fighter in green fatigues you'll walk the bush trails discovering grass covered trapdoors, ingenious, yet gruesome booby traps and hidden underwater entrances in rivers. There is also an opportunity to go underground and pop off a few rounds at the firing range.
| Prices | Dates | Price/Person | Single Supp. |
| --- | --- | --- | --- |
| Cu Chi Tunnels - 2 days | All Dates | £110 | £45 |
Additional Information
Departs: Monday, Ends: Tuesday. Plus with our Full Moon Festival tour in 2021: starts Fri 24 Sep 2021, ends: Sat 25 Sep 2021.
Excludes entrance fee budget USD$4.50
Single travellers booking this add-on will be required to book a single room. Additional nights' accommodation in Ho Chi Minh City are available should you require
What's Included
Includes return transportation from Ho Chi Minh City to Cu Chi. Guided tour of the tunnels and one night 4 star/special class hotel upon your return to Ho Chi Minh City
The tour departs at approximately 9am and returns to Ho Chi Minh City at approximately 2pm, allowing free time for you to further explore this exciting city
If booking this add-on in conjunction with a group tour your departure transfer to the airport (included in your group tour) will be offered at the completion of your add-on
Available On: