Discover the main highlights and attractions of Northern Italy on this 6-day small group tour. Take in the enchanting beauty of Venice's canals, art, and architecture. Immerse yourself in the culture of Verona, the city of Romeo and Juliet. Explore the stunning landscapes and crystal-clear waters of Lake Garda, a favourite of artists and poets. Enjoy leisurely strolls and picturesque towns along the way. This tour offers a perfect blend of history, art, and natural beauty in one of Europe's most picturesque regions.
Trip Highlights
Orvieto - Wander along pedestrianized streets and admire the architecture of this idyllic Italian village
Bologna - Spend two nights in this picturesque city, with free time to explore independently and tuck into delicious Ragu alla Bolognese
Venice - Enjoy a guided walking tour of this famous and historic canal city, plus free time to sightsee independently
Verona - Visit the the setting of 'Romeo and Juliet' and see the famous balcony whilst exploring the city
Ravenna - Explore this UNESCO-listed city of early Christian and Byzantine architecture
Padua - Discover what is believed to be the oldest city in Italy and scientific heart of the Renaissance
Valdobbiadene - Indulge in optional wine tasting in the home of the best prosecco and visit nearby Villa Pisani, once owned by Napoleon
Lake Garda - Make a stop at one of the most well-known Italian Lakes, admiring the views of the shimmering waters and surrounding mountains
Included
5 breakfasts
Escorted by an English-speaking guide
Two-hour guided walking tour of Venice
20kg luggage - see Trip Notes for details
5 nights in 3-4 star hotels
Transportation in an air-conditioned luxury mini-coach with a local driver
Entrance to Villa Pisani
Tourist taxes
Not Included
International flights & visas
Meals not specified in itinerary
Entry fees unless specified
Airport transfers
Tipping - an entirely personal gesture!
Rome - Orvieto - Bologna. We leave Rome's hustle and bustle for the serene charm of Orvieto, an idyllic Italian village known for its traffic-free streets and exquisite wines. Visit the vibrant cathedral and explore at your own pace. Next, venture through Parco Naturale Le Balze, a landscape that inspired Leonardo da Vinci, with striking balze rock formations, sulphur streams, and stunning vistas.

We make a lunch stop in the quaint hamlet of Piantravigne, offering authentic Italian cuisine. Satisfied and reinvigorated, we continue our journey to the enchanting city of Bologna, where we spend the night.

Please note: Pick up point for this tour is at 8:15 on day 1 (tour departs at 8:30) - Rome Pick Up, Hotel American Palace, Rome.
Overnight: Bologna
Exploring Ravenna & Bologna
Bologna - Ravenna - Bologna. In the morning, we embark on a half-day trip to Ravenna, renowned for its mosaic masterpieces and unique blend of early Christian and Byzantine architecture. With eight UNESCO-listed sites, it's an unforgettable destination and the final resting place of Dante Alighieri.

After lunch, we return to Bologna, and the afternoon is at leisure. This Renaissance city, a hub of art and intellectual innovation, boasts the western world's oldest university. Stroll along the extensive UNESCO-listed porticos, uncover the university's secrets, or savour the flavours of Ragu alla Bolognese.
Overnight: Bologna | Breakfast
The Po Delta, Este & Padua
Bologna - Po Delta - Padua. It's time for a sun-soaked adventure as we begin in Porto Tolle. There is an optional boat trip along the Po Delta. The Po is Italy's longest river, which offers a chance to spot rare migratory birds - lunch is provided on this optional trip. Returning to solid ground, we journey to Este, a picturesque town with a 3,000-year history. Here we enjoy free time to stroll along city walls or visit the moated Medieval castle.

Next, we head to Padua, believed to be Italy's oldest city, where we stay for three nights. This city at the intersection of science and religion is home to the revered St. Anthony's tomb and was a hub of Renaissance-era scientific breakthroughs.
Overnight: Padua | Breakfast
The Floating City
Padua - Venice - Padua. Today, we explore Venice, known as 'the Floating City,' with its 177 canals, 350 gondoliers, and unparalleled cityscape.

Venice's history is rich with wealth, trade, and power. Built on 118 islands, it hosts world-famous festivals and boasts a unique painting style and architecture, making it a Renaissance masterpiece on par with Rome and Florence. Upon arrival, we enjoy a two-hour guided walking tour, taking in highlights such as St Mark's Square. There is then free time for you to further explore at your own pace. From an excursion on one of the city's famous gondolas, to exploring renowned galleries, use this time as you wish. In the early evening, we return to Padua.
Overnight: Padua | Breakfast
Wines, Spirits & Castles
Padua - Valdobbiadene - Padua. Our first stop of the day is Villa Pisani, where we explore fantastic art exhibitions within this prime example of late baroque architecture. This grand estate was once owned by Napoleon, who gifted it to his stepson. Entrance to Villa Pisani is included. Next, we head to Valdobbiadene, where we can savour the region's finest prosecco. An exclusive optional tasting awaits, promising the freshest prosecco you've ever experienced.

Our indulgent journey continues in Bassano del Grappa, offering a chance to sample sweet and potent Grappa. If you've had your fill of spirits, admire the castle and the town's famous old bridge instead. Our day concludes as we return to Padua for your final evening in this historic town.
Overnight: Padua | Breakfast
Verona, Lake Garda & Milan
Padua - Verona - Garda - Milan. We begin our final day with a visit to Verona, the backdrop of famous William Shakespeare play, Romeo and Juliet. Spend time reminiscing at the famous balcony, marvel at a grand Roman Colosseum, and stroll through ancient piazzas at your leisure. Next, we head to Lake Garda, cherished by artists, poets, and travellers for its crystal-clear waters and Dolomite vistas since Roman times. Take in the incredible views of this Italian lake before we continue to Milan, where our tour ends.

Please note: This tour finishes at 19:00 - Milan Drop Off, Business Palace Milan, Milan.
Breakfast
The hotels listed below are ones which we frequently use on this tour. We reserve the right to substitute these hotels to ones of a similar standard.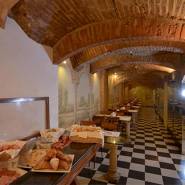 Zanhotel Tre Vecchi, Bologna
Zanhotel Tre Vecchi, located in the heart of Bologna, is a timeless gem with a prime location. Situated near the city's iconic landmarks, including Piazza Maggiore and the Two Towers, it offers guests unparalleled access to Bologna's rich culture and history. The hotel's rooms blend classic charm with modern comfort, providing a cosy and inviting atmosphere. Amenities include a refined restaurant serving delectable Italian cuisine and a bar. Zanhotel Tre Vecchi is the ideal choice for travellers eager to immerse themselves in the enchanting ambiance of Bologna while enjoying a comfortable and convenient accommodation.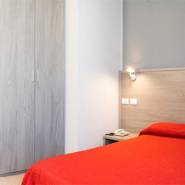 Hotel Al Prato, Padua
Nestled in the heart of Padua, Italy, Hotel Al Prato offers a perfect blend of convenience and tranquillity. Its central location places guests within walking distance of the city's historic landmarks, including the iconic Scrovegni Chapel and the vibrant Prato della Valle square. The hotel's rooms are tastefully decorated, providing a comfortable and inviting atmosphere for a restful stay. Amenities include free Wi-Fi, air conditioning, and a delightful breakfast to start the day right. Hotel Al Prato is an excellent choice for travellers eager to explore Padua's cultural treasures while enjoying a peaceful and comfortable accommodation in this charming Italian city.
At a Glance
Range
Trip Type
Starts
Rome
Ends
Milan
Departs
Mondays
Group Size
Min 2 / Max 16
Hotel Rating
3-4 star hotels
Tour Guide
Yes - escorted by a tour guide
Meals
Breakfast: 5
Minimum Age
15 yrs, accompanied by an adult
Arr. Transfer
No
Dep. Transfer
No
OTG002762
Best of Northern Italy - 6 days
Europe
Europe
false
https://www.onthegotours.com/za/Italy/Best-of-Northern-Italy-6-days
https://www.onthegotours.com/repository/Best-of-Northern-Italy-main-image--couple-in-Bologna-821261695116926_crop_flip_300_300_f2f2f2_center-center.jpg
Group_Tours