India - a Safari Destination
Within a kaleidoscope of color lies some of India's most extraordinary landscapes from the scorching deserts of Rajasthan to the cold, rugged mountains of the Himalayas, the steamy forests of the Western jungle to the clear blue waters of the Indian Ocean. Each is a veritable hotbed of nature's biodiversity to rival anything that its better-known safari destination of Africa can offer. Forget Africa's 'Big Five' of elephant, rhino, lion, leopard and buffalo of safari fame - with India you have the 'Big Eight' adding wolves, bear and the majestic tiger to your safari tick list. India remains the best place to spot these magnificent creatures in their natural habitat and is home to nearly 70% of the world's tiger population.
Not long ago, wild tiger numbers were in freefall, in India and the other nations which tigers call home. In 2010 there were as few as 3,200 wild tigers left. But thanks to concerted international conservation efforts, the tide does seem to finally be turning. An ambitious effort to double wild tiger populations is paying off, and India now has so many tigers in some places that it is translocating them to other parts of the country to establish new populations in places where tigers have been driven to local extinction. The tiger is the top predator in its environment, so we know that if tigers are doing well, ecozystems are functioning well, with plenty of prey animals too. This is great news, but there is much more to do. Tigers used to number in the hundreds of thousands across Asia.
Recommended Tiger Tours in India
Here's our selection of India tours that include safaris in some of the most popular national parks for the chance to spot tigers. If you have a particular itinerary in mind, contact our tailor-made team who would be happy to put together your dream holiday with tigers and more.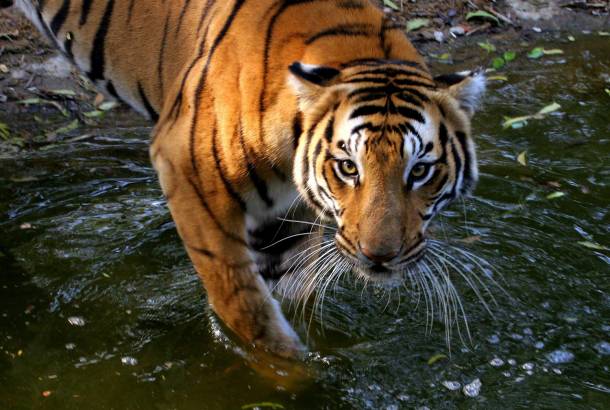 About Tigers
The Bengal tiger, India's most iconic animal, is one of the largest mammal predators alive today and the largest of the cat species. Male tigers can reach lengths of between 275-290cm with an colossal average weight of between 200-260kg whilst females reach lengths of 260cm and weigh in around 100-180kg. The characteristic black stripes of a tiger are as unique as human fingerprints and the color of their coats vary according to the geographic location and climate. In cooler and wetter climates, a thicker and longer coat appears more vivid orange whilst in warmer and drier climates, a thinner and shorter coat often means it's a more muted earthy tone.
Tigers are solitary and highly territorial animals, spending most of their time roaming their territory alone and hunting individually. In order to satisfy their needs, a male tiger's territory will overlap with the territory of up to seven females. Tigers hunt primarily during the day, using their incredible sight and sense of smell. Being carnivorous creatures, tigers prey on deer and wild pig. Unlike their big cat cousins, tigers are capable swimmers and are not afraid to cross rivers in the pursuit of their next meal.
Top Tiger Spots in India
India provides a whole host of incredible experiences for nature explorers keen to catch sight of a tiger. The key to your enjoyment is a little knowledge of your intended destination, a good guide, and a lodge that can not only meet your comfort needs and actualize your adventurous spirit, but ensures local communities and wildlife can benefit from your visit too.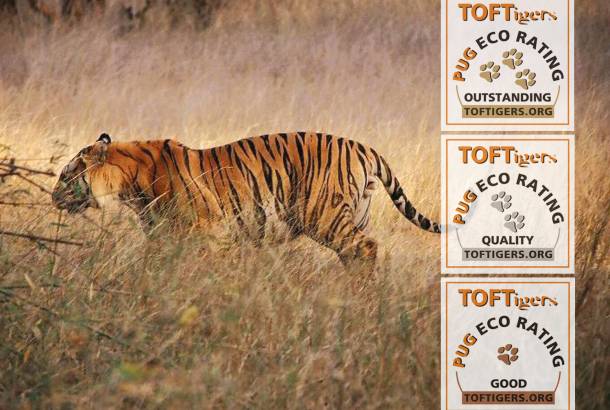 Look for the PUG kitemark before you book
Here's our top tiger reserves in India together with recommended lodge providers who have passed the Travel Operators for Tigers (TOFT) PUG eco rating certification, a benchmark for rural sustainability, local job creation and wildlife support.
All the lodges featured here are individually PUG eco-rated. Choosing a lodge that is PUG rated ensures you not only have a fabulous holiday but both wildlife and local communities benefit from your stay because the provider is operating in an eco-friendly way.
What the rankings mean:
GOOD:
These providers are low-impact. They make choices based on environmental and social responsibility, but have not yet attained best practice in sustainability.
QUALITY:
The providers are environmentally and culturally responsible. They are continuously working to better their operations and enhance their sustainable practices and are working to become exemplary industry leaders.
OUTSTANDING
: Exemplary industry leaders. These providers have a positive impact on the environment, local communities and their clients. They invest both time and money to maintain sustainable tourism practices.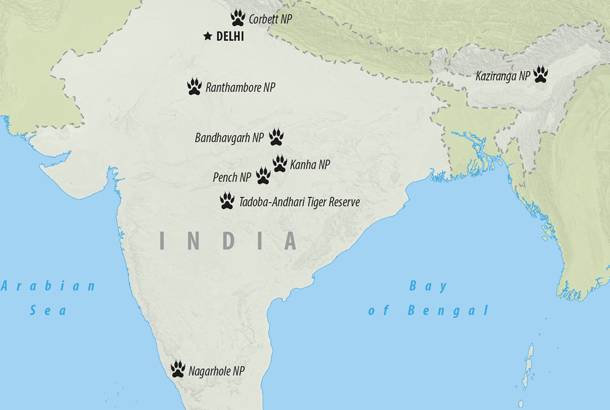 Ranthambore National Park
This desert reserve in the Araveli hills of Rajasthan is best known thanks to filmmakers and photographers capturing stunning images of tigers amongst its ruined mausoleums, looking over ancient fort walls, or walking besides glistening lakes. Its landscape alters from the verdant flush of green after the monsoons, when the park opens, to the stark and dry of the high summer, but both offer great opportunities for wildlife and bird spotting. Brimming with tigers and easily accessible from India's Golden Triangle, the Ranthambore National Park is a top choice for those with only a limited time in India wanting to make the most of their tiger safari.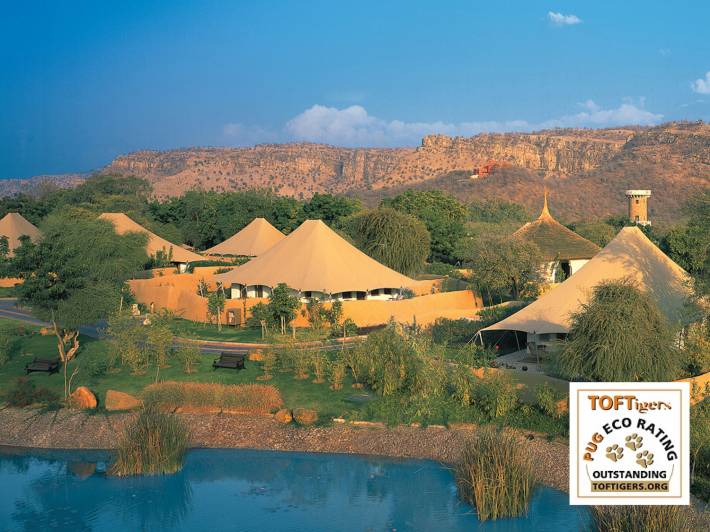 Oberoi Vanyavilas
Spread across twenty acres of landscaped garden, guests at the luxurious Oberoi Vanyavilas can enjoy superb panoramic views of the surrounding jungles from the property's observation tower guests. The luxury tents reflect the majestic caravans of the Raj era - featuring polished teak floorboards furnished with rugs and a centerpiece four poster bed, while the bathroom features a standalone bath tub looking out onto the private terrace. The tents also boast air-conditioning and WiFi.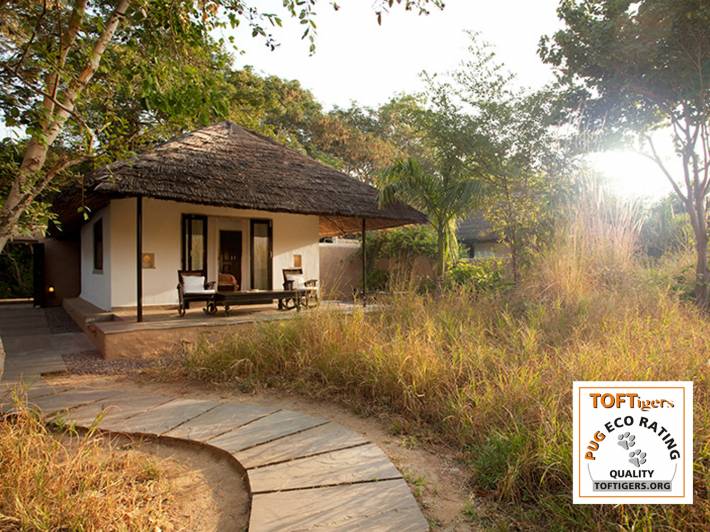 Khem Villas
Established in 1989, the Khem Villas sit in nearly 25 acres of wilderness that incorporates indigenous trees, open grassland and small bodies of water that attract an abundance of wildlife. Locally sourced materials have been used to build the unfussy accommodation, which ranges from spacious cottages with a private outdoor bath to permanent-style tents with hardwood flooring and bamboo showers. Guests can unwind at the Age Veda Spa with a range of services available.
Bandhavgarh National Park
Steeped in ancient history, Bandhavgarh contains noble hill fort, temples, 10th century shrines and hand-carved hermit caves. It's also full of tigers, 63 at the last count, of which a number of individuals and their cubs are habituated to vehicles. It's a very scenic park of evergreen Sal tree forests, meadows and sandstone hills. The Bandhavgarh National Park is also home to leopard and sloth bear, as well as a number of exotic birds including the Black Ibis and Malabar pied hornbill.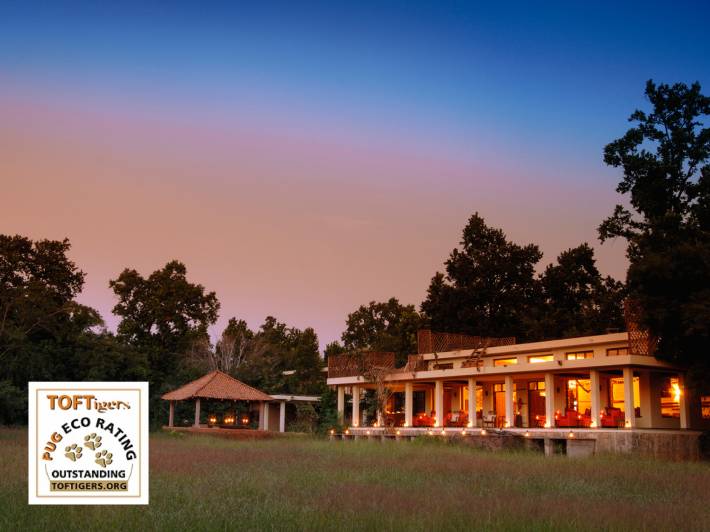 Mahua Kothi
The first of the Taj Safari Lodges, the Mahua Kothi sprawls over 40 acres of grounds with twelve brand-new cottage suites that feature high ceilings, a cozy fireplace and spacious verandah. The en suite cottages come with air-conditioning and WiFi access, and are furnished with rust and burnt orange local textiles. Fresh local ingredients are used in all meals, which can be enjoyed in the property's colorful vegetable garden, and signature cocktails are made with the sap of the local mahua tree.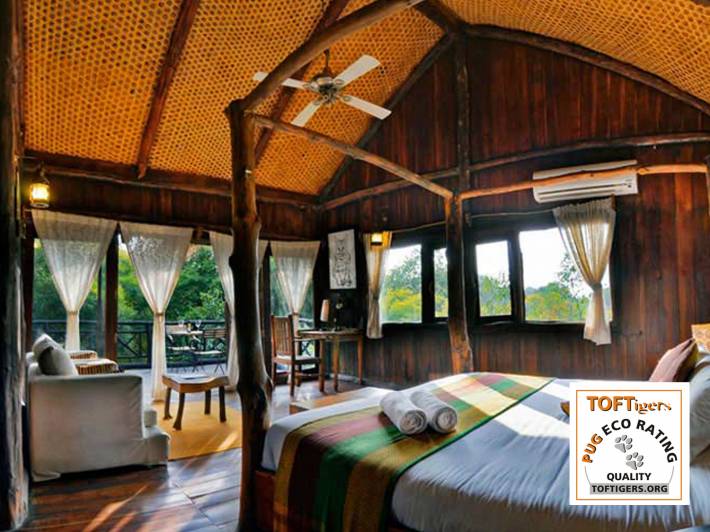 Tree House Hideaway
For a bird's eye view of Bandhavgarh from the comfort of your own room, the Tree House Hideaway is a unique choice with five tree houses that offer surprisingly elegant accommodation. The rustic exterior hides a contemporary living space with four poster bed, modern bathroom, balcony with loungers and writing table all furnished in earthy tones and local craft work. The property also has a Machan overlooking a water hole frequented by wild animals.
Pench National Park
Situated on the borders of Madhya Pradesh and Maharashtra, this booming tiger reserve offers visitors a plethora of wonderful wildlife and central Indian birdlife to enjoy with its moist deciduous forests, meadows, riverine and lakeside habitat. Its tiger population includes the tigress 'Collarwali' who recently brought up five cubs to adulthood and whose mother was featured in the BBC's 'Spy in the Jungle' series. It's believed that Pench National Park was the inspiration and setting for Rudyard Kipling's famous Jungle Book collection of stories.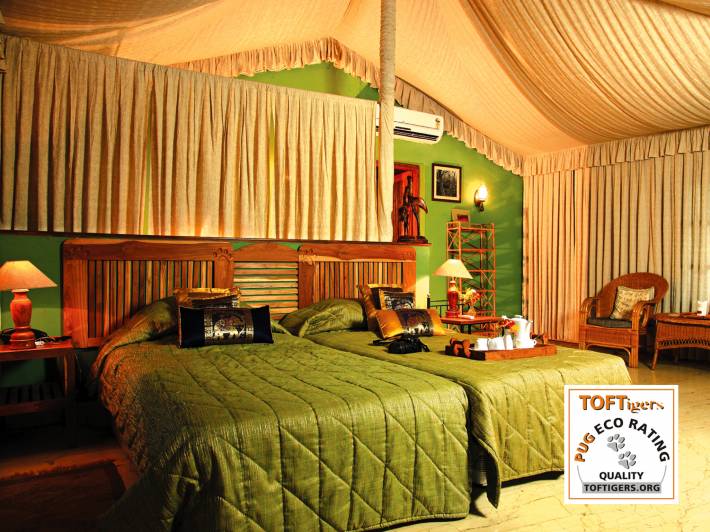 Pench Jungle Camp
Nestling among 12 acres of lush foliage and sprawling lawns, the Pench Jungle Camp is a perfect getaway for nature lovers with a choice of deluxe air-conditioned safari tents, cottages and rooms. The spacious tents feature wooden floors and canvas walls with colorful bedding, separate bathroom and private verandah. The outdoor pool is the perfect place to unwind after a hot day on safari and the camp also has its own on-site spa offering a range of treatments.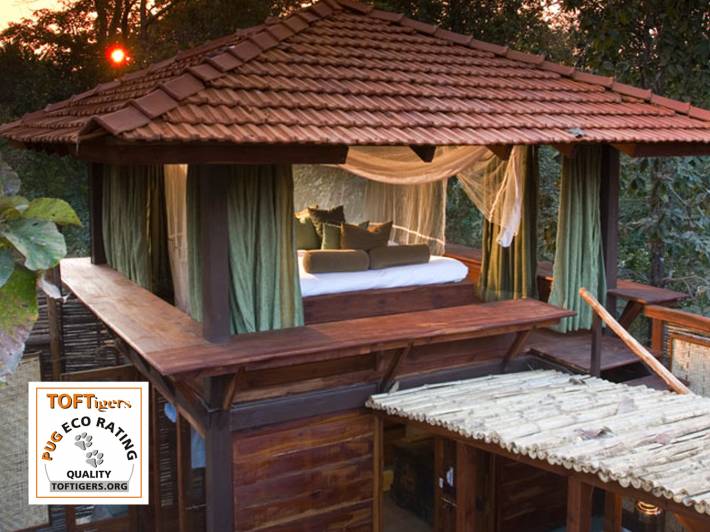 Baghvan
Situated by a lovely stream and surrounded by forest on the edge of the sprawling Pench National Park, Baghvan is a Taj property - offering all the luxury you would expect of this brand - with roomy individual bungalows featuring large courtyards and en suite bathroom. Stairs lead guests up to a Machan, a covered roof terrace above the bathroom for romantic sleep-outs with mosquito net, overhead fan and hookah pipes provided. The property also features a pool and spa.
Corbett Tiger Reserve
India's oldest and most prestigious national park, Corbett Tiger Reserve encompasses the popular Corbett National Park and is India's oldest and most prestigious national park. It was established in 1939 and also where Project Tiger was first launched. Spanning an area of 520 square kilometers that covers a variety of terrain from marshy depressions to riverine belts and expansive grasslands, Corbett shelters a healthy population of tigers as well as rare species including otters and the endemic fish-eating crocodile.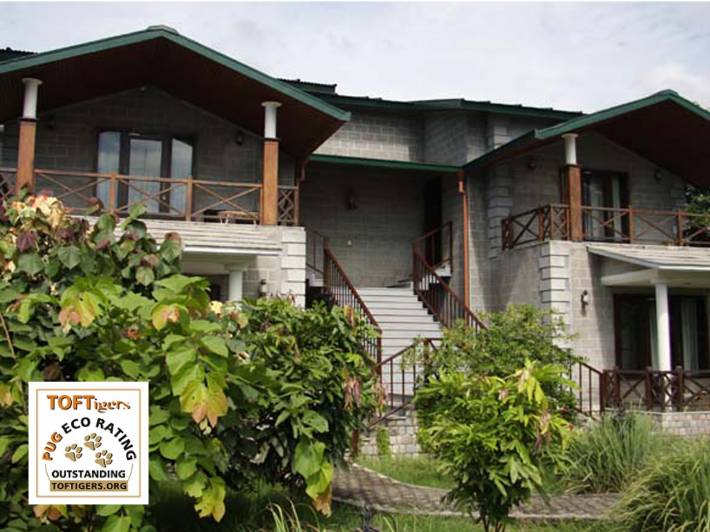 Aahana The Corbett Wilderness
The luxurious and eco-friendly Aahana resort touches the forests of Corbett National Park and offers guests elegant accommodation across 48 living units with beautifully designed plush interiors. Overlooking the Bijrani Zone of Corbett National Park, the private balconies are the ideal spot to enjoy superb views. International and local cuisine is served in the airy dining room while the Aarayogam Spa offers traditional Ayurveda- the ancient Indian art of healing.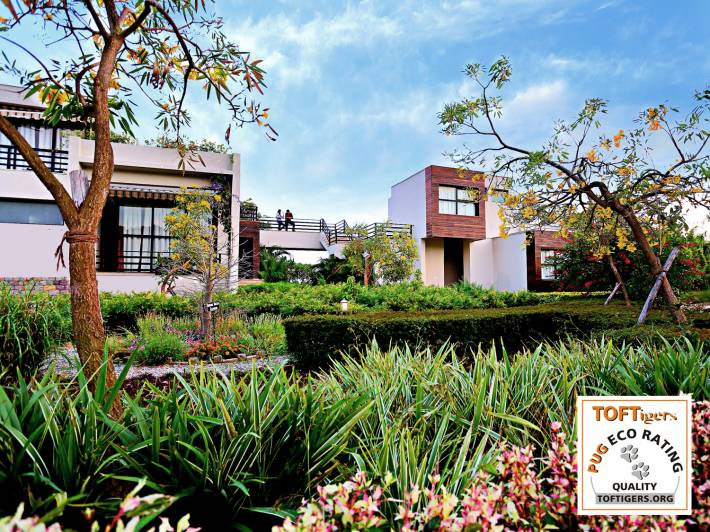 Golden Tusk Resort
Located close to the Jhirna and Dhela safari zones, this boutique property is spread across seven acres of landscaped grounds overlooking the river Dhela. The 40 well-appointed rooms offer a variety of lodging experiences from luxury tents to beautiful suites with stunning views. Guests can enjoy delicious meals with forest views from The Deck restaurant, positioned on a raised level, or relax in the swimming pool, Jacuzzi or spa.
Kanha National Park
One of the best known and oldest of India's parks, the four main ranges of Kanha National Park offer the visitor a unique insight into the once great central Indian forests that harbor herds of gaur (wild cow), spotted deer, barasingha deer and their adversaries tiger, wild dog and leopard. Large grasslands offer excellent viewing opportunities for avid wildlife watchers, and all accommodation is split between two main gates, Mukki and Kisli.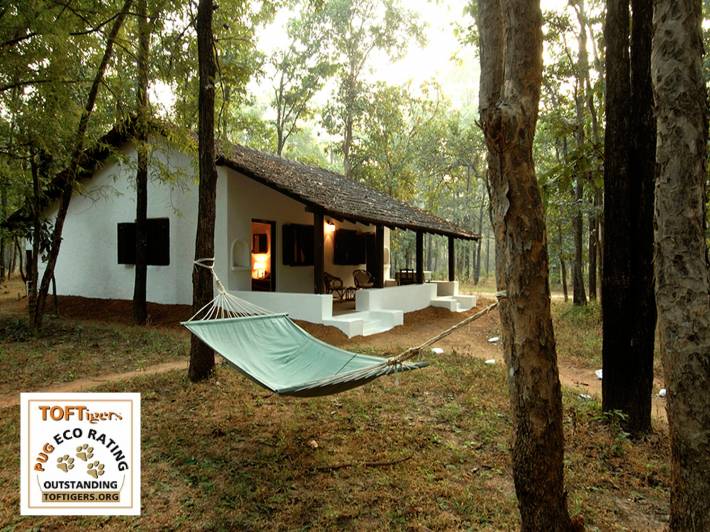 Kipling Camp
Set in the idyllic surrounds of central India's remote forests, the Kipling Camp was established in 1982 by a family of conservationists on the edge of Kanha National Park. The comfortable cottages has tiled en suite bathrooms with private verandahs where guests can enjoy the forest views. Within the property grounds is a waterhole frequented by thirsty wildlife. The Kipling Camp is also home to Tara, a friendly Asian elephant that loves to be bathed in the nearby river.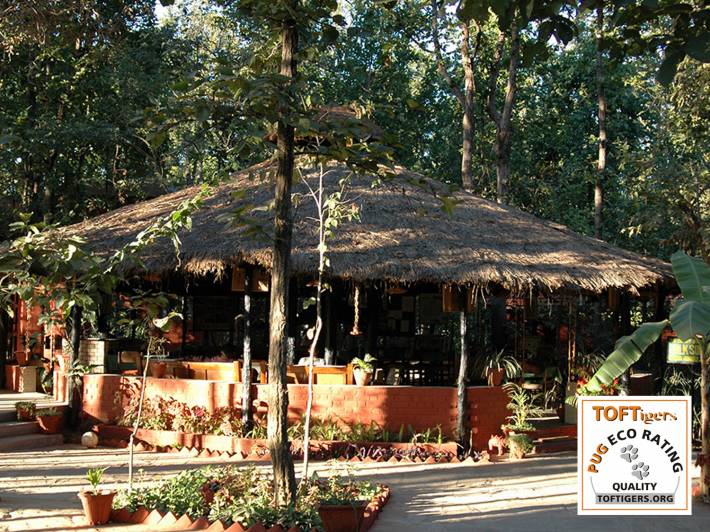 Kanha Jungle Lodge
Designed to perfectly blend with the natural environment of the surrounding jungle, this lodge is hidden within 11 acres of thick Sal forest close to the Mukki gate park entrance. 18 spacious rooms feature modern amenities alongside attached bathrooms and lounge chairs. The rustic dining hall is housed in a thatched roof hut and there is also an open-air seating area to enjoy meals under the stars. The knowledgeable resident naturalist oversees all safari activities.
Tadoba-Andhari Tiger Reserve
Little known until recently, this park in northern Maharashtra is open all year round and offers visitors a fascinating view of a central Indian jungle. Its two lakes are centered around Telia, Tadoba and open waterholes, providing easy sightings of the booming tiger population (around 70), leopard and sloth bear. Excellent birding opportunities also exist in and around the reserve.
Tigertrails Jungle Lodge
Situated in the Chichghat Valley adjacent to the park entry point, the Tigertrails Jungle Lodge enjoys a picturesque spot amongst deciduous forest and grasslands dotted with perennial waterholes. The rustic rooms feature en suite bathrooms and air-conditioning, and provide attractive views of the grasslands. It's one of the best accommodation options for easy tiger spotting with reports of 20 sightings in just one day and tiger tracking activities available on foot.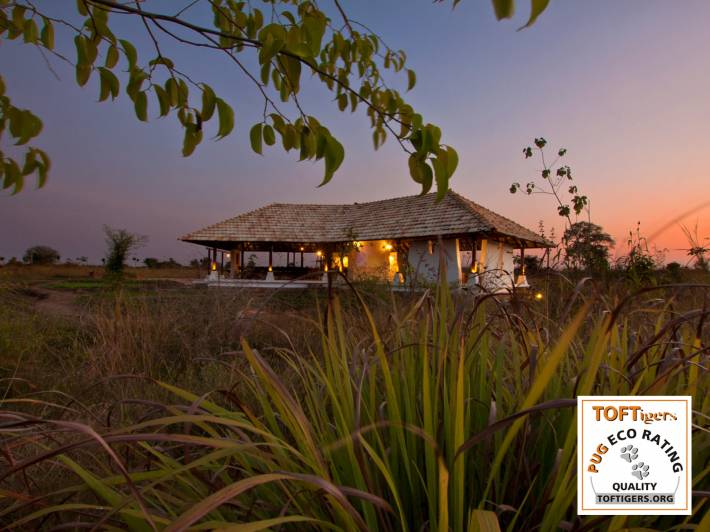 Svasara Jungle Lodge
Svasara Jungle Lodge is the premier luxury destination at Tadoba-Andhari Tiger Reserve. It is heavily focused on conversation efforts with a nursery growing thousands of trees to be planted across the property's 10 acres. The twelve suites feature elegant bathrooms, premium bedding and private outdoor veranda seating. Guests can enjoy local Varadi cuisine under the outdoor gazebo or spend the evening watching a film in the newly developed open-air cinema.
Kaziranga National Park
A wholly different reserve to explore in Assam, these Bramaputra floodplains of tall elephant grass are home to the world's largest numbers of Indian one horned rhinoceros, herds of wild Asian elephants and some of the last herds of wild buffalo left in the world. In 2006 Kaziranga was declared a Tiger Reserve and is thought to contain the highest density of tigers among protected areas in the world. Visitors should not expect to see tigers as the vast expanse of the park and the tall grasses make tiger spotting a little more difficult, though numbers are good and sightings increasingly common, but it's an unrivalled park for some of India's most unusual and charismatic animals. Birdlife in Kaziranga National Park is prolific too.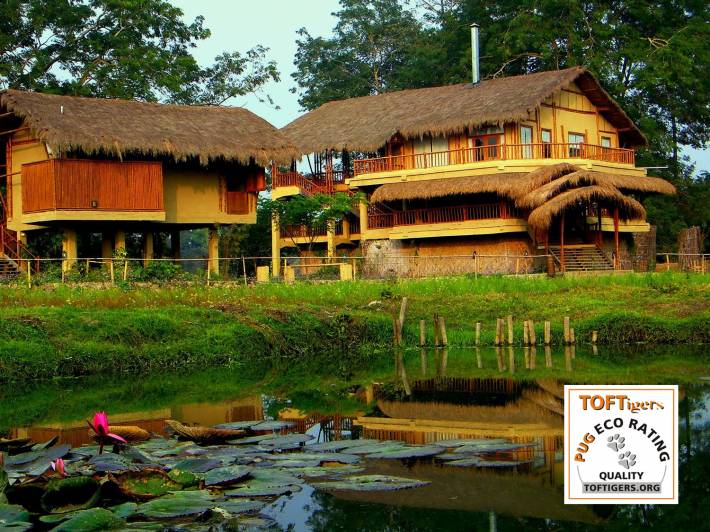 Diphlu River Lodge
This rustic, eco-friendly lodge is located on the banks of the Diphlu River, and was built to perfectly complement the surrounding terrain and foliage. The eight individual cottages and four semi-detached cottages are fashioned from natural materials and topped with thatched roofs, featuring a spacious seating area and en suite bathroom. The property also features a lotus pond, observation hut, library, restaurant and large verandah with wonderful views of the jungle beyond the river.
Nagarhole National Park
Nagarhole is home to the largest congregation of Asiatic elephants in the world. These forests also consist of three major predators - the tiger, leopard and dhole, or wild dog; and all three co-exist in good numbers in this rich bio-diverse part of South Western India known as the Western Ghats. The Nagarhole National Park was declared a tiger reserve in 1999.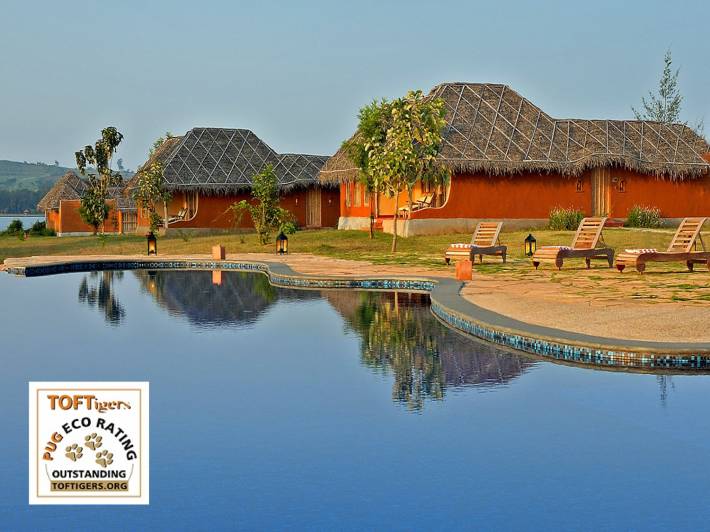 Orange County
Taking inspiration from tribal villages with guest huts featuring traditional crafts and a natural color palette, the Orange County enjoys a particularly scenic setting bordered on two sides by the Kabini River. The comfortable interiors include en suite bathroom, a seating area, private balcony and even a private plunge pool from which to enjoy the scenery. Guests can dine on the cream of international and local cuisine at the Honey Comb restaurant whilst watching the sun set on the river.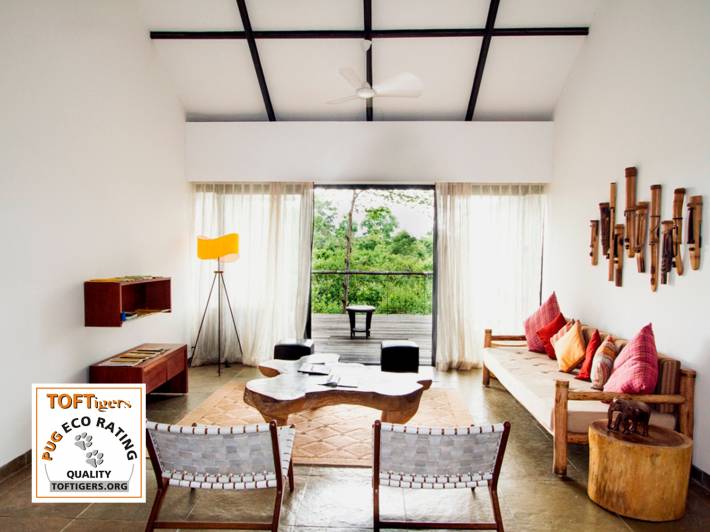 KAAV Safari Lodge
Located at the very edge of Nagarhole, this comfortable homestay offers an intimate safari experience with just four beautifully crafted guest rooms, each with their own private balcony. The property also offers two luxury tents. Set within 4.5 acres, the stone, brick and steel architecture of KAAV Safari Lodge blends seamlessly with the surroundings. Guests can relax in the outdoor swimming pool or common lounge with the option for Al fresco dining.
Best Time to See Tigers
The best time to see tigers in India is between October and June when temperatures are cooler and the weather drier. During the monsoon months between June and October, many of India's national parks are closed and tiger safaris are not available. February, March and April are the ideal months as the temperatures steadily increase, meaning the vegetation dries and thins out, making it easier to spot tigers on the prowl. During these months water supplies also dry up and rangers will know where the last remaining waterholes are located so that visitors can best spot tigers and other wildlife congregating for water.
Between October and January the foliage is more attractive, glowing a lush green after the monsoon rains. The rivers and lakes are filled with water and flowers are in bloom. With the taller and thicker vegetation, tigers are more difficult to spot but birdlife is at its prime during this time and the scenery is superb.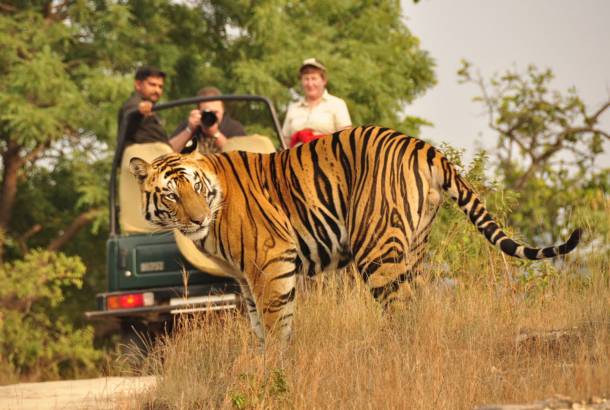 What to Expect on Safari
Tiger spotting safaris are undertaken by Jeep, small 6-seater open-top SUV 4x4 vehicles. In Ranthambhore, one of India's most popular national parks, there is also the option of shared canter, an open-topped vehicle that can seat up to 20 people. A canter is the cheaper option but Jeeps offer a much better safari experience so if travelling to Ranthambhore we recommend upgrading to Jeep safari. This should be done at time of booking to ensure availability as the number of Jeep vehicles in Ranthambhore is limited.
Game drives are usually around 3 hours in duration with the option to head out in the morning and afternoon. Morning game drives depart between 6:00-6:30am and return back to your lodge between 9:00-9:30am while afternoon game drives leave between 2:00-2:30pm and return back between 5:00-5:30pm, which gives you plenty of time to enjoy meals and the facilities offered by your lodge.
Each vehicle, whether a Jeep or a Canter, always has an expert Forest Naturalist Guide on board who will know the best places to locate tigers and provide information on the park's other fauna and flora. Each national park is divided into various zones and routes with each safari vehicle allotted a specific one on every game drive. This is to avoid overcrowding in the parks and disturbing the tigers too much. The driver and naturalist must follow the route allotted to them and cannot deviate from that zone/route.
To maximise your tiger spotting potential, it's best to allow 3-4 days in a national park, taking morning and afternoon game drives.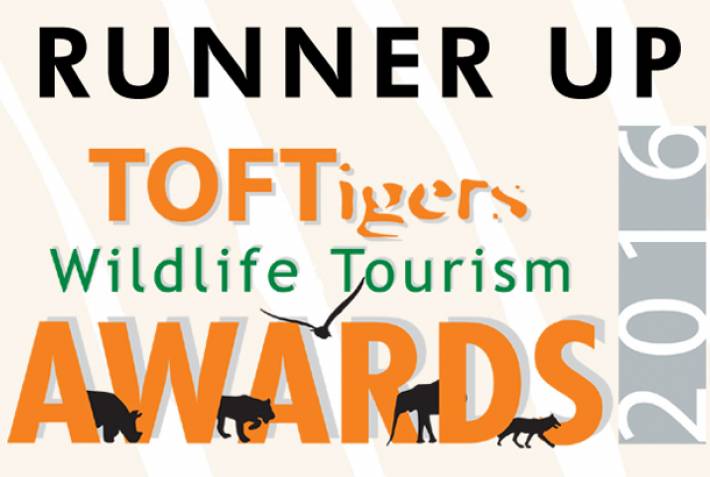 Sustainable Tourism
Our work with TOFTigers
We love tigers at On The Go and are proud members of Travel Operators for Tigers (TOFT). We are happy to pledge a contribution of USD$30 for every traveler that visits a tiger reserve in India with us.
We're pleased to say that we were awarded runner up in the International Tour Operator of the Year category of TOFTigers' Wildlife Tourism Awards 2016. Chairman of TOFTigers, Julian Matthews, said it was On The Go's message of responsible tourism and consistency in efforts and contributions to the cause over the years that secured us this award. Find out more here.