Light and the victory of good over evil are celebrated around the world, from, India to Israel. These often-religious festivals are a time to practice togetherness, kindness, compassion, and gratitude. Perhaps the most famous of all festivals of light is Diwali, a Hindu festival that originated in India. Here you'll find all you need to know about this special time of year, and about what to expect from a trip to India at this time of year.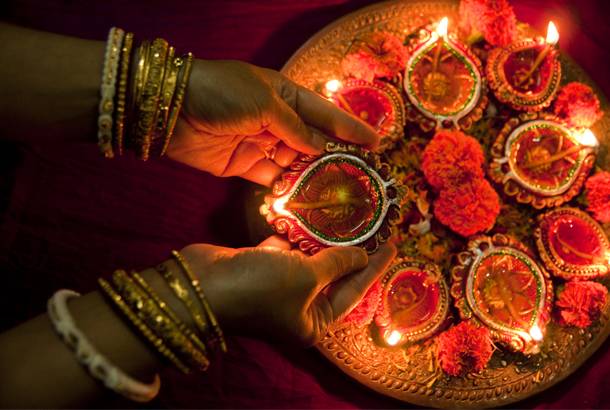 What is Diwali?
Diwali is a Hindu festival of light that celebrates the triumph of good over evil, and light over dark. The word 'Diwali' translates as 'row of lighted lamps' - a common feature of the festival. In India, Diwali is the most important holiday on the calendar and is normally celebrated over the course of five days.
How is Diwali celebrated?
Festivities vary throughout India and each region has its own particular traditions. However, there are a few customs and practices that all follow. People will clean their home, perform Lakshmi Puja and adorn their houses with clay lamps fuelled by oil (known as diyas). In these modern times candles and electric lights are often used in place of the more traditional oil lamps. Out on the streets firecrackers are set off and nightly firework displays take place.
Offerings and prayers are made to the goddess Lakshmi in hope she will grant wealth and prosperity, and at local temples joyful singing and dancing takes place. The floors of buildings and courtyards are decorated with rangoli artwork, intricate designs made from colored rice, sand, powder and flower petals. The most popular pattern during Diwali is a lotus flower, on which Lakshmi is often depicted sitting upon or holding in her hand.
Diwali heralds the Hindu new year and therefore it's considered a good time to throw out old and unwanted items and purchase new clothes, gold and silver, as well as utensils for the house. It's a time to feast with family and friends, and share special sweets, dried fruit and gifts with others. Girls and women will adorn their hands with beautiful henna designs while men play three-card poker - known as Teen Patha in Hindi - in the hope they might win during this auspicious time of year.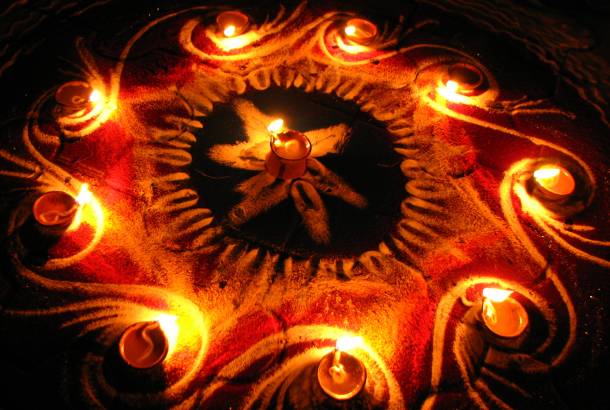 Where is Diwali celebrated?
Diwali is celebrated across India. It's an official holiday for every single state though each region has their own particular way of celebrating. It's also observed in Nepal, Sri Lanka, Malaysia, Singapore and Bali, where Hinduism is prominent.
Diwali is also an important yearly event in countries around the world that have a large Indian population. In the United Kingdom, USA, Canada, the Caribbean and parts of Africa there are public events and popular celebrations including fireworks on Diwali.
Where are the best places in India to celebrate Diwali?
As one of India's most widely celebrated events, you're spoiled for choice when it comes to places to visit for Diwali. Cities, towns and villages across the country will be decorated in light and rangoli artworks. If you're looking for somewhere extra special to enjoy Diwali, here is our pick of top five destinations in India:
Jaipur - for special Diwali treats and market shopping
Varanasi - for Diwali at its most spiritual
Kolkata - for pious rituals and Kali Puja
Amritsar - for grand Sikh temples illuminated at night
Goa - for Diwali by the beach with demon effigies
Read on for more information about what each of these destinations have to offer at Diwali.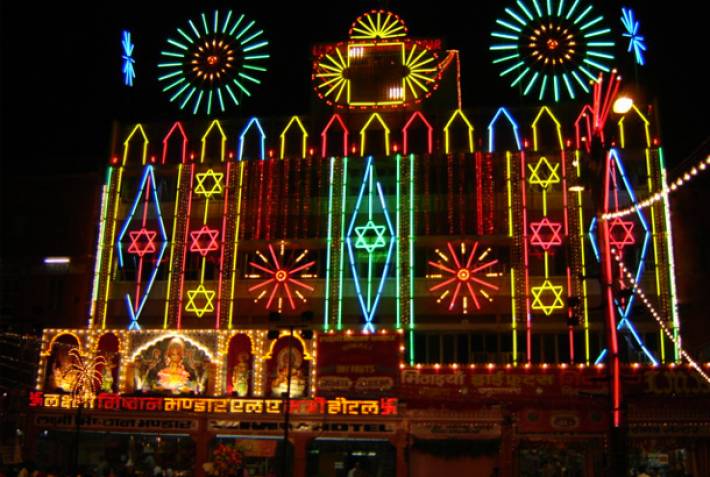 Shopping Diwali
Jaipur
The Pink City of Jaipur throws itself head first into Diwali with lights illuminating public buildings, markets, and private homes. The annual competition for best dressed market ensures it's kept creative with multi-colored lights used to create a host of playful designs. Food stalls overflow with special Diwali treats and women shop the popular Johari Bazaar for new jewelery to celebrate. For a panoramic of Jaipur all lit up, head to Nahargarh Fort once night descends.
Photo credit: Os Pupias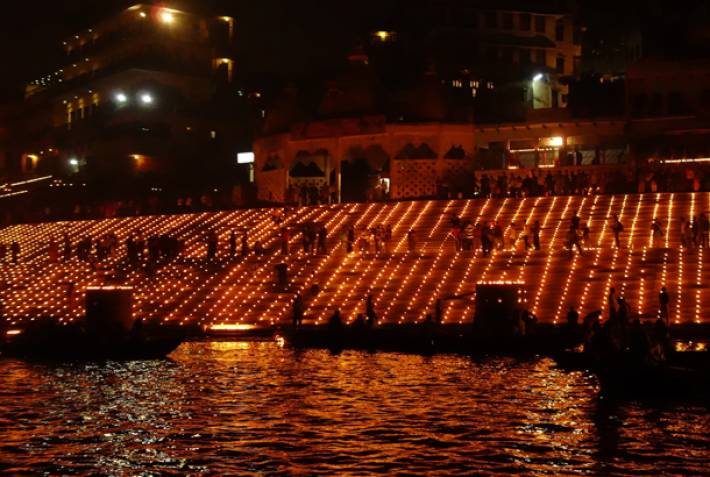 Spiritual Diwali
Varanasi
As one of India's most sacred cities, Varanasi is a spiritual place any given day of the week but during Diwali, the riverside city takes on a whole new level of meaning. Elaborate devotional rituals known as aarti take place beside the Ganges with candles and oil lamps illuminating the ghats. Two weeks after Diwali, the large procession of Dev Deepavali takes place and Hindu deities are paraded through the streets. Another highlight of Diwali in Varanasi is the large firework displays.
Photo credit: Davy Demaline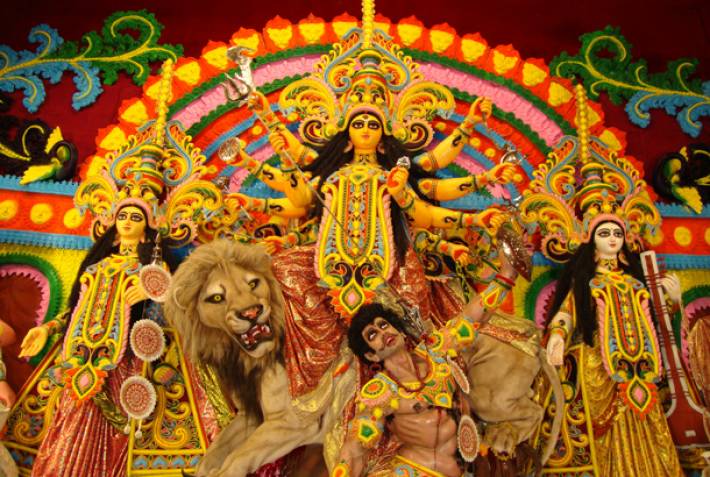 Bengali Diwali
Kolkata
Unlike in other parts of India where the goddess Lakshmi is worshiped during Diwali, the city of Kolkata reveres Kali - the divine protector and mother of the universe. Kali Puja (a festival dedicated to Kali and celebrated across West Bengal) coincides with Diwali, meaning the two events have been combined. Devotees flock to Kolkata's many Kali temples with offerings of hibiscus flowers, sweets, rice and lentils. The streets are decorated with colorful idols representing Kali, and the usual candles, lamps and electric lights you'd associated with Diwali.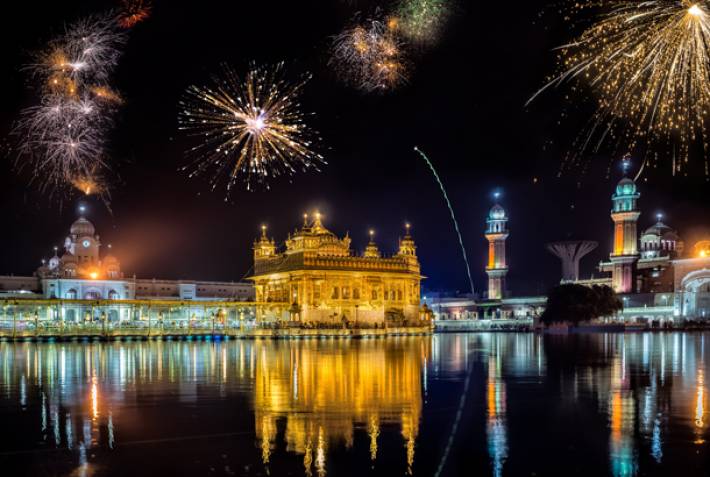 Sikh Diwali
Amritsar
Diwali may traditionally be considered a Hindu festival but that doesn't stop the predominantly Sikh population of Amritsar celebrating the festival with particular vigour. Here the stunning Golden Temple stands as the center of Sikhism for the country, and during Diwali mesmerizing firework displays take place in the sky above the temple. Candles and lamps decorate the edge of the temple's lake while bulbs are draped over the holy building's facade.
Photo credit: gags9999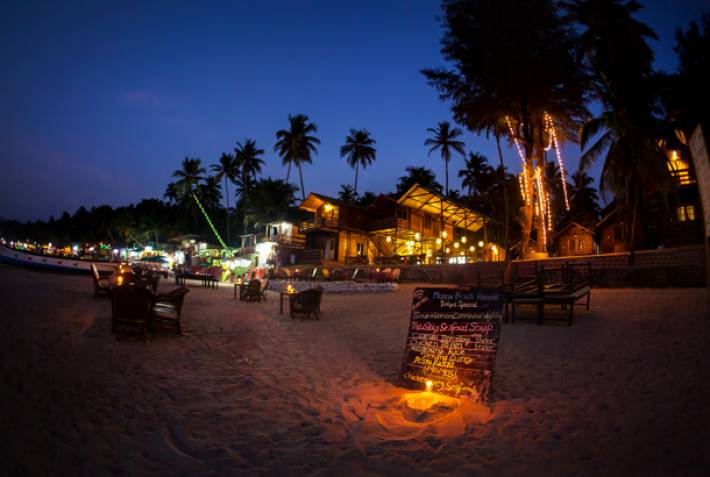 Beach Diwali
Goa
In Goa, Diwali coincides with Naraka Chaturdashi - a Hindu festival that celebrates the destruction of demon king Narakasura by Lord Krishna. The entire state comes alive as formidable effigies of the demon king are paraded through the streets and burnt on large bonfires at dawn the day before Diwali. Competitions are held for the biggest effigy and some are filled with firecrackers for even more of an impact. For the rest of Diwali, people celebrate in Goa with beach parties and gift giving.
When does Diwali take place?
Diwali is celebrated on the 15th day of Kartika in the Hindu calendar. For most of India, Kartika is the eighth month of the year and corresponds with the months of October/November in the Gregorian Calendar.
Forthcoming Diwali dates
Diwali takes place on the following dates over the next few years:
2023 - Sunday 12th November
2024 - Friday 1st November

Dates vary across the states of India.
How did Diwali originate?
Diwali has been celebrated since ancient times and each of India's major religions - Hinduism, Sikhism and Jainism - assign a different significance to the special event. It is widely believed that the festival originated as a summer harvest festival with lamps and candles representing the sun, and the light and energy it provides. Over time legends began to be associated with Diwali, from the marriage of goddess Lakshmi with Lord Krishna to the return of Lord Rama from exile and his battle with Ravan.
The one thing that unites Diwali, wherever it may be celebrated, is the use of candles and lamps to light the dark. There is mention of this practice in a 7th century Sanskrit play while two centuries later an eminent poet refers to the tradition of homes being whitewashed in preparation of the Kartika new moon.
Who celebrates Diwali?
Despite being considered a Hindu festival, Diwali is celebrated by millions of Hindus, Sikhs and Jains around the world. For Sikhs, Diwali coincides with the celebration of the release of the sixth Guru while for Jains it is a time to remember Lord Mahavir and his teachings.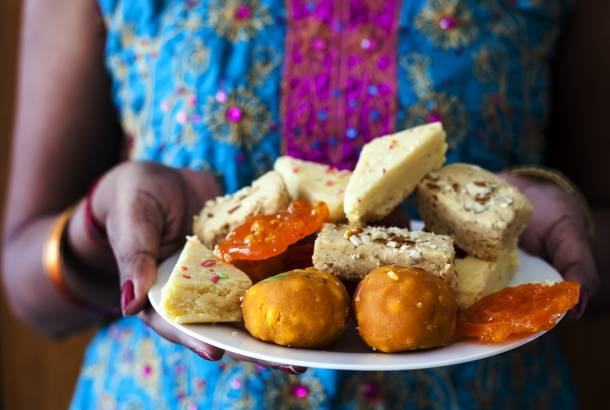 What do people eat during Diwali?
Food plays an important role in Diwali celebrations and there are a few dishes and treats that are a must during this auspicious occasion. Sweets, known as mithai in Hindi, play a pivotal role as they are exchanged between friends and families. Popular mithai at Diwali include:
Jalebi - pretzel-shaped flour batter deep fried and soaked in sugar syrup Gulab Jamun - deep fried milk solids flavored with spices and topped with nuts
Kajoo Barfi - thickened milk combined with sugar, mild spices & ground cashew nuts

Not all Diwali snacks are diabetes-inducing, however, with a number of savory snacks made at home and available from street stalls across India. These include:
Samosa - pastry stuffed with minced meet, spiced potatoes, lentils and onions and then either baked or fried
Bombay mix - dried and fried peas, lentils, chickpeas and noodles that are highly seasoned with spices and salt
Pakora - vegetables encased in chickpea flour batter and then fried

Essential tips to make the most of Diwali
Do dress up for the occasion. Ladies, Diwali's a good time to purchase a beautiful salwar kameez or some sparkly bangles.
Do try and ditch meat for the festival - Hindus view Diwali as a vegetarian holiday and a time to cleanse mind, body and soul.
Do wish everyone a "Shubh Deepavali' meaning an "auspicious Diwali".
Don't be afraid to indulge yourself and spend a little money in the markets and shops - everyone else will be.
Don't forget to keep an eye on your belongings as the crowded streets can, unfortunately, attract pickpockets.
Recommended tours for Diwali in India
If you want to visit India to celebrate Diwali with other like-minded travelers, check out our dedicated 8 day group tour. On the night of Diwali you'll get to witness prayers and aarti preparations at a local temple in Jaipur, plus enjoy a traditional evening meal in a local restaurant or at the hotel.