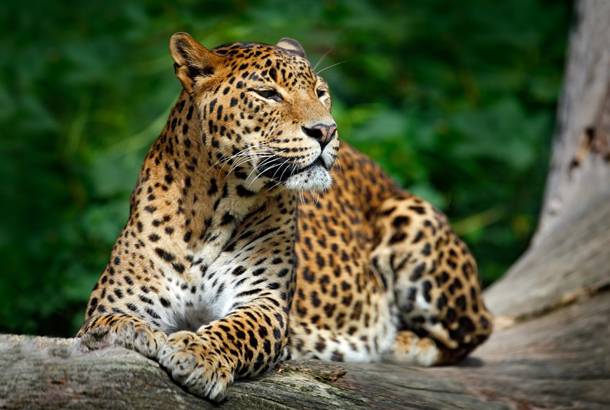 Like many islands, Sri Lanka boasts a high number of endemic species, animals and plants found nowhere else on Earth. The country is also regarded as one of the world's top five hotspots for biodiversity, testament to the sheer number of species which call the tear drop isle home. Read on to learn what you can discover in some of Sri Lanka's best national parks.
Must Visit National Parks in Sri Lanka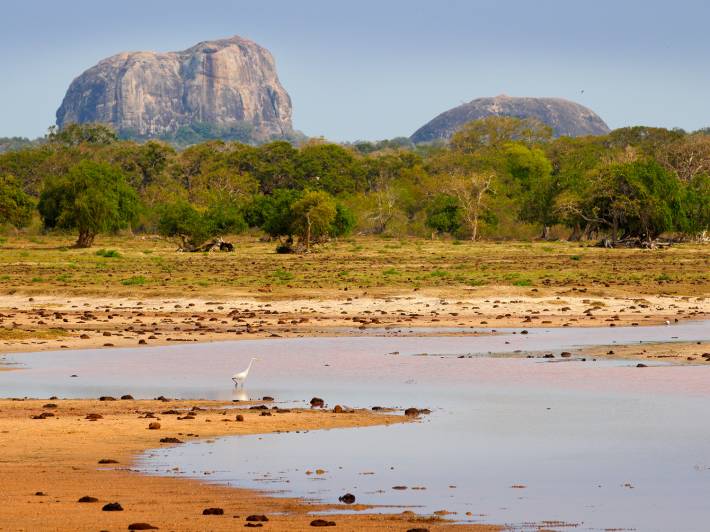 The most famous national park in Sri Lanka, Yala is home to 215 bird species and 44 mammal species. Expect to see roaming elephants, herds of sambar deer, crocodiles and buffalo. What's more, the park has the highest concentration of leopards in the world.
Recommended Accommodation:
Wild Coast Tented Lodge: A tented lodge combining luxury hotel comforts with a safari-style wilderness experience.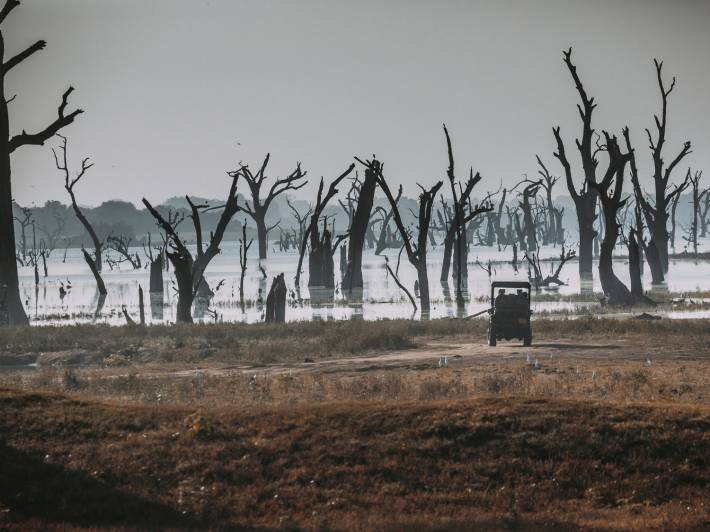 Framed by the soaring Central Highlands, Udawalawe is one of the best places in the world to see wild elephants. Herds are often seen roaming in numbers of up to 100, with other mammals in the park including water buffalo, wild boar, sloth bears, spotted deer and the endemic toque macaque.
Recommended Accommodation:
Pokuna Safari Eco Lodge: A secluded ecolodge that provides a first-hand experience of rural life in Sri Lanka.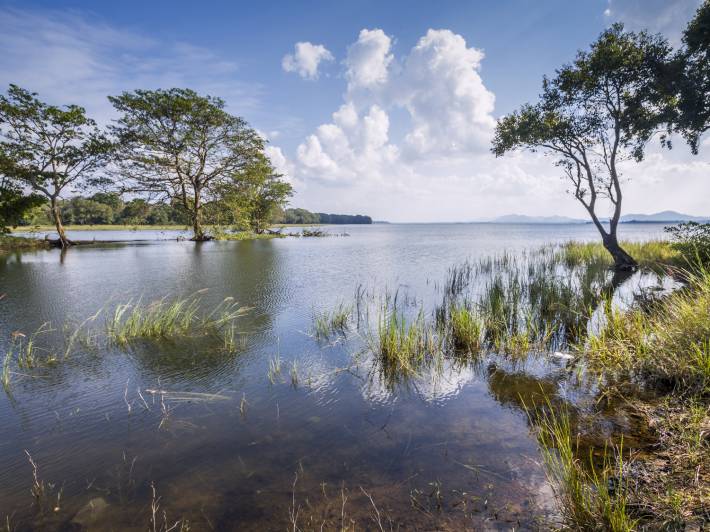 As part of Sri Lanka's elephant corridor, large numbers of elephants migrate across the country to Minneriya every year. Known as 'The Gathering', as many as 300 come to the park's reservoir in the largest meeting of Asian elephants anywhere in the world.
Recommended Accommodation:
Levona Garden Resort: Boasts a tranquil setting and delicious, home-cooked Sri Lankan meals.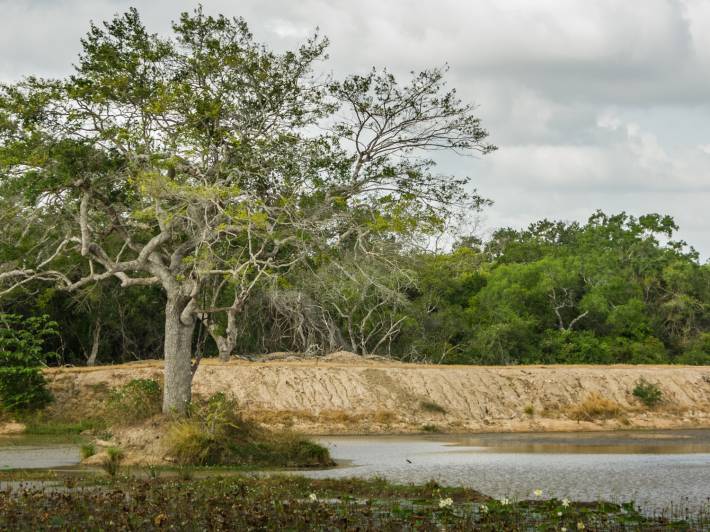 Wilpattu National Park
Translating to 'natural lakes' in Sinhala, Wilpattu's most prominent feature is its wetlands. Known as 'Villu', the park has over 50 lakes surrounded by grassy plains. Despite being Sri Lanka's largest national park, visitor numbers remain low and give the park a true sense of wilderness.
Recommended Accommodation:
Mahoora Tented Safari Camp: A luxurious campsite featuring carpeted tents with private bathrooms and hot showers.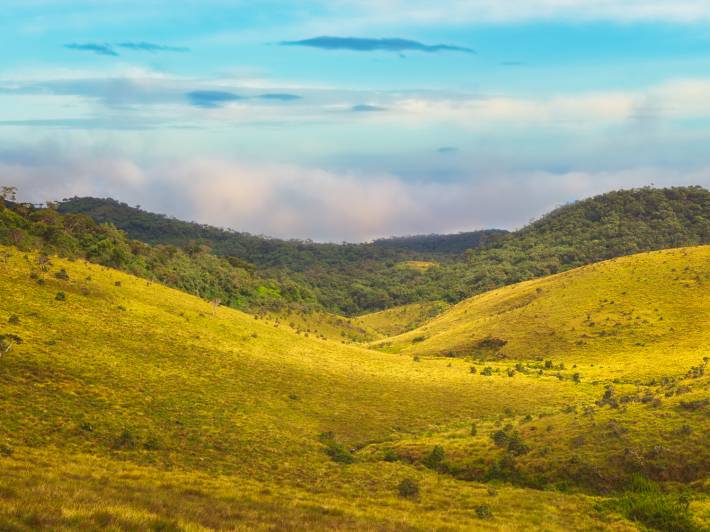 Horton Plains National Park
Set over 2,000 meters above sea level, the Horton Plains feel a world apart from the rest of Sri Lanka. Large areas of the park are covered in pristine cloud forest, with dramatically plunging cliffs at its southern boundary. Home to a variety of endemic species, it's one of the best places for bird watching.
Recommended Accommodation:
Hill Safari Eco Lodge: Situated in a private tea plantation with panoramic views of the surrounding mountains.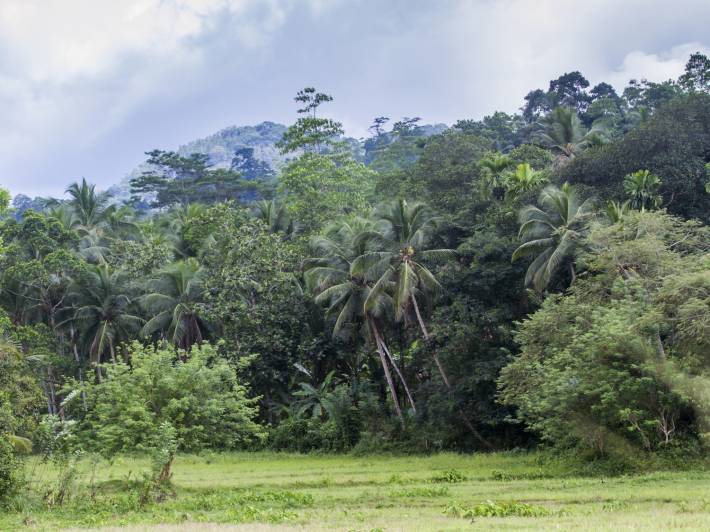 Sinharaja Forest Reserve
World Heritage-listed Sinharaja Forest Reserve is a biodiversity hotspot. Containing Sri Lanka's last area of primary tropical rainforest, it's home to over 50% of the country's endemic species of mammals and butterflies, as well as many types of reptile, insect and rare amphibians.
Recommended Accommodation:
Boulder Garden Hotel: A unique hotel built around extraordinary giant boulders and caves.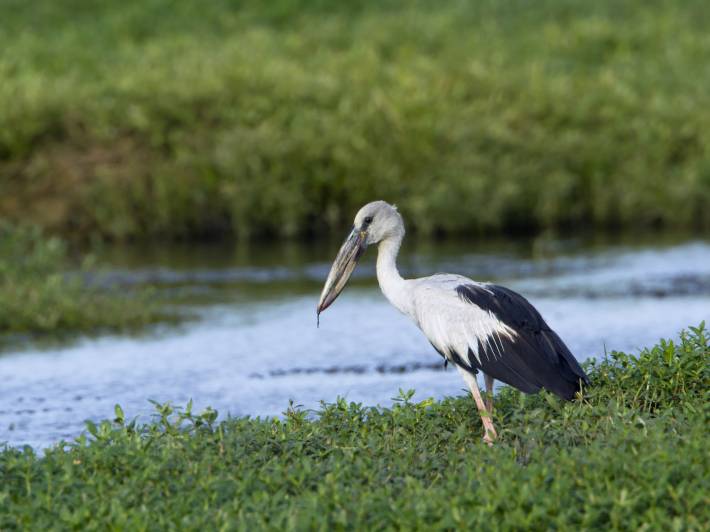 Bundala National Park
One of Sri Lanka's best destinations for bird watching, Bundala protects an important area of coastal wetland. Almost 200 bird species have been recorded here, including ibis, pelicans and huge flocks of greater flamingos. Visitors can also spot crocodiles, elephants, turtles and a variety of other fauna.
Recommended Accommodation:
Turtle Bay: A boutique hotel located on the quiet sands of Kalamatiya with views of the Indian Ocean.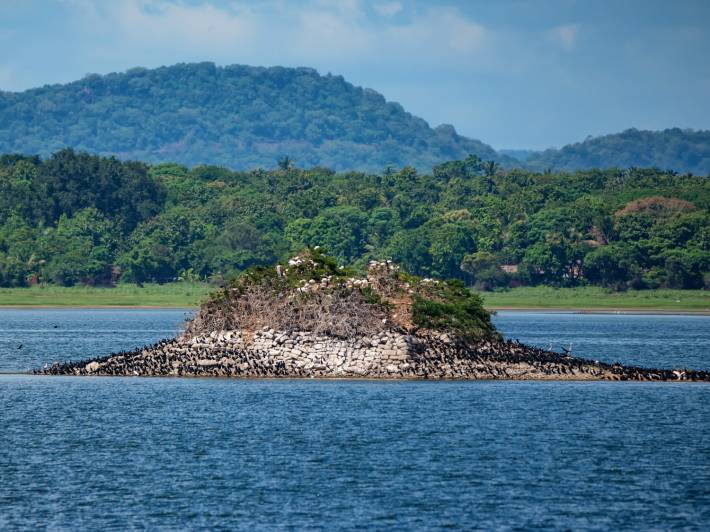 The only national park in Sri Lanka where you can take a boat safari, Gal Oya protects the vast Senanayake Samudra Reservoir. The park is home to 32 mammal species, with a visitor highlight being the sight of herds of elephants swimming across the reservoir from one island to another.
Recommended Accommodation:
Gal Oya Lodge: A unique ecolodge spread across 20 acres of private jungle.
Recommended Wildlife Tours in Sri Lanka
All of our Sri Lanka group tours include an afternoon spent in Udawalawe National Park, where we will try to spot leopards, elephants and more. But if you want even more wildlife then choose from one of our dedicated Sri Lanka wildlife tours. These trips visit many more national parks, including Yala, Bundala, Wilpattu and many more. There's also whale watching in Mirissa, depending on the time of year you visit the country. If you have a specific wildlife itinerary in mind, contact our Tailor-made team who can put together your dream holiday.
Signature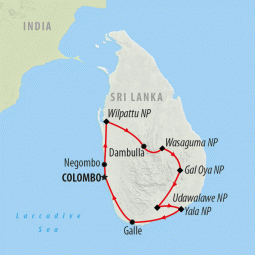 9 days FROM $2,265
Signature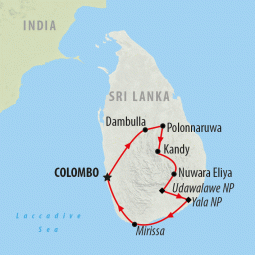 10 days FROM $2,245
Private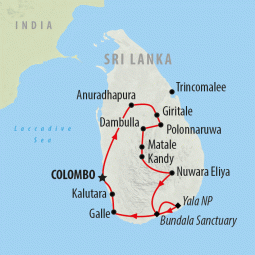 15 days FROM $2,925
Wildlife to See in Sri Lanka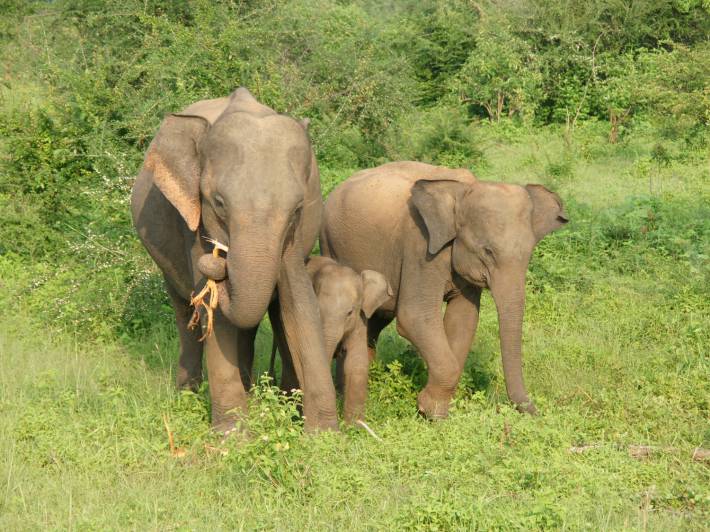 Elephant
The Asian elephant is the number one animal that people on holiday in Sri Lanka hope to spot. While there are a number of elephant orphanages that allow you to get up close and personal with the animals by riding and feeding them, seeing elephants in the wild is a much better experience and one that you can do without worrying whether they are being mistreated or not.
Best places to see elephants in Sri Lanka
For the largest herds and best sightings, head to either
Udawalawe
or Minneriya National Park.
Best time to see elephants in Sri Lanka
Whereas Udawalawe guarantees elephant sightings year-round, the famous elephant gathering in Minneriya occurs during the months of August to September.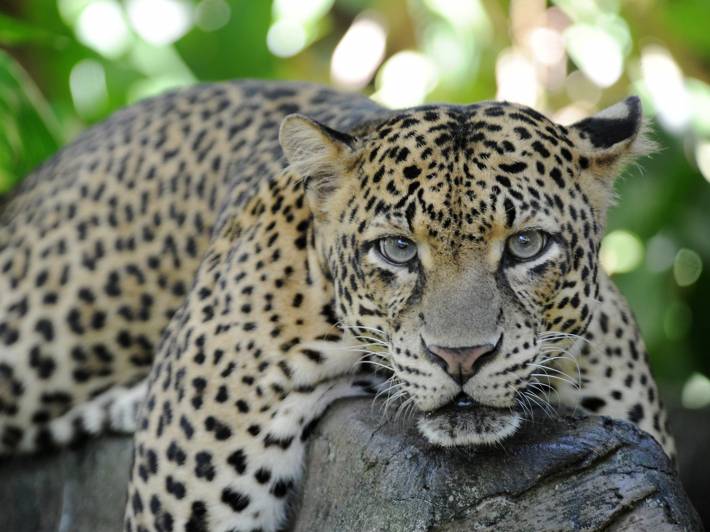 Leopard
Perhaps the most elusive cat in the world, the leopard reigns supreme on Sri Lanka. With no lions or tigers to threaten its position, leopards in Sri Lanka are more casual than they are elsewhere in the world and can often be seen lounging around in the treetops. They are also much bigger than leopards in Africa or India, where they must compete with other carnivores for food. Not so in Sri Lanka!
Best places to see leopards in Sri Lanka
If leopards are what you are after then head to
Yala National park
, the area with the highest leopard density.
Best time to see leopards in Sri Lanka
Visit Yala in the dry season from May to October, when vegetation is less thick, and it'll be much easier to spot this beautiful big cat.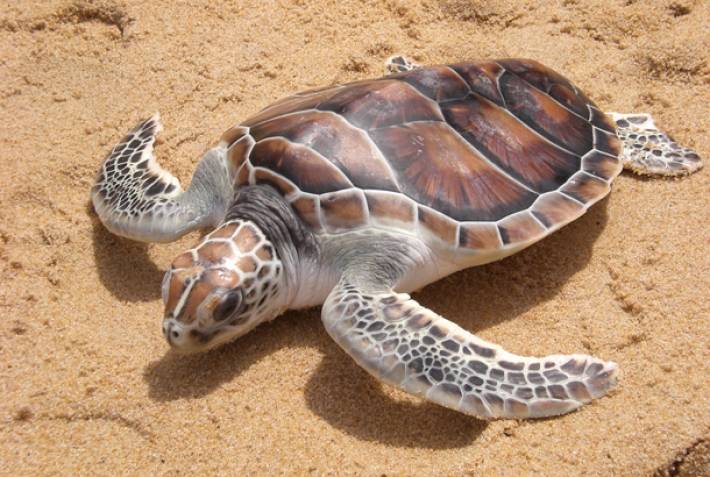 Turtle
There are five different types of turtle in Sri Lanka: Leatherback, Olive Ridley, Loggerhead, Hawksbill and Green. Of these, the Green turtle is most commonly found while the leatherbacks are among the rarest. The sea turtles have come up against many obstacles that have challenged their very existence but are thriving nonetheless with the help of a number of conservation projects.
Best places to see turtles in Sri Lanka
To see some of these majestic creatures in the flesh, make your way to
Kosgoda Sea Turtle Conservation Project
or
Turtle Watch Rekawa
.
Best time to see turtles in Sri Lanka
Sri Lanka's main laying season is from October to April, when you can spot adult turtles shuffling across the island's sandy shores. Baby turtles can then be sighted in the hatching season, running one month later from November to May.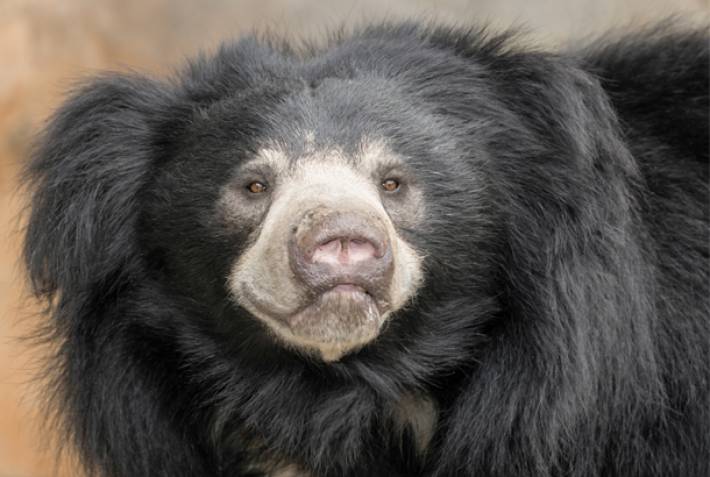 Sloth Bear
The adorable-looking sloth bear is hard to spot but well worth the effort if you manage to catch sight of one. Lankier in build and somewhat shaggier in coat than its relatives (brown and black bears), these creatures might seem clumsy and oafish but they are excellent climbers and gentle with their cubs.
Best places to see sloth bears in Sri Lanka
Sloth bears breed throughout the year in Sri Lanka and can often be sighted amongst the fruit trees of
Yala National Park
. There is also a large population of them in the Wilpattu National Park.
Best time to see sloth bears in Sri Lanka
Time your visit in June or July, when Yala's fruit trees are in full bloom and the sloth bears come out to feed.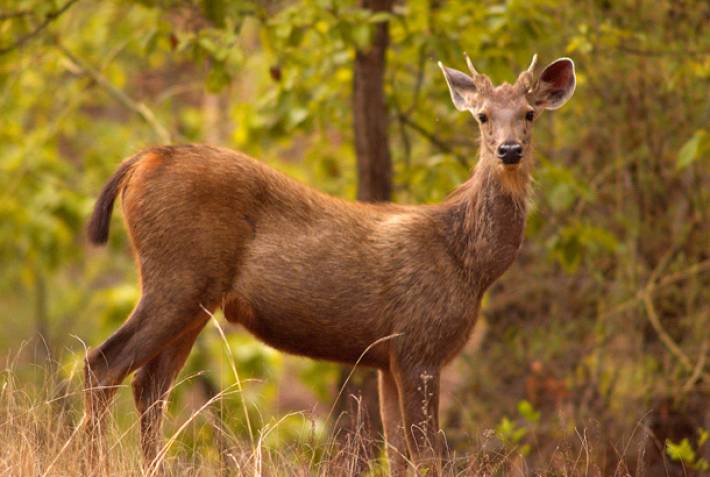 Sambar
The sambar is a type of deer found in various countries across Asia and can be recognized by its particularly shaggy coat and long, rugged antlers. The Sri Lankan subspecies of sambar is among the largest in the world. Sambars usually shed their antlers every year and in many countries these antlers are then transformed into a variety of objects, including knife handles. Sambars are a favorite food of tigers in India, so the sambar deer on Sri Lanka can breathe easily, though there could always be leopards lurking.
Best places to see sambar in Sri Lanka
They can often be found roaming through the Horton Plains as well as
Yala National Park
.
Best time to see sambar in Sri Lanka
Generally seen year-round, Sambar are particularly easy to spot during the dry season as they search for water sources.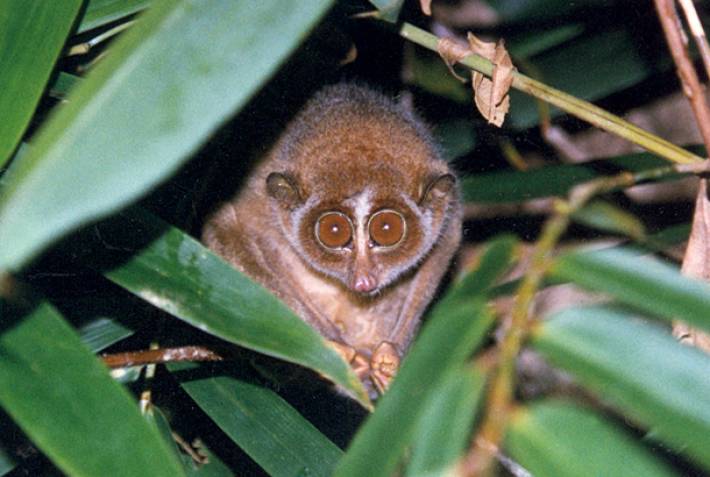 Red Slender Loris
It is hard not to fall in love with the big eyes and tiny hands of the heart-wrenchingly cute red slender loris but you'll have to find one first. This little primate is on the brink of extinction, making it ever harder to spot in the wild, especially given the fact that it is nocturnal.
Best places to see red slender loris in Sri Lanka
If you're hoping to see these enchanting animals, then your best bet is to head to the famous
Yala National Park
.
Best time to see red slender loris in Sri Lanka
As there is no particular season that's best for sightings, you'll need to keep your eyes well and truly peeled on a night safari to see these nocturnal primates.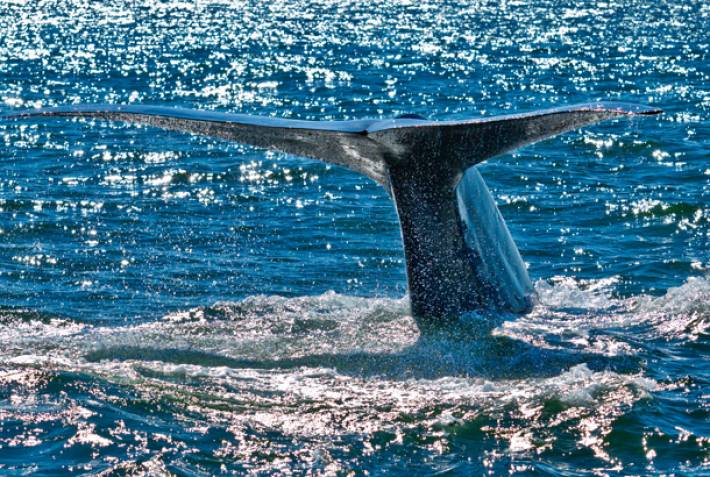 Blue Whale
The king of the ocean and the largest animal on the planet, the blue whale is a rare delight for wildlife enthusiasts and nowhere in the world are they more reliably spotted than in Sri Lanka. Nothing is quite like the shock of seeing the sheer size of these magnificent beasts in the flesh so be sure to plan your trip around whale watching season.
Best places to see blue whales in Sri Lanka
You can spot blue whales off Sri Lanka's northeast coast near
Trincomalee
or in the southern waters by Mirissa.
Best time to see blue whales in Sri Lanka
Between the months of June and October whale watching is best off Trincomalee, then from November to April the season continues on the south coast in Mirissa.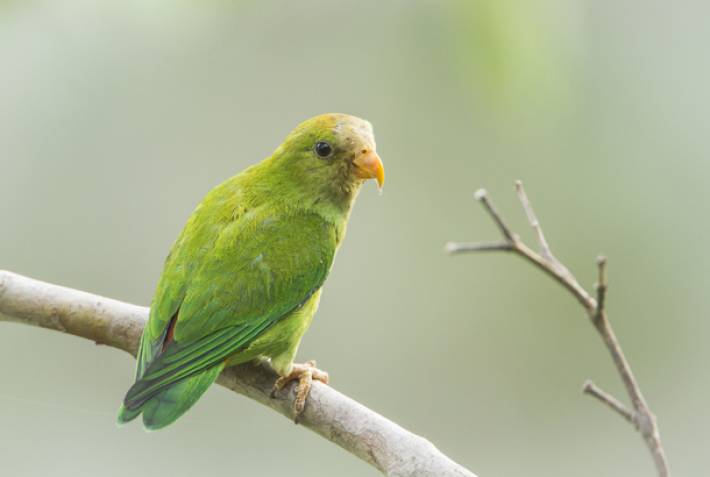 Birds
Looking towards the sky, travelers will be delighted by the number of endemic birds that can be found in Sri Lanka. Sri Lanka has its very own, unique species of magpies, owls, hornbills, pigeons and parrots and plenty of places to spot them all.
Best places for bird watching in Sri Lanka
All of the national parks in the country will have a selection of birds on offer but those considered to be the best for bird-watching are Sinharaja, Bundala,
Yala
and
Udawalawe
national parks and the Horton Plains.
Best time for bird watching in Sri Lanka
Keen birders should head to Sri Lanka between November and April, when there's plenty of migrant species to look out for but less rainfall.
Sri Lanka Trip Styles

Group Tours

Family Holidays

Private Tours