Sensational scenery. Marvellous mountains. Captivating charm. And a peaceful feel. Book a Bhutan package with On The Go Tours.
Touch down in beautiful Bhutan, Land of the Thunder Dragon. Welcome to huge Himalayan mountain ranges, remarkable rivers, and stunning scenery. Untouched by modern civilization; its ancient culture and natural environment are preserved. Bhutan holds a unique, blissful, and otherworldly feel. Since opening its doors to the western world in 1974, its natural beauty and hospitable charm have captivated travellers. The Bhutanese culture is deeply rooted in its Buddhist beliefs, where fluttering prayer flags, chortens, and whitewashed fortresses abound. Our Bhutan tours take in all of this majesty, and much more besides!
For a truly memorable trip, Bhutan can be combined with neighbouring Nepal, for a proper Himalayan adventure. Whichever Bhutan package you choose, you're sure to be captivated by this unique country.
Group Bhutan Tours & Trips
Our Bhutan tours get you to the heart of the country, including the capital Thimphu and the spectacular Tiger's Nest Monastery, perhaps Bhutan's most famous site. You can also combine the country with neighbouring Nepal, for a comprehensive Himalayan adventure. And you can visit during the Thimphu Festival in September, for an extra memorable trip.

Your package includes accommodation and transportation (including internal flights), as well as the government royalties and taxes that are placed on tourists in order to protect Bhutan's pristine environment. Staying in 3-4 star accommodation, you will be escorted by one of our qualified tour guides throughout your trip and will enjoy many included meals, and even airport transfers for a hassle-free arrival and departure.
Private Bhutan Tours & Trips
If you prefer the idea of a private package in Bhutan to a group tour, we can help! You'll get everything that makes our tours great, including the services of our expert local tour guides, but it will just be you and your family or friends on the tour!
Explore more countries like Bhutan
Frequently asked questions about our Bhutan tours
Will I visit Thimphu?
Yes, your Bhutan tour will visit the capital of Thimphu. You will spend two nights in the city and enjoy included sightseeing to the main highlights, including the Memorial Chorten and the Takin Preserve, home to Bhutan's unique national animal.
When is the best time to visit Bhutan?
Bhutan can largely be visited all year round, but spring from March - May is a popular time to visit the country, as flowers are in bloom and temperatures are on the rise. October - December is also popular, with clear skies perfect for soaking up the Himalayan scenery. We have more information about when to visit Bhutan in our guide.
Will I be escorted by a tour guide on your Bhutan tours?
Yes, you will be fully escorted on our Bhutan tours by a licensed, English-speaking tour guide.
How big are your tour groups in Bhutan and what is the age of your travellers?
Our small group tours in Bhutan depart with a minimum of 2 passengers and have a maximum group size of 16.

The average age of our travellers is around 48, though we also welcome lots of people in their 20s and 30s on our holidays, as well as older passengers into their 70s. If you have a sense of adventure and a desire to see the world, then you'll fit right in and have an amazing trip with your fellow travellers!
What is the standard of accommodation on your Bhutan trips?
Our Bhutan tours stay in a range of 3 - 4 star hotels and guesthouses, information for which can be found on the relevant tour page. Please note that we reserve the right to use different hotels of the same standard on tour if the need arises.

Please also be aware that our Bhutan tours also include one night of camping on the scenic banks of the Mo Chu River.
What sort of transportation do you use in Bhutan?
We use private, air-conditioned vehicles to travel around Bhutan on our tours. We also include flights between Nepal and Bhutan on our 15-day Highlights of Bhutan and Nepal tour and airport transfers on the first and last day of your package.
Will I get altitude sickness?
Although Bhutan is located in the Himalayas and is higher than most people are used to, altitude sickness is actually quite rare in Bhutan.

This is because most of the country's main settlements, including Thimphu (2,334m) and Paro (2,200m) are located in valleys, where the altitude is less of an issue. Our tours generally don't go higher than 3,000 metres above sea level.
Is Bhutan a safe destination for travellers from the LGBTQ+ community?
According to the 2022 LGBTQ+ Travel Safety Index, Bhutan scores a D- rating for LGBTQ+ traveller safety, ranking 115th out of 203 countries.

Same sex marriage is not legal, and there are no constitutional or worker protections based on sexual orientation. 0 - 25% of consulted citizens consider Bhutan a good place to live for gay and lesbian people. However, there are no legal punishments for same sex relations and homosexuality became legal in 2021. Most trips for LGBTQ+ travellers to Bhutan are trouble-free.

The LGBTQ+ Travel Safety Index is designed to provide a good overall picture of attitudes towards the LGBTQ+ community in each country and may not reflect the experience of foreign travellers to the country.
Can I drink the tap water?
The tap water in Bhutan is not considered safe to drink, and should be avoided throughout your Bhutan tour. Stick to filtered or bottled water and avoid drinks with ice and eating salads that may have been washed in tap water, as these could make you unwell.
What is Bhutan's Gross National Happiness Index?
Bhutan is the only country in the world to measure Gross National Happiness, with the GNH Index measuring factors such as psychological well-being, education, living standards and ecological diversity. It was coined by the king in 1972 and has been used ever since to help inform Bhutan's social and economic policies.
What is the current travel advice for Bhutan?
As a UK-based tour operator, we follow the latest up to date advice from the Foreign and Commonwealth Office (FCDO). You can see the latest travel advice for Bhutan here.
SEE TIGER'S NEST MONASTERY WITH YOUR BHUTAN PACKAGE
Located on a cliff-side of the upper Paro valley, the Tiger's Nest Monastery is one of Bhutan's most sacred spiritual sites and a spectacular sight to behold. Built in the 17th century, the monastery has become a symbol of Bhutan's culture. A steep ascent leads through tree-lined terrain, mist and clouds leads to the Tiger Nest Monastery for a truly unforgettable experience.

Recommended tour: Wonders of Bhutan →
The Best of our Bhutan tours
Have you ever visited Bhutan before? Know what to expect? The Himalayan Kingdom is a treasure trove of magnificent Buddhist temples and monasteries, mighty forts and palaces, and untouched mountainous scenery. Here's a selection of the best places to explore on your Bhutan package, to help get you started with your holiday planning.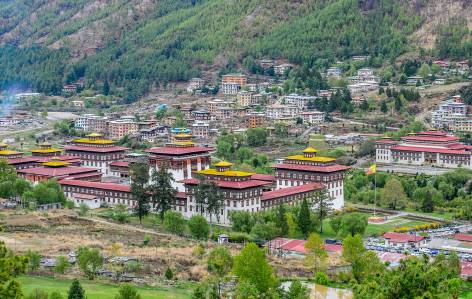 Thimphu
Bhutan's capital city Thimpu is a thriving, modern region. The perfect place for tourists to embrace Bhutanese culture. The general way of life there consists of a fascinating mix of the contemporary and antique, allowing its population to modernise without forsaking its cultural heritage and identity. Some unusual features of this city are its traffic-light-free streets and its dry Tuesday, when the sale of alcohol is prohibited.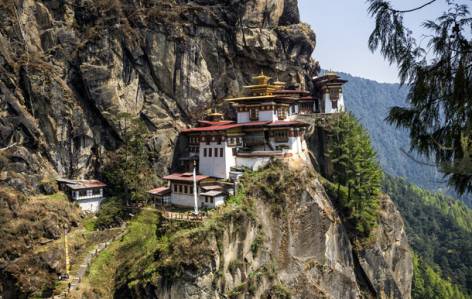 Tiger's Nest Monastery
You cannot experience Bhutan without a visit to the country's most recognizable landmark. Tiger's Nest Monastery clings to the side of a cliff at 3,000 metres above sea level, and the monastery can only be reached by an arduous trek. This makes the final destination all the more magical when you eventually arrive. Legend has it that Guru Rinpoche, father of Bhutanese Buddhism, rode here on the back of a tigress in order to meditate back in the 8th century, hence the name.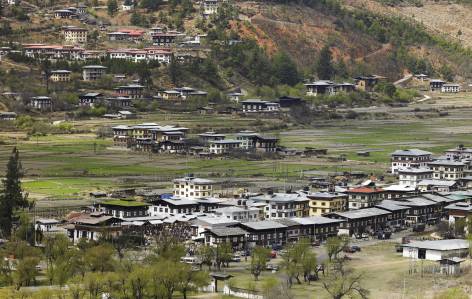 Paro
Nestled in the picturesque Paro Valley, the city of the same name is Bhutan's adventure capital. It's a great base for activities such as hiking, mountain biking and white water rafting, and there are plenty of great places to watch a sunrise if you can raise yourself early enough for a morning trek. Paro International Airport is located in the valley, between two towering peaks - fewer than 25 pilots are certified to make the landing. Don't worry, we avoid this flight on our tours!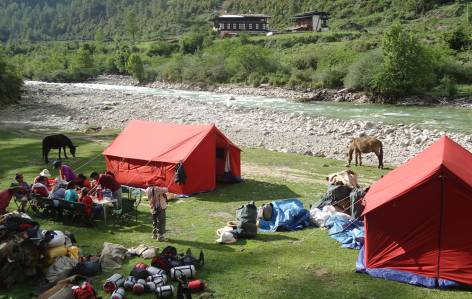 Punakha
Picturesque Punakha is simply stunning. Packed full of history. The spectacular Himalayas in the background, it sits at the confluence of the powerful Pho Chhu and Mo Chhu rivers, and is filled with beautiful white and terracotta buildings. Every year the town transforms into a hub of activity as the Punakha festival takes place, commemorating the country's victory against the Tibetan army through re-enactments of the battle. It is an incredibly important showcase of Bhutanese culture.