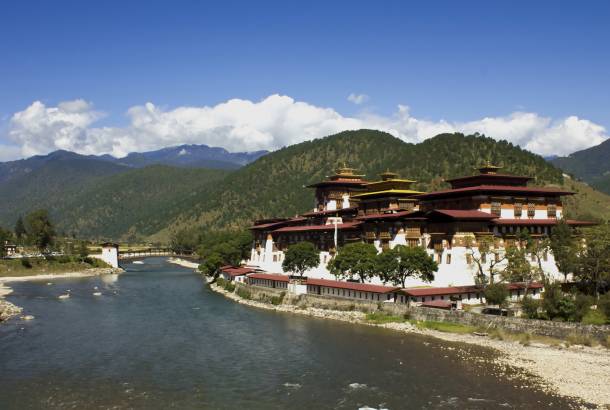 Isolated from the rest of the world, an air of mystery hangs over the Himalayan Kingdom of Bhutan and to help you plan your trip, we've compiled our top travel tips. Here you'll find information on what health precautions to take, what to expect of the food and what souvenirs to shop for.
What vaccinations do I need for Bhutan?
You should seek medical advice from your local health practitioner before travelling to Bhutan and ensure that you receive all of the appropriate vaccinations. As a guide Diphtheria, Tetanus, Typhoid, Hepatitis A and Polio are strongly recommended.
Do I need anti-malaria tablets for Bhutan?
There is a high risk of malaria in the southern part of Bhutan so anti-malarials should be taken if you plan on visiting these parts. Atovaquone/proguanil, doxycycline or mefloquine are recommended when visiting risk areas. Generally, it is a good idea to avoid mosquito bites as much as possible whilst there. This can be achieved by wearing long sleeves and trousers, sleeping under a mosquito net and covering yourself in an insect repellent that contains at least 50% DEET. For more information on the malaria risk in Bhutan visit the
NHS Fit to Travel
page or the
CDC Traveler's Health
page.
Is it safe to drink tap water in Bhutan?
As tap water is not safe to drink in Bhutan, only drink bottled mineral water which is readily available in hotels, shops and restaurants. You should also avoid salads which may be washed in unhygienic water.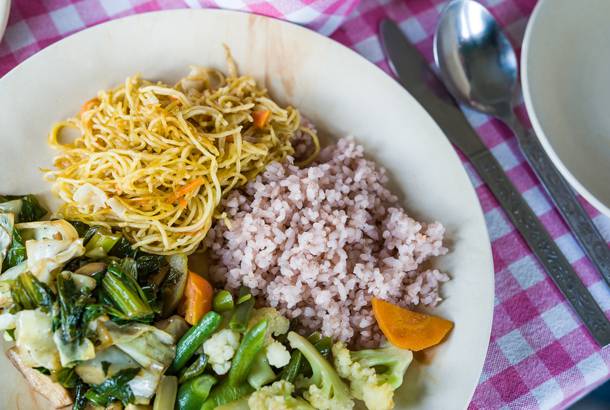 What's the food like in Bhutan?
Bhutanese food is very simple but delicious and each region has its own specialities. Most meals consist of meat (yak, chicken, pork or beef) and vegetables, which are accompanied with rice, and chilies feature in almost all recipes. A popular dish is Ema Datshi which is simply made of cheese and chilies - it's tasty but very hot. When it comes to snacking, fried yak skin is a popular choice. Tibetan specialities such as momos (a type of dumpling) and noodles are also popular in Bhutan and western food is becoming more prevalent in cities.
There is a huge number of vegetarians in Bhutan so finding delicious, meat-free meals is easy. All kinds of plant life is included in Bhutanese cooking such as nettles, ferns, orchids and a huge variety of mushrooms. A common drink found across the country is yak butter tea – an acquired taste but certainly something worth trying.
Safe eating while travelling in Bhutan
The biggest problem most travelers have with Bhutanese food is the liberal use of chilli in almost every single dish. For those with a sensitive palate, try and ask for food without chilli and if you have no luck there, stick to rice and momos. As to food safety, if you are served something that looks old or unclean, it is best to avoid it. It is good practice not to eat salad during your trip as it may have come into contact with unclean water. You should also request that your drink have no ice in it as the cubes might have been made using tap water and could make you sick.
Is it standard to tip in Bhutan?
While tipping is not compulsory in Bhutan, the majority of workers, especially those in the tourism industry such as guides, only have work for around half or quarter of the year and therefore tips are incredibly valuable for making up their income. USD$15 per day for tour guides and USD$10 per day for the driver is a suitable amount to leave as a tip from a group of two. In restaurants its an acceptable practice to leave 10% on top of the final bill. Taxi fares should be rounded up and hotel porters tipped USD$1 per bag.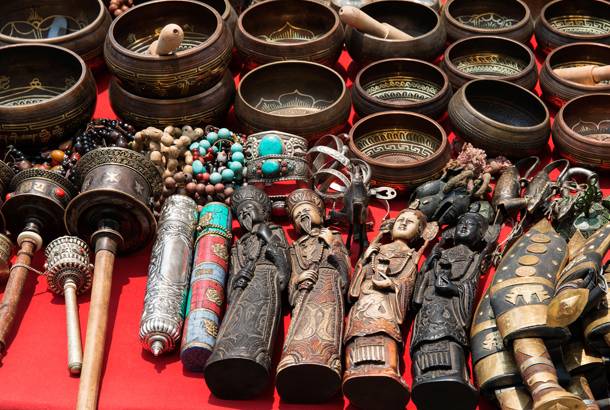 What is good to shop for in Bhutan?
The handicraft industry is much smaller in Bhutan than neighboring countries as less tourists visit the destination but there are plenty of shops in Thimphu which sell a range of goods including wooden bowls, handmade paper, jewelery, masks, prayer wheels and thangkas. Bhutan is renowned for it's brightly colored and boldly designed stamps, so it's paradise for stamp collectors.
Is bargaining acceptable in Bhutan?
Bargaining is not acceptable in Bhutan and goods are offered at fixed prices. Bartering is seen as offensive so should not be tried.
Is it safe for a single woman to travel in Bhutan?
Solo travel in Bhutan is actually prohibited so women travelling alone will be under the constant supervision of a guide and will probably end up in a group. This makes travelling here incredibly safe and eliminates many of the problems solo females encounter in other countries. Nevertheless, it is a good idea to have your wits about you whilst travelling and to dress conservatively to avoid causing offense.
What is the duty free allowance for Bhutan?
Travelers are permitted to bring the following into Bhutan:
1L of alcoholic beverages
Personal effects
The sale of tobacco is banned in Bhutan. Tourists can import 200 cigarettes or three 50g tins of tobacco for personal consumption, but these are subject to 100% tax.
The following are banned from being imported: Narcotics, pornography and antiques. Restricted imports include arms and ammunition, drugs and pharmaceutical products, used and secondhand goods and equipment, gold and silver in excess of baggage allowance, live animals and their products, plants and chemicals.
What is the currency in Bhutan?
The currency in Bhutan is the Bhutanese Ngultrum, however, the Indian Rupee can be used as well. Check OANDA for the latest exchange rates.
Pound Sterling, US Dollars or other major currencies can be exchanged in Bhutan at the airports and in banks. Visa and AMEX are accepted by the bigger hotels and business establishments mostly confined to the larger towns such as Thimpu and Paro.
Traveler's Checks are not recommended as they're often difficult to exchange and incur high fees.
What do things cost in Bhutan?
Bhutan is unique when it comes to pricing as tourists can only enter the country once they have paid for an all inclusive tour, which includes their accommodation, food and transport. These tours usually cost around USD $250 per day. External expenses will include shopping and snacks, which will all depend on how much you want to buy.
What sort of plugs do I need for Bhutan and what is the voltage?
Standard voltage is 220 volts. Primary sockets generally require Indian round 3 pin plugs that are similar but not identical to European plugs, however, you will also find those which require the European or British variety. We recommend that you pack a universal travel adaptor. You will need a voltage converter and plug adaptor in order to use U.S. appliances.
Is WiFi widely available in Bhutan?
The majority of tourist hotels in Bhutan have a WiFi connection and there will be some restaurants and cafes in the main cities that have WiFi but these are likely to be slower and less secure than what you might be used to at home. Bhutan is a great place to disconnect from the modern world and enjoy te incredible natural wonders on offer, so we recommend logging out of Instagram for a few days anyway!
What time zone is Bhutan on?
Bhutan is 6 hours ahead of Greenwich Meantime and does not observe Daylight Saving.