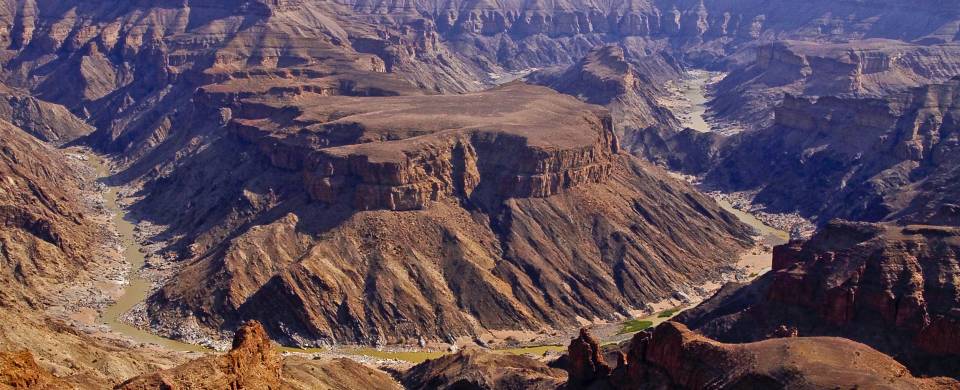 Trips and Tours to Fish River Canyon
About Fish River Canyon
Located in the South of Namibia, the Fish River Canyon is the second largest canyon in the world and the largest in Africa, as well as the second most visited tourist attraction in the country. It features a gigantic ravine, in total about 100 miles long, up to 16 miles wide and in places almost 550 meters deep. The Fish River, from which the canyon gets its name, is the longest interior river in Namibia. It cuts deep into the plateau which is today dry, stony and sparsely covered with hardy drought-resistant plants. The river flows intermittently, usually flooding in late summer; the rest of the year it becomes a chain of long narrow pools.
Read More
Upstream the river runs through the horizontal dolomite strata. These strata formed part of the canyon about 650 million years ago when plate movement cracked the earth, the first process in the formation of the Fish River Canyon. Lower down, a granite complex system is exposed to form a characteristic river bed that results in forms like Fingerspitze. In this area, a fault runs north-south, which accounts for the gorge-like channel and the presence of hot sulfurous springs.
The route through the canyon is certainly not for the faint hearted. No facilities are available and hikers sleep outdoors for the entire trip, which usually takes 3 to 5 days to complete. Due to high summer temperatures which frequently exceed 45°C, the hike is only open in winter. The season starts 15 April and ends 15 September. A medical certificate is required to attempt the hike, and groups must consist of at least 3 participants. While this might seem a little daunting to some, the vistas in store make it well worth the effort.