Zimbabwe Tours & Package Trips
Discover Victoria Falls and Matobo National Park with our range of Zimbabwe safari tours. Book today!
Landlocked Zimbabwe is a classic safari destination, home to mighty Victoria Falls and numerous great national parks, such as Mana Pools National Park and Matobo National Park. However, the country's wildlife offering is crowned by the flagship Hwange National Park. The reserve is home to an impressive population of elephants, as well as other iconic species including lions, buffalo, zebras, and giraffes. The area around Victoria Falls has plenty to offer too, with activities to entertain all ages and interests, from horseback rides and scenic flights over the waterfall to bungee jumping and rafting on the Zambezi River.
Our overland camping, lodge accommodated, and private Zimbabwe tours follow set itineraries, so there is plenty of choice for you to find your perfect Zimbabwe package!
Zimbabwe Overland Camping & Accommodated Safaris
Our small group Africa overland safaris take in much of eastern and southern Africa, travelling in rugged overland trucks and escorted by an experienced two-person crew. The whole group will pitch in with setting up camp and cooking, and you'll sleep on roll mats in two-man tents amongst some of Africa's best scenery. On the majority of tours we also offer an accommodated upgrade. You'll travel with those on the camping safari and help with the chores but stay in budget accommodation at the campsites rather than in tents.
Zimbabwe Comfort Camping Safaris
Our comfort camping safaris are ideal for the over 40s and also welcome families with children aged 10 and above. On these overland safaris you can sit back and relax as your experienced three-person crew sets up camp, prepares your meals and cleans up, so you don't need to lift a finger. In addition, you'll enjoy the comfort of sleeping on a camp bed rather than a roll mat and benefit from at least three nights in a hotel, including the first and last night of the tour. These are small group safaris (maximum size of 16), escorted by a licensed African guide.
Zimbabwe Lodge Safaris
If camping isn't for you then the quality lodge accommodation on these southern Africa tours may be more to your liking. Our lodge tours have small groups, with a maximum of 16 travelers, and they are fully escorted by an experienced local guide, who also acts as your driver. These tours are packed with inclusions, with lots of meals, airport transfers and all manner of included game drives and activities. All of these lodge accommodated safaris start or end in Victoria Falls town, where you can view the spectacular falls.
Zimbabwe Private Tours
If you're short on time and prefer the idea of a private tour to travelling with a group then our 4-day Victoria Falls & Chobe tour may be the one for you. You'll take in Zimbabwe's main attraction before hopping into neighboring Botswana to see the wildlife of Chobe National Park. This tour can depart any day of the year and there are a range of accommodation options available to suit your budget. It can also be booked in conjunction with our camping and lodge tours.
Explore more countries like Zimbabwe
Frequently asked questions about our Zimbabwe safari tours
Will I see Victoria Falls as part of my Zimbabwe package?
All of our Zimbabwe tours visit Victoria Falls, with the majority starting or ending in the town named after the famous waterfall. Some of our tours include entry and activities at the falls, whilst on others this is optional, but you will always have time to visit if you wish. You can find details about what is included in each tour on the relevant webpage.
When is the best time to visit Zimbabwe?
The best time to visit Victoria Falls is from February - May, when the cascades are at their fullest after the rains. However, for safaris in Hwange National Park and elsewhere, May - October offers the best conditions, with less rain and pleasant temperatures. You can find more information in our guide on when to visit.
What do I need to pack for my camping safari to Zimbabwe?
If you travel on one of our camping trips, we recommend you read our guide to overland camping safaris before your holiday. You can also see a detailed packing list in the Trip Notes for each tour, which we suggest you read before you travel!

Some of the important items to remember for your Zimbabwe tour are: sleeping bag, travel pillow, towel, Mosquito spray (with active DEET ingredient), your own personal first aid kit, torch, antibacterial wipes, a photocopy of your passport data, and your Yellow Fever Vaccination Certificate.

Please note that on our comfort camping safaris, camp bed, mattress, sleeping bag and pillow are provided.
What is the local payment for on your safaris?
The local payment is a cost per person that needs to be paid in US Dollars cash only on our Zimbabwe trips. It is this payment that in part covers the park fees and other inclusions such as meals as detailed on each tour page. The local payment also covers your arrival transfer and first night's accommodation.

Our comfort camping safaris also have a small local payment, to be paid in South African rand or USD (check each tour for details) at the start of your trip.

Please note that due to exchange rate fluctuations in the US dollar, the local payment amount may be subject to changes. This payment will be collected by your tour leader at the Welcome Meeting on day 1 of your escorted tour. Our Reservations team can give you more information about the local payment, the cost of which can be found on each tour page.
How big are the groups on your Zimbabwe trips?
On our Zimbabwe overland camping safaris, the maximum group size is 30, and these trips depart with a minimum of 4 passengers. Our comfort camping safaris have smaller groups, with a maximum size of 16.

On our Handpicked Zimbabwe holidays, the group size is smaller, with a maximum size of 16. These trips depart with a minimum of 4 travelers.
Will I be escorted by a tour guide on my Zimbabwe trip?
When you travel on one of our overland camping trips in Zimbabwe you will be escorted by a three-person crew comprised of a qualified tour leader who will act as your guide, as well as a driver and cook. On our comfort camping tours you will be escorted by a three-person team including a qualified African guide.

On our lodge accommodated tours, you will be fully escorted by an experienced local guide, who will also act as your driver.
Is Zimbabwe a safe destination for travellers from the LGBTQ+ community?
According to the 2022
LGBTQ+ Travel Safety Index
, Zimbabwe scores an F rating for LGBTQ+ traveler safety, ranking 149th out of 203 countries.
Same sex marriage is illegal and there are no constitutional or worker protections in place for the LGBTQ+ community. 0 - 25% of consulted citizens consider Zimbabwe a good place to live for gay and lesbian people. Same sex relations are outlawed, and homosexual acts are punishable with up to 1 year in prison and / or a fine.
This does not mean members of the LGBTQ+ community shouldn't visit Zimbabwe, but precautions should be taken when travelling. As long as you use common sense, travelling in Zimbabwe shouldn't be a problem.
The LGBTQ+ Travel Safety Index is designed to provide a good overall picture of attitudes towards the LGBTQ+ community in each country and may not reflect the experience of foreign travelers to the country.
Is the tap water safe to drink on your Zimbabwe trips?
The tap water is not considered safe to drink in Zimbabwe and should be avoided. Stick to filtered or bottled water and avoid drinks with ice, and salads that may have been contaminated in tap water. This is the safest way to avoid an upset stomach on your ZImabbwe holiday!
As a solo traveller will I have to pay more to travel to Zimbabwe?
On our overland camping trips (excluding comfort camping), solo travelers will be matched up with another solo traveler of the same sex, with whom they will share a tent. If there is no other solo traveler of the same sex on the tour, you will have a tent to yourself at no extra cost.

On our Handpicked lodge safaris, a single supplement applies for solo travelers. The cost of this can be seen on the tour page for each trip.
What is the current travel advice for Zimbabwe?
As a United Kingdom-based company, we follow the latest up to date travel advice from the Foreign and Commonwealth Office (FCDO). You can see the latest travel advice, current travel health news and local laws for Zimbabwe here.
Discover Victoria Falls on our Zimbabwe Tours
Known locally as Mosi-oa-Tunya, translated as The Smoke That Thunders, mighty Victoria Falls has been named one of the Seven Natural Wonders of the World and is claimed to be the largest single sheet of falling water in the world. Located between Zambia and Zimbabwe, the Zambezi River widens to 1.7 kilometers and then the full width of the river plunges 108 meters down into the Zambezi Gorge, sending clouds of spray up to 500 meters in the air, helping to sustain the surrounding lush rainforest. See it for yourself on one of our Zimbabwe package tours.
The Best of our Zimbabwe Trips
Home to one of Africa's top natural attractions and a fabulous game park where you can go wild on safari, Zimbabwe has a few places that should not be missed. Here are the best places to visit.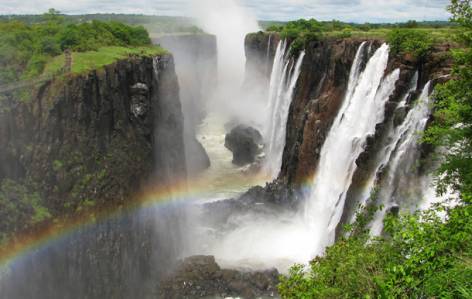 Victoria Falls
The Smoke that Thunders. Shared with Zambia, Vic Falls is one of the Seven Natural Wonders of the World and when at full flow takes the breath away from even the most seasoned traveler. The town of the same name is Zimbabwe's adventure capital and there are an indescribable number of activities to enjoy in the area. From boat trips on the Zambezi River and hikes to the falls, to scenic flights, horse riding, bungee jumping and more.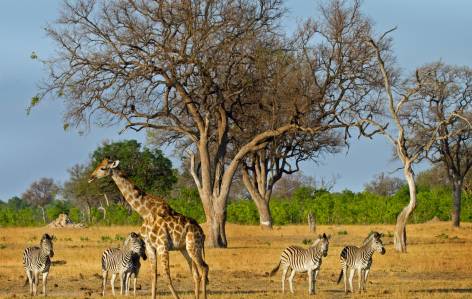 Hwange National Park
Zimbabwe's premier game reserve once had a severe poaching problem, but has thankfully managed to mostly get on top of this scourge, and wildlife populations are now mostly healthy. More than 40,000 elephants live in the reserve, as well as lions, leopards, buffalo, giraffes and other flagship African species. It's on the main road to and from Vic Falls, so it's easily accessible but always quieter than the main national parks of nearby Botswana and Namibia.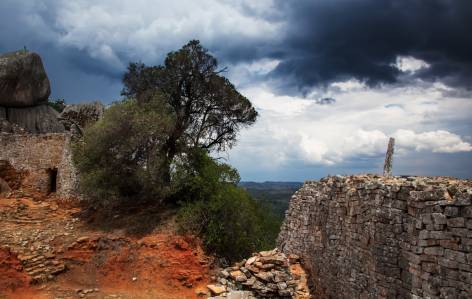 Great Zimbabwe Ruins
A sprawling ruined city built by indigenous societies in the 13th and 14th centuries, the Great Zimabbwe Ruins are probably the country's cultural highlight. The complex was once the center of a vast empire known as the Munhumutapa Empire, and much of the original architecture survives today. In places, the stone walls are up to 6 meters thick and 12 meters high with a section of wall running 60 meters long.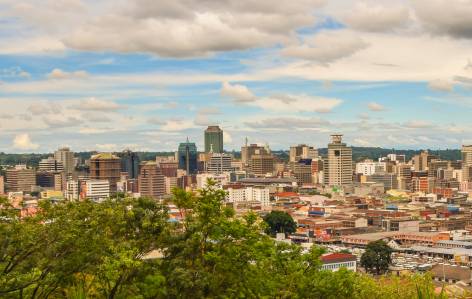 Harare
The capital of Zimbabwe is the gateway to the country's incredible wildlife destinations, but worthy of a visit in its own right. The Botanical Garden of Harare has 900 various species of tree and shrubbery to admire and if you visit in September or October you'll see the purple blossoms of the jacaranda tree in full bloom. To admire and photograph vast vistas of this intriguing city head to Kopje, a granite hill that rises out of the center of the city.