Lapland & Finland Trips & Tours
Finland Group Trips & Tours
Our range of Finland tours make for the perfect European winter adventure. Think husky sleigh rides, reindeer farms, snowmobiles, and Northern Lights. Nights spent in incredible glass igloos or exploring Helsinki and the neighboring Baltic countries. We have special Christmas and New Year departures too!

These Finland trips are semi-independent, meaning you'll have the services of our tour guides for included activities. But you'll also have plenty of free time on your Finland package to explore independently and take part in optional excursions and activities - perfect flexibility! The exception to this is our fully escorted Baltic Start to Finnish, which takes in the three Baltic states of Lithuania, Latvia and Estonia alongside Helsinki, capital of Finland.
Finland Family Tours
Finland is an amazing family destination, with Lapland being home to Santa Claus! Children aged four and over are welcome on these Finland trips, and highlights include meeting Father Christmas at Santa's Village, crossing the Arctic Circle, and coming face to face with huskies and reindeer no fun-filled sleigh rides. With airport transfers included on your Finland package and the services of expert guides for sightseeing, all the hassle of travel is taken right out of your hands. So you can focus on creating fun-filled memories in Finland with the family!
Cross the Arctic Circle, go husky sledding and stay in a glass igloo with our Finland trips & tours. Book today!
Our Finland trips are a great option for those looking for a winter holiday in northern Europe, especially if travelling with children. The winter wonderland of Lapland is home to Santa Claus, the perfect backdrop for a family adventure. But Finland is a great adult-only destination too. For thrill-seekers, there are outdoor activities aplenty, including reindeer farm visits and sleigh rides, huskies, ice fishing, snowmobiling, and ice swimming. Plus of course, the magical Northern Lights.
Take a long weekend to explore Rovaniemi, the capital of Finnish Lapland, or spend a week enjoying winter activities in nearby Levi or Kuhmo with a Finland package. Cross the Arctic Circle, meet Santa, learn how to drive a husky sled, make your own Christmas gifts out of reindeer antlers and stay in an enchanting glass igloo - perfect for viewing the Northern Lights.
Our Finland tours run from November to March every year, so if you have family plans over the holidays then there's still plenty of time to book that Finland package! But our Finland trips are perfect if you would like to enjoy the magic of Christmas in the home of Santa Claus. We offer special festive departures of our Finland tours every year.
Finland City Stays
Our Helsinki City Stay is perfect for a long weekend in Finland, or can be combined with our longer group tours in Scandinavia. It includes 4-star accommodation, a guided city tour and free time to explore at your own pace.
Explore more countries like Finland
Frequently asked questions about our Finland tours
Will I see the Northern Lights on your Finland tours?
Our group tours in Rovaniemi and Kuhmo are perfect for spotting the Northern Lights (Aurora Borealis), as they are northern locations in or near the Arctic Circle. Although you won't see the Northern Lights amongst the bright lights of the cities, you can head into the countryside on included or optional excursions to try and catch a glimpse of this natural phenomenon.

Each of our group tours in Finland has a host of included and optional activities. Activities include snowmobiling, ice fishing, tobogganing, husky sleigh rides, and cross-country skiing, with more information available on the tour page for each Finland adventure.

If witnessing the Northern Lights is your main reason for visiting Finland, we recommend our Aurora & Glass Igloo Explorer tour. On this trip you will spend a night in a glass igloo, keeping warm and toasty with your eyes fixed upwards on the night sky - it's the best chance you can get in Finland to spot the Northern Lights, and a unique experience too!

The best time to see the Northern Lights in Finland is between the months of December - March, when our Finland tours operate. Of course, Northern Lights viewing cannot be guaranteed, but you have a great chance of seeing them on our Finland tours!
I want to take my children to see Santa Claus, can I do this on your Finland trips?
It's every child's dream to meet Father Christmas in Lapland, and our family tours to Finland can help make these dreams come true, creating unforgettable memories for the whole family!

Travelers on our Lapland Family Explorer, Lapland & the Arctic Circle and Lapland Explorer Finland tours will visit Santa Claus' Village to meet the man himself. And if travelling on our Christmas in Finland festive Finland package, you'll also meet Santa, just a few days before he sets off on Christmas Eve to deliver presents around the world.
What do you mean by "semi-independent"?
The majority of our Finland trips are "semi-independent". This means that while you will enjoy the services of our qualified tour guides for included sightseeing and activities, you will not be fully escorted throughout your Finland package. This gives you more time and flexibility to enjoy relaxing in your hotel or partaking in optional activities as you see fit - shaping your own Finland experiences. You will still enjoy included airport transfers on our Finland tours, for a hassle-free arrival and departure.
When is the best time to visit Finland?
The winter months of November - March are the most popular time to visit Finland, especially around Christmas. The countryside is blanketed in snow and the Northern Lights dance across the night sky. The summer months of May - July are a good time to visit Helsinki, with pleasant temperatures, though the short nights of the midnight sun are in full force, so remember to pack an eye mask for sleeping! There's more detail in our guide on when to visit Finland.
How big are the groups on your Finland trips?
Our small group Finland tours depart with a minimum of 2-4 passengers, and the maximum group size is 30 on most trips, though rises to 38 on our Christmas and New Year tours.
What sort of accommodation do you use on your Finland trips?
On our group tours in Finland, you will stay in well-located 3-4 star hotels. You can find information about the hotels we regularly use on the tour page for each trip.

It is worth noting that on our Aurora & Glass Igloo Explorer Finland tour, you will spend a cozy winter night in a glass igloo, looking out for the Northern Lights.

And on our Lapland Explorer trip, you will stay at the Levi Hotel Spa, with full access to the hotel's spa included. It is also possible on this tour to upgrade your accommodation to the Break Sokos Hotel Levi. Speak to our team for more information!
What do I need to pack for my winter trip to Finland?
Finnish Lapland is in and around the Arctic Circle, so things can get chilly! We have a detailed Lapland packing list in our Travel Guide, and you'll find suggestions on what to pack in the Trip Notes for your Finland or Lapland tour.

As a guide, you'll want to bring the following on our Finland tours: snow boots or hiking boots, ski socks (merino is best), thermal layers, ski trousers, waterproofs, lots of layers (avoid cotton - polyester and wool are best), a good quality jacket, hat, gloves, scarf. Bring a swimming costume if you want to try a Finnish sauna too (though if you're anything like the local people you may not need it!).
Is Finland a safe destination for travellers from the LGBTQ+ community?
According to the 2022 LGBTQ+ Travel Safety Index, Finland scores a B+ rating for LGBTQ+ traveler safety, ranking 19th out of 203 countries.

Same sex marriage is legal, and there are constitutional and worker protections in place for people of all sexual orientations. Hate crimes against members of the LGBTQ+ community are criminalized and 76 - 100% of consulted citizens consider Finland a good place to live for gay and lesbian people. There are no legal punishments for same sex relations and most trips for LGBTQ+ travelers to Finland are trouble-free.

The LGBTQ+ Travel Safety Index is designed to provide a good overall picture of attitudes towards the LGBTQ+ community in each country and may not reflect the experience of foreign travelers to the country.
Can I drink the tap water in Finland?
Yes! Like in most Scandinavian countries, the tap water in Finland is completely safe to drink. In fact, it is incredibly fresh and crisp, far better than bottled water! We recommend you bring a reusable water bottle on your Finland or Lapland tour, so you can save money and protect the environment by avoiding bottled water.
What is the current travel advice for Finland?
As a UK-based company, we follow the latest up to date advice from the UK Foreign and Commonwealth Office (FCDO). You can see the latest travel advice for Finland before you book your trip by clicking
here
.
Northern Lights, husky sleigh rides, and glass igloos on your Finland package
Join us in Finland on our Aurora & Glass Igloo Explorer tour for a unique viewing experience of the mesmerizing Northern Lights. Spending the night in a glass igloo in Lapland, you'll enjoy panoramic views of the surrounding scenery from your bed, made all the more spectacular when the Northern Lights illuminate the dark Arctic sky.

Here are some other experiences you can enjoy with our Finland tours, including a visit to a reindeer farm and a thrilling snowmobile excursion. And don't worry, you'll be accompanied by a qualified tour guide for all activities in Finland! Speak to our team today to find the right tour for you!
---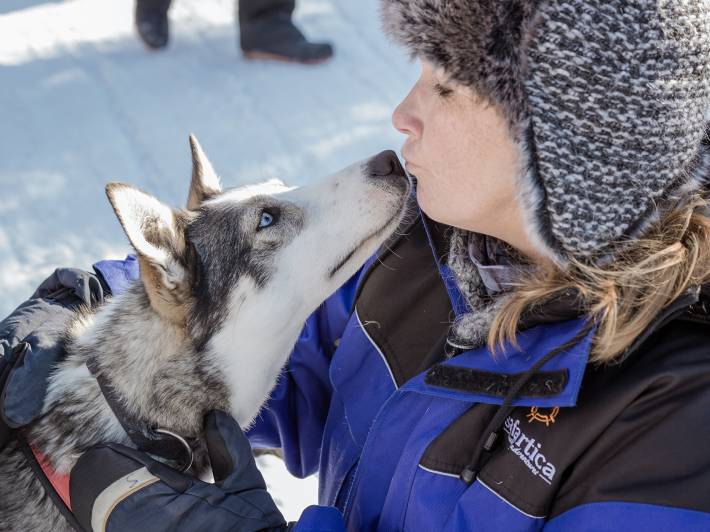 Husky sleigh ride
Come face to face with these adorable working dogs on our Finland tours, and enjoy an unforgettable sleigh ride through the ice and snow. These dogs are specially adapted for life in the Arctic. Enjoy an exhilarating husky ride, where you take it in turns to drive the sleigh and enjoy the ride. Have a go at taking the reins, and enjoy a warming drink afterwards as you reminisce on a wonderful experience! Available as an included or optional excursion on the majority of Finland tours. We work with only the most ethical tour operators for our husky safaris.
Snowmobiling
Where better to have a go on a snowmobile than the frozen vistas of Lapland? On many of our Finland trips, you'll have the opportunity to jump aboard one of these machines and ride past snow-covered pine trees and through stunning wintery scenery. Don't fancy taking control? No problem, simply sit at the back, hang on and enjoy one of the highlights of your Finland package! Included on our Lapland & Husky Highlights group tour.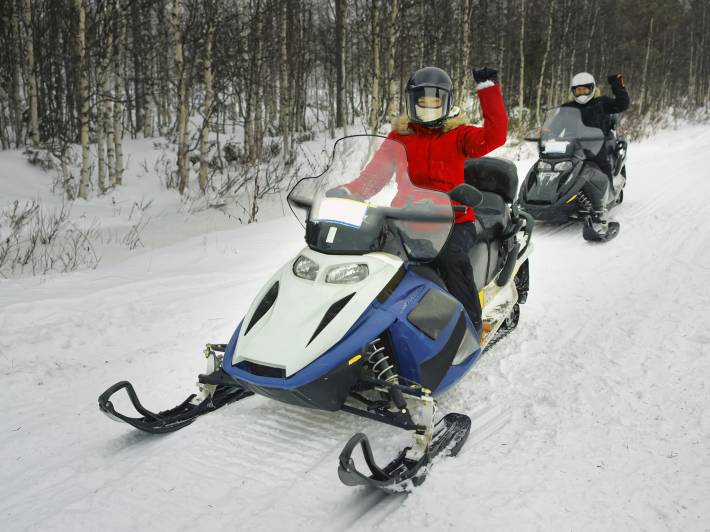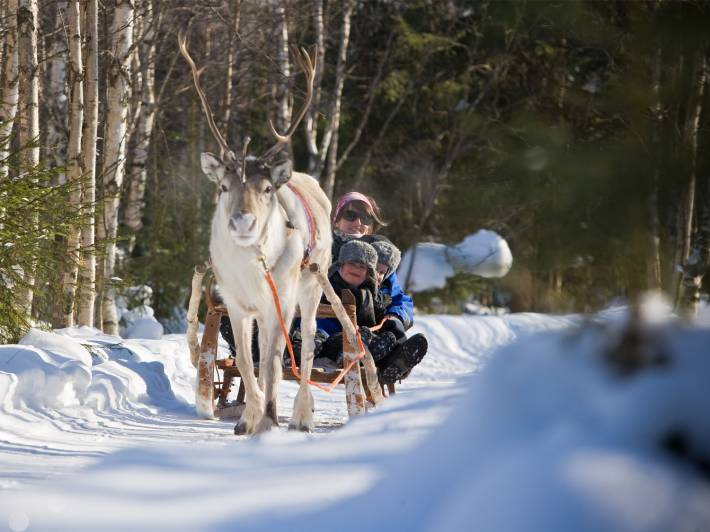 Reindeer ride
It's Santa Claus' preferred method of getting around, so it's sure to be one of the highlights of your trip! On many of our Finland trips, one of the highlights is a visit to a reindeer farm, where you will meet these iconic creatures. Obtain your reindeer driving license and then enjoy a thrilling sleigh ride, rounded out with a warming bonfire and a hot drink. An unforgettable day for kids and adults alike. Included on the majority of our tours in Finland.
The Best of our Finland Trips
Here are our personal highlights in Finland. The beautiful capital of Helsinki isn't one to miss, and Rovaniemi is the best place to explore Lapland, by snowmobile, husky sleigh, or reindeer sleigh. Santa's Village is an important destination for families, and Kuhmo is the base for our Christmas and New Year Finland tours!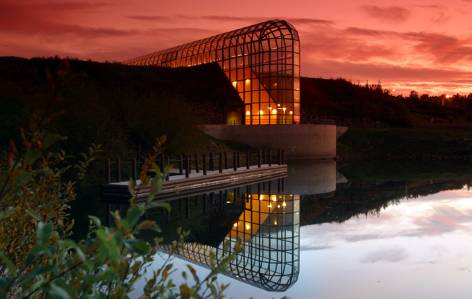 Rovaniemi
The capital of Finnish Lapland and the perfect base for husky sledding and snowmobiling, Rovaniemi is the place to be in Finland, with or without the kids! It's the perfect place for an outdoor adventure, and for spotting the Northern Lights. The town itself is charming, and the Arktikum Museum is a particular highlight - visit on some of our Finland tours!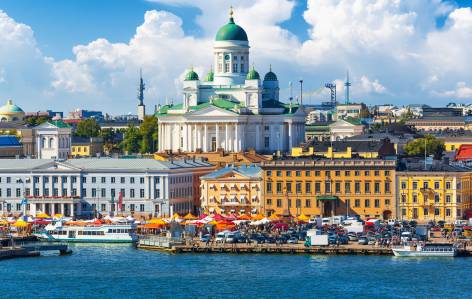 Helsinki
Seaside Helsinki is the capital of Finland and the perfect place for a short break, located on the scenic Gulf of Finland. You'll definitely want to explore Suomenlinna Fortress and there are a host of superb restaurants and an emerging nightlife scene emerging in this increasingly popular city break destination. Nearby Nuuksio National Park is a great way to embrace Finland's wild nature without heading too far from the city.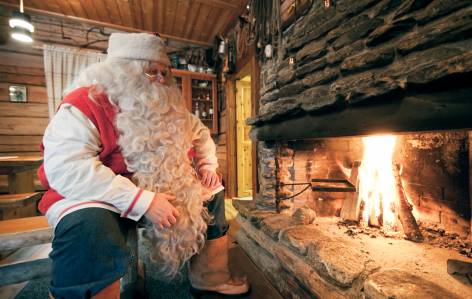 Santa Claus Village
Located in Rovaniemi, this is where Santa Claus spends most of his year, working with his elves and getting ready for Christmas Eve. Visitors to the Santa Claus Village on our Finland tours can see the post office, which receives mail to Santa from all over the world. And of course, they can meet the man himself, and the children can tell him what they would like for Christmas this year.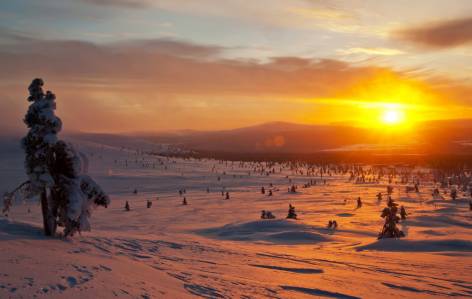 Kuhmo
Riverside Kuhmo is something of a hidden gem in Finland, attracting just a fraction of the visitors that Rovaniemi does, but boasting the same ice, snow, blue lakes, and stunning winter landscapes. This makes it the perfect place to host our Christmas and New Year tours to Finland, with husky sledding and cross-country skiing some of the more popular adventure activities. Plus, of course, you'll have a great chance to spot the Northern Lights, AKA the Aurora Borealis!