Follow the advice of the Boy Scouts and "be prepared" with our collection of travel tips for Panama. Here you'll find plenty of useful info on all manner of subjects from money and tipping, to food and pre-travel health, as well as WiFi access, bargaining and more.
What vaccinations do I need for Panama?
You should seek medical advice from your local health practitioner before travelling to Panama and ensure that you receive all of the appropriate vaccinations. As a guide Tetanus, Typhoid and Hepatitis A are strongly recommended. For more information visit the NHS Fit to Travel page or the CDC Traveler's Health page.
Do I need anti-malaria tablets for Panama?
There is no risk of malaria in Panama but there is a risk of the Zika virus, therefore take extra care to avoid mosquito bites. The best prevention method is to use a mosquito repellent that contains at least 50% DEET and to sleep under the protection of a mosquito net.
Is it safe to drink tap water in Panama?
Tap water is considered safe to drink but travelers may want to stick to bottled or purified water anyway just in case, particularly on the Bocas del Toro islands.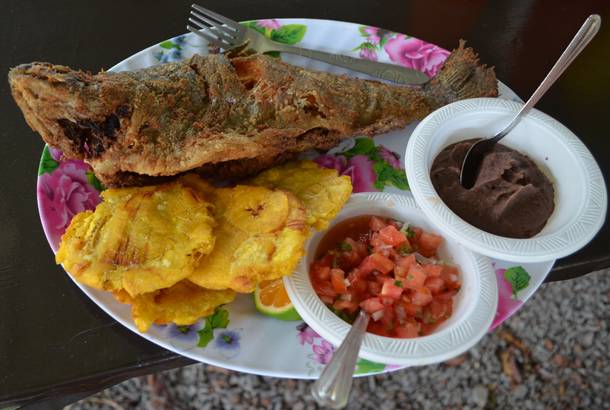 What's the food like in Panama?
Panama has not made much of a mark on the world's culinary scene but it certainly has a few dishes that will satisfy your palate. Much of the food is cooked using coconut, making it abnormally refreshing for a Central American country. Seafood is also very common, especially on the islands of Bocas del Toro and along the coast of the mainland.
Rice and beans are a staple here as with most of Latin America but this rice is infused with coconut, giving it a delicious twist. Patacones, fried fritters of plantain, are another common accompaniment to meals. Empanadas can be bought from street vendors and are like Cornish pasties stuffed with meat, vegetables or cheese.
Breakfast in Panama is usually based around corn tortillas, eggs and perhaps some fried meat. For those who need something a bit less heavy, fresh fruit is usually available. Green vegetables are not particularly common in Panamanian cuisine, instead, root vegetables dominate.
Safe eating while travelling in Panama
Like its neighbor Costa Rica, Panama is much more developed than many other Central American countries. As such, the hygiene and food standards are better than elsewhere on the continent, meaning that it is easy to eat safely. As with anywhere in the world, be wary of street food that looks like it has been sat in the sun for too long and avoid restaurants that look too run down or dirty.
Is it standard to tip in Panama?
Most visitors to Panama will leave about 10% in restaurants as a tip if the service has been of a reasonable standard. Taxi drivers don't expect to be tipped but if the conversation has been particularly interesting or the driver has gone above and beyond the call of duty, rounding up the fare is a nice way to show your appreciation. In upmarket hotels it is normal to tip the maids and bellhops a dollar or two per day. Tipping your tour guide is also customary and this amount should reflect the amount of time you have spent with them and the quality of their tour (usually between USD $5-10).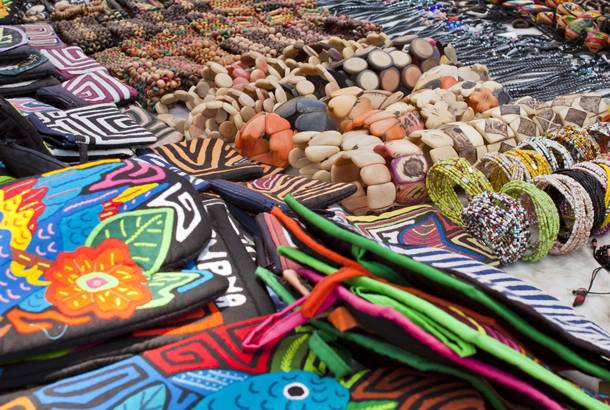 What souvenirs are good to shop for in Panama?
Naturally, there are dozens of vendors selling magnets, t-shirts and other trinkets with Panama stitched or painted across them. For something a bit more authentic, travelers should pick up one of the stunning molas, a square of fabric made from different colored fabrics, which are sold by the local Kuna Indians. Panama hats are also a popular choice for those looking for a traditional souvenir or gift.
Is bargaining acceptable in Panama? Haggling is accepted in markets and those who try can usually whittle down prices to a fraction of what the vendors originally ask. Taxis, hotels and restaurants are not normally open to negotiating, nor are shops and boutiques. Street vendors will usually bargain with you, especially if you are making multiple purchases.
Is it safe for a single woman to travel in Panama?
Women are unlikely to encounter any trouble in Panama. As always, revealing clothes might attract some unwanted attention, although this will usually just manifest itself in catcalls rather than anything physical or threatening. As with anywhere, take care when alone late at night and don't leave drinks unattended in bars and clubs.
What is the duty free allowance for Panama?
The following items may be brought into Panama without incurring customs duty:
10 packs of cigarettes or 2 packets of tobacco
5 bottles or 3.8 liters of alcoholic drinks
Goods up to the value of US $2,000
You may bring in gifts, as long as you do not have more than six of each item. The following are banned from being imported into Panama: Fruit, vegetables, animal products, weapons, explosives, narcotics and hazardous materials.
What is the currency in Panama?
Officially the currency of Panama is the Panamanian Balboa, however, in practice the US dollar is used day-to-day so changing your dollars in to Balboas is of little value. Check OANDA for the latest exchange rates.
Credit cards are usually accepted in higher-end restaurants and hotels though smaller properties are likely to only deal in cash so it's wise to travel with a decent amount of hard currency alongside a Visa or Mastercard debit/credit card. ATMs are found across the country though tend to charge for withdrawals. Cash is essential on the islands where you will not find ATMs or money exchange facilities.
Traveler's Checks are not recommended as they're often difficult to exchange and incur high fees.
What do things cost in Panama?
Panama is more expensive than other countries in Central America. Accommodation usually comes in at around USD $30 for budget hotels with more upmarket hotels costing upwards of USD $50 per night. A decent meal with a drink will normally cost between USD $10-15 with street food coming in at about USD $3-4 a pop. Taxis are very expensive here and are not usually open to negotiating meaning a short journey could cost around USD $20.
What sort of plugs do I need for Panama and what is the voltage?
Standard Voltage is 110v and plugs are the U.S. style, 2 flat plugs.
Is WiFi widely available in Panama?
Yes. It is very easy to find WiFi in Panama, even on the islands of Bocas del Toro. Most hotels, restaurants, cafes and bars will have a free WiFi connection for the use of customers.
What time zone is Panama on?
Panama is 5 hours behind GMT. Panama does not observe Daylight Saving.