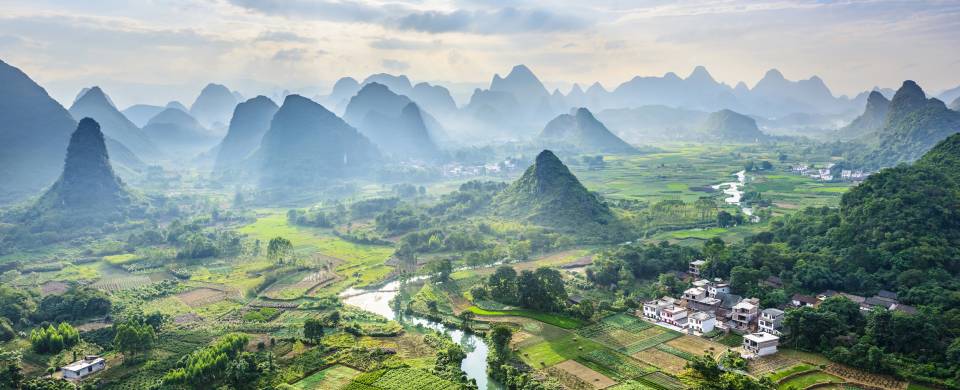 Trips and Tours to Guilin
About Guilin
Considered the pearl in the crown of China's thriving tourism industry, the attractive landscaped city of Guilin is famed for its idyllic scenery of undulating karst hills and verdant vegetation that span out from the Li River flowing through Guilin from north to south. Unsurprisingly, this striking landscape is often the subject of traditional Chinese painting and has long inspired the country's top artists. For many foreign visitors, Guilin and its scenery typifies the exotic Chinese landscape that they have previously only imagined.
Read More
The compact city of Guilin makes for a pleasant base from which to explore the natural endowments of the region with plenty of shaded avenues, thoroughfares and rocky parkland to explore within the city limits and great accommodation options. The main points of interest are Elephant Trunk Hill and the Reed Flute Cave. Located on the western bank of the Li River, Elephant Trunk Hill is one of the city's top scenic spots, likened to a large elephant using its trunk to drink water from the river with an almost perfect semi-circular cave between the 'trunk' and 'body' of the elephant. Guilin is also famous for a number of caves including the Reed-Flute Cave, named after the reeds growing around the cave mouth. The gargantuan cave, which eats into the south side of Guangming mountain, represents one of the most extraordinary examples of limestone erosion in China.
A trip to Guilin would not be complete without a leisurely cruise down the Li River to the village of Yangshuo. Taking around 4-5 hours, the Li River boat journey passes wonderful scenes of rice paddies tended by local farmers, water buffalo lazing in yellow fields and fishermen working with their trusty cormorants for the catch of the day. Around each bend you'll be confronted with breathtaking panoramas of towering rocky outcrops punctuated by small hill-top pagodas and sleepy ancient towns.
Guilin Tours
Here are some popular itineraries that include a visit to Guilin. Alternatively, if you would like to include a visit to Guilin on a bespoke touring itinerary to China, take a look at our tailor-made holiday planning section.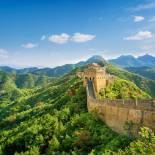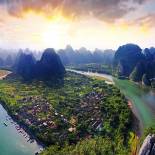 Show All Tours
Best Time to Visit
Guilin's subtropical monsoon climate means the best times to visit are in the autumn months between September and October when the weather is less extreme and temperatures more pleasant with drier conditions and russet hues on the crops and trees. The Li River is at its calmest making it ideal for photography showing the karst landscapes reflected on the water's surface. April is one of the better spring months to visit before the summer rains and accompanying humidity fully kick in. The scenery is also more colourful at this time of year and best if you're after the classic image of lush karst peaks and rice paddies.