SAILING HOLIDAY: Discover sun-kissed beaches, delicious local cuisine, pebbled bays, medieval Dubrovnik, beautiful Korcula and other ports of call. Relax and unwind as we cruise from the ancient port of Split on Croatia's Adriatic Coast with plenty of time to soak up the sun, swim and explore.
Trip Highlights
Split – Roam the medieval streets that lie within the walls of this ancient city
Korcula – Uncover this charming island your way and see the sights of Marco Polo's birthplace
Pakleni Islands – Swim in crystal clear waters and relax on the pristine beaches - a perfect place to relax
Loviste - Stroll around this picturesque seaside town with stunning coastal views
Dubrovnik – Discover a stunning city and the spectacular setting for 'Game of Thrones'
Mljet Island – Explore the unforgettable natural beauty that lies within the national parks
Hvar – Wander around the quaint harbour town and perhaps sample some fresh fish and fine wine
Brac - Soak up the rays on Zlatni Rat, one of the most famous beaches on the Adriatic coast
Included
Continental breakfast daily and 7 (3-course) lunches
7 days cruising the Dalmatian Coast in the Adriatic Sea
Services of captain and onboard crew
Complimentary WiFi onboard
7 nights accommodation aboard a 'Traditional En suite Ship' - A/C en-suite cabins with bunk beds (see Trip Notes for further details about ship category inclusions)
Opportunities to swim, snorkel, soak up the sun, hike and bike ride
Linen, bedding, towels and onboard water dispenser
Below deck cabin (option to upgrade to upper/main deck available)
Not Included
International flights and visas
Port tax of EUR 60 per traveller, to be paid upon check-in, in cash. Entrance fees to national parks, budget approx EUR 10-35 per traveller
Transfers to and from the airport or port
Tip for your crew. We recommend you allow EUR 5-10 per day, per traveller. Tipping is an entirely personal gesture
Our 'Sailing Split' cruising holiday offers 3 different comfort levels. Choose from Traditional En suite, Premium or Premium Plus. Please see Ship Categories for more information.
Saturday. Split – Makarska. Hello Croatia and welcome aboard! Located in the heart of Dalmatia, Split became a popular retirement destination in the 4th century for Roman emperors such as Diocletian. Today, it's renowned for its variety of archaeological, historical and cultural monuments, among them the UNESCO listed Diocletian Palace. The first detailed tourist guide published in 1894, bears witness to the long tourist tradition in hospitable Split. Take some time to explore this Roman city - walk the streets where the Diocletian emperor once ruled and soak up the important historical sights.

Don't miss the boat! Make your own way to the port, our cruise departs from SPLIT HARBOUR ON SATURDAY AT 13:00. From Split Harbour we cruise south to Makarska. If you require pre-tour accommodation we are able to offer suggestions, get in touch with our travel experts for recommendations.
Overnight: Makarska - onboard | Lunch
Makarska – Mljet. Cast your 21st century worries adrift and get on with the business of sheer relaxation and soaking up the sun. Every day there are opportunities to swim and snorkel direct from the boat or from the sandy white beaches as our boat moors in sheltered bays and coves.

Today, we cruise to the Peljesac Peninsula where we will stop to swim. With lunch onboard, we continue to the verdant green island of Mljet. Half of the island is a national park and is stunningly beautiful, with thick green forests of Aleppo pine encircling the two inland salt water lakes. The lakes, Malo Jezero (big lake) and Veliko Jezero (small lake), are interlinked and connected to the sea by a shallow tidal canal. In the middle of Veliko Jezero is the picturesque island of Saint Mary, home to a small 12th century Benedictine monastery, well worth the visit. The island is easy to navigate and it's possible to hire bicycles, motorized scooters, buggies and open top cars from the harbour. At dinner time try one of the many seafood kavarnas (taverns) along the waterfront.

In port at day's end, head to a local restaurant or café. The freshness and variety of Croatian food is typical of Mediterranean cuisine. Seafood has a prominent place, as do fresh vegetables, cheeses and breads. Olives and grapes have been cultivated here since pre-Christian times.
Overnight: Mljet - onboard | Breakfast, Lunch
Mljet – Dubrovnik. Arriving into Dubrovnik, spend the day exploring this ancient city. Much of the history of Dubrovnik can be characterised by its intact city walls, which run uninterrupted for 1940 metres encircling the city. This complex structure, one of the most beautiful and strongest fort systems in the Europe, is the main attraction to the city's visitors. Five towers inbuilt along the city wall offer unforgettable views of the city and out to sea, and were once used to ward off invaders.

The old stone city is a labyrinth of criss-crossed cobbled streets and lanes, with a thousand and one taverns serving up cold beer and Mediterranean food, numerous souvenir and gift shops, many days can be spent exploring inside these city walls.
Overnight: Dubrovnik - onboard | Breakfast, Lunch
Sipan Island
Dubrovnik – Sipan Island/Trstenik. This afternoon we cruise to Sipan Island or Trstenik. Trstenik is a pretty harbour town, located on the north eastern tip of the Peljesac Peninsula. The quaint fishing village boasts beautiful unspoiled coves and beaches, fresh water springs and many restaurants and bars along the harbour side strip.

Sipan Island is historically fascinating. During the 15th century it was a chic summer getaway for the very best Dubrovnik families, many of whom built palaces on the island. Sipan's beaches are never overcrowded so you'll have no trouble finding a pleasant place to leap into the clear sea.
Overnight: Sipan/Trstenik - onboard | Breakfast, Lunch
Sipan Island/Trstenik – Korcula. Today, we'll delve into the old town of Korcula. A distinctive maze of cobbled streets and limestone buildings, you'll discover a fascinating piece of history on each corner. Explore Renaissance palaces, cathedrals and the tower of Marco Polo in the heart of this bustling island.
Overnight: Korcula - onboard | Breakfast, Lunch
Korcula – Pakleni Islands – Hvar. En route to Hvar, we'll cruise the scenic Pakleni Islands. With crystal clear waters and secluded beaches, you'll have the chance to unwind in a true slice of paradise.

After lunch onboard, we'll head to Hvar. Wander the charming harbour town independently and immerse yourself in local life, sampling native wines, spirits and cuisine.
Overnight: Hvar - onboard | Breakfast, Lunch
Swimming in paradise
Hvar – Brac – Split. We'll cruise to the island of Brac, where we'll stop at famous Zlatni Rat. Known as one of the most beautiful beaches on the Croatian coastline, you can swim in the brilliant blue waters, stroll along the endless stretch of sand or explore the town.

Explore the nearby town of Bol on your own terms before lunch on board. We return to Split for a free afternoon and evening to explore the city at leisure.
Overnight: Split - onboard | Breakfast, Lunch
Split
Saturday. After breakfast onboard, our cruising adventure comes to an end in Split.
Breakfast
Choosing your comfort level!
Travelling on a sometimes masted, rigged wooden sailing ship (with onboard motor power) with a range of facilities including dining area and plenty of deck space to enjoy the spectacular views and sea breeze, you'll be in the company of like-minded travellers.

Relax as you let the captain and his support crew look after your needs. An onboard cook prepares breakfast and lunch each day, whilst in the evening, we offer you the chance to explore dining options at our numerous ports of call. Dalmatian food is very good indeed!

Individual ship design varies slightly from craft to craft, but all cruise ships offer a range of cabin types (some top deck, some on main deck and some below), comfortably accommodating 2 persons or at a real squeeze, 3. Private en suite bathroom or shared facilities. Should you require a triple cabin, please contact us for further information and availability. As the cruise offers does not include guided touring, it is entirely up to you how you enjoy each port of call. Relax or explore? The choice is yours!

Traditional En suite Ships
Traditional En suite ships offer mostly twin bunk cabins, though dependent upon the craft, triples and double-bedded cabins are sometimes available. All the traditional En suite ships offer cabins with private en suite bathrooms. They also offer towels, plenty of hot water, board games and ample shaded and sun deck space to lounge about!

Premium and Premium Plus ships
Premium and Premium Plus ships offer more spacious cabins with en-suite bathrooms on newly built or fully renovated ships. Accommodation is mostly twin bunk cabins, though double-bedded cabins are sometimes available. Exclusive features of the Premium and Premium Plus ships include; A/C in all cabins whilst cruising, a guided sightseeing tour of Dubrovnik and a further two guided tours on Premium Plus ships plus a delicious Captain's Feast. Additionally, Premium and Premium Plus ships offer plenty of hot water, towels, some linen, a TV and sound system in the reception area, board games and extensive sun and shaded deck space. Premium Plus ships are recently built and are often similar in standard to that of the Deluxe ships, only smaller in size.

Upper deck or below deck cabin
On all of our Croatia cruise holidays, you have the choice of an on deck (upper) or below deck cabin. Below deck cabins are located below the main deck or in the hull of the ships. They do have windows or port holes that allow in natural light but these generally do not open. On deck cabins are either on the main deck or top floor of the boat. These all have opening windows that allow in the breeze. There is a supplement for upgrading to on deck cabins, please see the 'extra prices' section located at the bottom of the 'prices and departures' tab for details. Choose your option at time of booking to secure your place.

For further information about best time to visit, visa's, top travel tips and more, please see our Croatia travel guide.
The ship categories listed below are the ones offered for this sailing itinerary. Please note that individual ship design varies slightly from craft to craft. The ship category will be confirmed at time of booking however the specific ship name is allocated approximately one week from departure.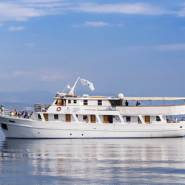 Traditional En suite Ship, Croatia Sailing
Traditional En suite ships offer mostly twin bunk cabin accommodation, though dependent upon the craft, triple and double-bedded cabins are sometimes available. All cabins on Traditional En suite ships have private en suite bathrooms and air conditioning. Additionally these ships provide towels, plenty of hot water, board games and lots of shaded and sun deck space to relax on.
"
Relaxing tour with plenty of sights to see, a tour leader full of information and friendly, great staff, fantastic itinerary and good food."
Franco Artuso
• Submitted 30 Aug 2019
Tour





Guide





Country





"
I am so pleased we booked this boat trip, met some really nice people, food was amazing thanks to the chef and allowed us to visit lots of different places. The boat really made our holiday. Tour guide very helpful and offered lots of options and activities. "
Jenny Hewitson
• Submitted 24 Sep 2017
Tour





Guide





Country





"
They did a great job! And it was super helpful to have Carolyn as a consistent contact while I was preparing for the trip."
Sara Vandermolen
• Submitted 13 Sep 2017
Tour





Guide





Country





"
The tour was better then I expected. The crew on Skarda were awesome! They truly cared about the guests and making certain that they had a wonderful holiday. With respect t the boat, the crew did an amazing job of keeping it very clean and in tip top shape.
That being said, I think the next time I would do this trip, I would look into upgrading to another boat which had a bit larger cabins especially the size of the bathroom. "
Lynne La Macchia
• Submitted 10 Jun 2017
Tour





Guide





Country





"
Our "Sailing Split" trip was awesome and we could not ask for anything better. Our ship the Skarda was clean and well maintained. The 5 man crew were awesome, patient, and kind; especially Milan the bartender who took very good care of us. Cabins were small but had everything we needed. The ports of call were lovely and quaint and I most especially enjoyed the daily swim stops - the water was refreshingly cool and crystal clear. We had ample time to explore each port city/village and never felt pressured to participate in any of the side excursions. The food on board was as expected with basic breakfast and hearty Croatian lunches."
Holly Skiba
• Submitted 05 Jun 2017
Tour





Guide





Country





"
What can I say, only that, that was the best decision I have ever made in my life. I had the time of my life meeting up with like minded people from all across the globe. I have made lot's of new friends to keep in touch with who were more like family to me. Also, I shared a room for the first time and that worked out just fine so on the whole I had a fantastic time and recommend that everyone should give it a try and believe me you will not be sorry."
Carol Yates
• Submitted 05 Jun 2017
Tour





Guide





Country





"
Amazing tour, country, staff and tour guide.
Would thoroughly recommend to everyone!"
Kirsty Logan
• Submitted 07 Sep 2016
Tour





Guide





Country





"
Hi On The Go,
After an amazing few days at Croatia's Soundwave festival in Tisno, we treated ourselves to a wonderful cruise on your Sailing Split itinerary and it was fantastic! After partying hard for 5 days it was wonderful just to be able to relax and enjoy some of the amazing scenery that Croatia has to offer. We've never seen anywhere like it!
Food was great and we got to do some serious tanning. We stopped at some wonderful places to explore and Dubrovnik and Mljet were two of our favourites. Learning about Marco Polo before we explored his home town was a great addition!
We've been raving about it ever since we got home and our boyfriends are getting a bit sick of it! However we plan to take them next year - can't wait!
Thanks for everything.
Vic and Lol "
Victoria & Laura
• Submitted 08 Aug 2016
Tour





Guide





Country





"
Have just returned from the Sailing Split cruise. Sarah Bansgrove from On The Go Tours was most helpful and friendly and called back a couple of times to check availability as we had picked a busy date to travel on. We booked a classic boat but were fortunate to be upgraded to a Deluxe boat on arrival, called the FANTAZIJA (had to pay for A/C) but this was okay as the FANTAZIJA boat was a really modern, clean and new boat (only 3 months old) and was looked after by an excellent crew (Captain Nino, Valentina (Barlady), Chef and assistant (Nikola & Svjezana) and sailors (Jure, Jasko and Tea). The food was outstanding, a 3 course lunch every day and breakfast every morning. We departed from Split and stopped at the following: Makarska, Mljet, Dubrovnik, Trstenik, Korcula, Hvar, Split. There was a morning swim stop and most of the time an afternoon swim stopping before docking for the night at an island / mainland. Favourite for me was Split, Dubrovnik, Korcula, Hvar and the best swim stop was at the Zlatni Rat beach on the Island of Bol (Golden Horn Beach). I cannot recommend this trip enough and would like to thank everyone, from On The Go to the fantastic crew of the FANTAZIJA boat (especially Valentina, who was an absolute star). The crew really work long hours but always had a smile on ther faces! We have really nice people on the boat, ranging from 15 - 70. I am in my mid thirties and the range was okay. (depends on if you want to party/relax). Some advice: Do the River Rafting on the Cetinin river (day of arrival), it is an excursion (you have to pay extra) but is a lot of fun. More advise: your tab on the boat is paid at the end of the trip, so ask for a running total mid week so you can get an idea of how much you have (already) spent as you don't want a surprise at the end of the trip! NOTE: you will need to pay this bill in CASH along with any tips for the crew. Thank you On The Go and the crew of FANTAZIJA for an unforgettable holiday and trip!"
Marcelle Stotter
• Submitted 04 Aug 2015
Tour





Guide





Country





"
I would recommend the Skarda to anyone. We enjoyed every moment and the crew were very friendly and helpful. The Skarda herself is lovely and we have nothing but good memories of the cruise."
Kevin Albertson
• Submitted 18 Jun 2015
Tour





Guide





Country





At a Glance
Range
Trip Type
Starts
Split
Ends
Split
Departs
Saturday
Group Size
Min 10 / Max 28 - 38 dependant on ship
Hotel Rating
Traditional En suite, Premium and Premium Plus Ship options are available
Tour Guide
No
Meals
Breakfast: 7, Lunch: 7
Countries
Minimum Age
No minimum age
Arr. Transfer
No
Dep. Transfer
No
Extra Tour Info
Updated
28th April 2023
"
Relaxing tour with plenty of sights to see, a tour leader full of information and friendly, great staff, fantastic itinerary and good food."
Franco Artuso
OTG000342
Sailing Split - 8 days
Europe
Handpicked
Europe
false
30
Croatia
https://www.onthegotours.com/uk/Croatia/Sailing-Split-8-days
https://www.onthegotours.com/repository/SailingSplitItineraryMainSailingHolidaysCroatia-48231241778002_crop_flip_300_300_f2f2f2_center-center.jpg
Sailing_Holidays