The Land of the Northern Lights: a whirlwind adventure of Southern Iceland. From cool city streets to rugged mountains. From the inviting Blue Lagoon to erupting geysers. From thundering falls to the elusive Northern Lights. See the best Iceland has to offer in five days.
Trip Highlights
Reykjavik: explore Iceland's colourful capital, where every street bursts with cool Nordic style
Blue Lagoon: unwind and rejuvenate in the mineral-rich waters of the Blue Lagoon
Seljalandsfoss and Skogafoss: Iceland's iconic waterfalls
Reykjanes Peninsula: the remote edge of Iceland, home to hot springs, rugged hills and mountains, and rural villages
Hella: spend two nights in Iceland's stunning countryside - the ideal spot for hunting the Northern Lights
Eyjafjallajökull: where a roaring volcano hides beneath the glacial surface
The Golden Circle: a once-in-a-lifetime route, complete with geysers, Gullfoss falls, and Thingvellir National Park
Included
4 breakfasts
Airport transfer on arrival and departure (Flybus transfer)
Transportation in heated coaches, with free Wi-Fi
Entrance into the Skogar Folk Museum and Turf Houses
Northern Lights programme: two evenings of lectures, presentations, films, and guided searches for the Northern Lights. Midnight refreshments are also included here
This tour is operated in conjunction with our trusted partner and you will join travellers from different operators, not solely On The Go. The sightseeing group may vary in size from 10 - 40 persons
Standard: 4 nights in simple hotels and traditional cottages (As an upgrade: 4 nights in 3* hotels)
An English-speaking Icelandic guide
Entrance to the Blue Lagoon, with a towel provided
Entrance into the Icelandic Horse Stables and Geothermal Greenhouse
Use of winter and Northern lights explorer equipment: non-slip snow and ice gripper spikes for shoes and a flash light. This equipment is extremely helpful when walking in the dark and taking photographs at night
Not Included
International flights
Tips for your guide - this is an entirely personal gesture
Reykjavik - Reykjanes Peninsula - Blue Lagoon - Hella. Your morning starts with a tour of Reykjavik, Iceland's charming capital. From there, we'll head out of the city to the breathtaking Reykjanes Peninsula. Think quaint fishing villages, hot springs, and striking mountains. Now, we're headed for Hella, but not without a rejuvenating stop at the Blue Lagoon.

Don't worry, we'll reach our accommodation before darkness falls. And once it does, we'll head out to the garden and wait for the Northern Lights to appear.
Overnight: Hella | Breakfast
Hella - Eyjafjallajokull - Skogafoss - Black Lava Beach - Hella. Today is about the sheer force of nature's power - what makes Iceland, Iceland. The rumbling volcano of the Eyjafjallajökull glacier. The plunging Seljalandsfoss and thundering Skógafoss waterfalls. The stark black sand of the Reynisfjara lava beach. You'll see it all. Later, there's an optional hike on the shimmering Solheimajokull glacier, where you can take in the enchanting icy scenery.

We'll be back in Hella before it gets dark. It's your second chance to catch a glimpse of the Northern Lights - keep your eyes peeled!
Overnight: Hella | Breakfast
Hella - Golden Circle - Reykjavik. This morning, we'll start the journey back to Reykjavik via the breath-taking Golden Circle. Along the way, you'll see bubbling hot springs and geysers at the Geysir geothermal greenhouse. Its famous Strokkur geyser erupts every 10 minutes - don't miss it!

Further inland, we'll pass the mighty Gullfoss waterfall and through the rugged Thingvellir National Park.

This once-in-a-lifetime drive ends in Reykjavik. Once you're checked in, your final evening is free for you to explore or join an optional evening cruise to spot the Northern Lights one final time.
Overnight: Simple hotel in Reykjavik | Breakfast
And just like that, our tour comes to an end. Enjoy your final morning in Iceland however you wish, before your Flybus transfer to the airport. We're sure you'll be back soon.
Breakfast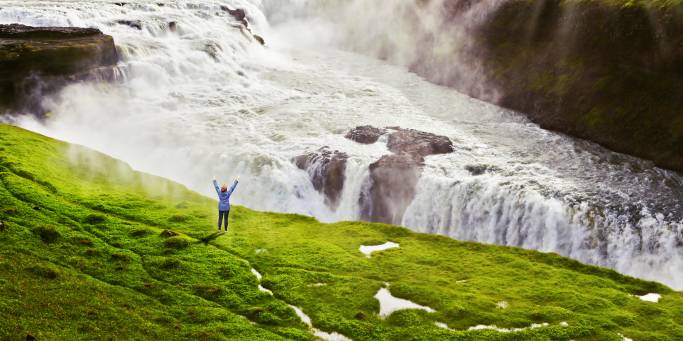 Comfort Accommodation Upgrade
We are now offering the chance to upgrade to a higher level of comfort for all departures on the Land of the Northern Lights tour. Start your holiday off in the Hotel Klettur in Reykjavik and when staying in Hella's countryside, relax in the hot tubs and sauna at the Hotel Stracta!

Please note that the Comfort Accommodation Upgrade is not available on the Christmas or New Year's departures of Land of the Northern Lights.
The hotels listed below are ones which we frequently use on this tour. We reserve the right to substitute these hotels to ones of a similar standard.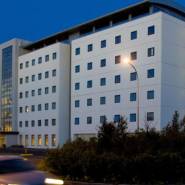 Cabin Hotel, Reykjavik
Just a short walk from the waterfront, Hotel Cabin offers comfortable accommodation, rooms are modern and cosy with en suite facilities. The hotel also boasts a buffet restaurant and lobby bar as well as complimentary Wi-Fi for all guests. The city centre is an interesting 15 - 20 minute walk away and the local geothermal Laugardalslaug swimming pool is a 5 minute walk away.
Arhus Cottages, Hella
Located in the heart of Hella, Arhus Cottages offer comfortable and homely accommodation just a stones throw from the famous Ranga River. Guest cottages have an alpine style to them and are complete with en suite facilities, fridge and kitchenette. Arhus also has a restaurant and bar that serve up a delicious array of local and international dishes as well as refreshing Icelandic beer. Why not grab a warm tipple and sit outside on the decking whilst waiting for the Northern Lights to appear? Located in the middle of the small countryside town of Hella in Southern Iceland.
"
The Land of Northern Lights tour was a triumph!
My tour of Southern Iceland was absolutely wonderful. The venues chosen, the timing allotted at each venue and the variety of things to experience was nearly perfect. Our guide, "Thor", was smart, amusing, full of history and anecdotal stories as well as being incredibly hospitable and helpful. This small group experience was my first, but not my last thanks to On the Go."
Norma Sullivan
• Submitted 10 Sep 2021
Tour





Guide





Country





"
I would rate this Iceland tour highly. The guide, Eyrun was brilliant and the accommodation and breakfasts were wonderful. The itinerary was great and the guide always did her best for us, even if roads were closed and there were necessary itinerary changes. She always kept us informed of what was going on and gave excellent information. We were so lucky to see the Northern lights and loved the chalet accommodation in the South of Iceland. My only gripe would be the Flybus coach from the airport to the hotel - we had to wait 2 hours and nobody was sure what was happening"
David Griffiths
• Submitted 07 Mar 2020
Tour





Guide





Country





"
My Northern Lights Tour was wonderful. The adverse weather conditions just made it more exciting and although it was disappointing not to see the Northern Lights I totally get that storms prevented this.Our tour guide made Iceland come alive for me. She was amazing. I loved the stories (sagas) and expert knowledge of photography was a real bonus."
Kim Lucas
• Submitted 14 Jan 2020
Tour





Guide





Country





"
Fantastic tour! Thoroughly enjoyed everything we did and saw. Both Katrina the tour guide and Gumy the bus driver were friendly and enthusiastic at all times. No question was too silly, and nothing too much trouble. I took my father with me, and we both agree that the tour was great value and a great insight into Icelandic scenery, culture and highlights."
Leah Fraser
• Submitted 09 Dec 2019
Tour





Guide





Country





"
Tour was great. This is the first one I have done so don't have anything to compare it to. But, we saw a lot. Eric was very knowledgeable and able to answer all questions.
Some of the stops it would have been nice to have more time to enjoy them - Folk Museum, Blue Lagoon"
Mary Elizabeth Allen
• Submitted 30 Nov 2019
Tour





Guide





Country





"
The tour was brilliant, it covered everything we wanted to see and the guide Katrina was lovely. She was so knowledgeable and made the trip worthwhile as we learnt so much more about the country. "
Puja Doal
• Submitted 12 Nov 2019
Tour





Guide





Country





"
Superb! The entire package was excellent in all respects. Our guide Martina was wonderfull, her knowledge of the history, geology, geography and mythology of iceland was more than extensive. This, combined with her 'leadership' and warm personable disposition made our experience unforgettable. Please send her a virtual hug from John and Debbie! Iceland is on another planet. The driver was an ace as well.."
John Battersby
• Submitted 06 Nov 2019
Tour





Guide





Country





"
The tour was excellent and a good pace. Antoine was awesome. Very knowledgeable and great sense of humour. We had a great time and saw a lot in a short time. I can't imagine a better, funnier guide."
Thomas Leptich
• Submitted 26 Feb 2019
Tour





Guide





Country





"
Amazing value for money, Guesthouse Borgartuni spotlessly clean and lovely family run. Tour ran like clockwork, no complaints whatsoever and i was expecting a few niggles since travelling alone with three children but we all fitted in very well and found it very interesting. Plenty of travel stops/toilet breaks and itinery allowed for short journeys so no travel sickness incidents! Moe time at Thingvoir National Park perhaps lunch there?
I feel like a walking iceland fact book as the tour guide was so informative, she filled every suitable moment with interesting facts and she was very receptive to the groups needs. She was very engaging and enthusiastic about the country and always phoned the venues ahead of our arrival so there were no hold ups. I would recommmend the tour to my friends and have done so already. I have also recommended On the Go Tours too.
We had self catering cabins at Hella so my only suggestion would be that this be mentioned on the itinery as there is a supermarket nearby so i would have preferred to cook for one night and relax in cabin as it is a very busy itinery with little relaxation when using the restaurant where service was slow and impatient hungry children, its less of a sociable thing and more of a necessity to eat quick :)"
Diane Rattray
• Submitted 26 Feb 2019
Tour





Guide





Country





"
Our tour guide was VERY knowledgeable and passionate about Iceland, her history, culture, geology and geography. A font of information. He's s very pleasant and enjoyable man who kept our tour group organised and on time. One of the most enjoyable tour guides we've had."
Maria Philipson
• Submitted 17 Jan 2019
Tour





Guide





Country





In Brief
Range
Trip Type
Starts
Reykjavik
Ends
Reykjavik
Departs
Tuesdays & Thursdays
Group Size
Min 4 / Max 40
Hotel Rating
Simple hotels and Cottages
Tour Guide
Yes - escorted by a tour guide
Meals
Breakfast: 4
Visiting
Reykjavik, Hella, The Blue Lagoon, Seljalandsfoss
Countries
Updated
17th December 2021
"
The Land of Northern Lights tour was a triumph!
My tour of Southern Iceland was absolutely wonderful. The venues chosen, the timing allotted at each venue and the variety of things to experience was nearly perfect. Our guide, "Thor", was smart, amusing, full of history and anecdotal stories as well as being incredibly hospitable and helpful. This small group experience was my first, but not my last thanks to On the Go."
Norma Sullivan
OTG001463
Land of the Northern Lights - 5 days
Europe
Handpicked
Europe
false
0
Iceland
https://www.onthegotours.com/Iceland/Land-of-the-Northern-Lights-5-days
https://www.onthegotours.com/repository/LandoftheNorthernLightsMain-237911405595414_crop_flip_300_300_f2f2f2_center-center.jpg
Group_Tours