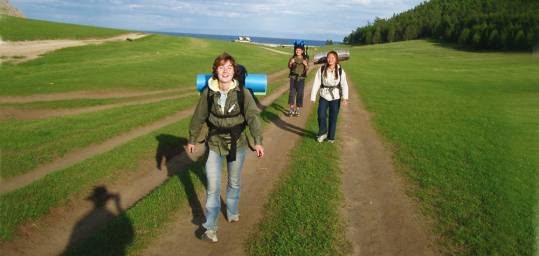 A sustainable approach to tourism
Tourism is one of the most important and largest industries in the global economy and employs more people worldwide than any other. For those of us privileged enough to travel we take on a responsibility to aid people relying on tourism for their daily needs and to treat their home and country with respect. At On The Go Tours we believe travel should be a rewarding experience for you, as well as for the local people we encounter and that preserving the natural state and beauty of the areas we pass through is essential.
In all of our destinations we aim to ensure that the benefits of tourism reach the right places, by employing local tour leaders and frequenting where possible locally owned hotels, shops and eating establishments. We employ only local guides not just for their local knowledge but to help provide much needed employment. We believe that this helps to foster a sense of national pride, as well as ensuring our money reaches the local community.
The responsibility lies not just with the tour operator but also with the traveller and we provide the following framework to encourage our passengers to be responsible travellers and support sustainable travel.
We focus our responsible tourism initiatives in several key areas:

The lions of Africa are on the losing side of an intensifying conflict with people. Since 1975, the African lion population has decreased by an estimated 80- 90%; if we do not take action now we could soon lose the King of Beasts.
On The Go Tours is proud to support the African Lion & Environmental Research Trust and their efforts to save the lion from extinction. Read on to find out more about their work.

A few Rupees, Yuan or Egyptian Pounds, it all adds up. on the go provide passengers with an envelope to donate their unwanted local currency, to our Change for Children initiative in Egypt, India and China. We also donate half the proceeds from our eco egypt tour. This money is put to good use, purchasing clothes, educational supplies and other much needed items for underprivileged children.

The Commonwealth War Graves Commission has constructed 2,500 war cemeteries and plots, erecting headstones over graves and where remains are missing, inscribing the names of the dead on permanent memorials. In order to support this noble cause, on the go tours makes a donation to the Commonwealth War Graves Commission on your behalf for every ANZAC package booked.

The TCD Trust is a non-profit trust set up in South Africa which consolidates the fundraising and social investment efforts of companies within the South African tourism industry. Playing a leading role in community involvement, TCD trust works on range of sustainable projects. For every one of our passengers travelling to South Africa, on the go makes a donation to the trust.

On The Go Tours are members of TOFT, pledging a contribution for each of our clients that travel on a wildlife tour in India with us. Travel Operators for Tigers campaign is aimed at those within the nature travel industry and all visitors to India's wildlife parks, advocating and supporting a more responsible use of national parks and tiger reserves, in order to save the forests of India and its tigers.
AITO ASSURED

As members of AITO we recognise that in carrying out our work as a tour operator we have a social and environmental responsibility to respect other people's places and ways of life and therefore recognise the following common responsibilities to:
Protect the environment – its flora, fauna and landscapes
Respect local cultures – traditions, religions and built heritage
Benefit local communities – both economically and socially
Conserve natural resources – from office to destination
Minimise pollution – through noise, waste disposal and congestion
All tourism potentially has an Environmental, Social and Economic impact on the destination involved and we aim to be sustainable in all our dealings on all three levels by;
Establishing our own policies and involving our staff

Informing our clients about Sustainable Tourism and, where appropriate

Encouraging in destination participation

Working with our suppliers and partners to achieve sustainable goals and practices

Publicising good practice to encourage and spread Sustainable Tourism