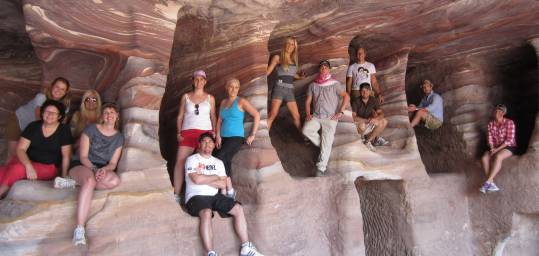 Adventurous Holidays for Single Travellers
Our range of group tours are perfect for solo travellers. Travelling alone can sometimes be a daunting prospect, particularly in countries where English is not commonly spoken or understood, or in places with a high culture shock factor. Travelling as part of an organised group in faraway places does provide security and peace of mind. We handle all of the arrangements for you and there will be a tour leader on hand to provide advice and help if needed, throughout the tour.
Below is a selection of our most popular group tours, which are perfect for the single travellers. These are just a small selection and we have plenty more - please simply browse our website by the destination you are interested in.
Sensible prices for single travellers
Catering for single travellers, we have a 'no mandatory single supplement' policy on most of our group tours, meaning that we will always do our best to match you up with another solo traveller of the same sex, so that you do not have to pay for a single room.
For the majority of our tours in India, Egypt, Jordan, China, Southeast Asia, Morocco, Russia, South America, Africa, Turkey and ANZAC Day, even if we cannot find someone for you to share a room with, we still won't charge you a single supplement. Of course if you would prefer the privacy of your own room whilst on tour this can be arranged for you. Please note that a single supplement does apply, if booking pre/post tour accommodation and bolt-ons, when you will be allocated your own private room.
Join in on one of our guided group tours
Travelling solo doesn't have to mean travelling alone. Our tours attract a lot of single travellers, as well as couples and small groups of friends. Travelling as part of a group means that you can share your incredible travel experiences with a group of like minded people, who have the same passion for travel. Even when group activities are not planned, most groups tend to socialise together and when meals are not included, the majority of the group usually choose to eat together as well. There's nothing like a change of routine and new experiences to bring people together and group tours are a great way of meeting new friends too.
The benefits of joining a group as a single traveller
It's not always easy to find friends or family who want to travel to the same places that you do and the idea of travelling alone often puts people off visiting destinations they've always dreamed of going to. Joining an On The Go group tour is an ideal way for solo travellers to go on holiday with the comfort and security of knowing they'll be travelling with other people and have a knowledgeable guide on hand to give advice. On a tour you don't need to be concerned about dining alone at nights or having no one to socialise with when you're not sightseeing, it's common for our travellers to go out for drinks and meals together even when there aren't any formal arrangements. You're also more likely to visit places off the beaten track and enjoy unique experiences that might have seemed too out of reach or hard to do alone.
On our group tours, travellers usually all get along very well because they share a passion for travel and an interest in the destination that they're visiting – so while you'll arrive on your own, you'll leave with lots of new found friends!
On The Go Tours group mix
We tend to have a fairly even mix of solo travellers, couples and small groups of friends on our tours and our tours attract a wide range of ages, from mid 20s up to 60 and above, which creates a great group dynamic. Our group tours are also a very international affair, with travellers from the UK, Australia, New Zealand, South Africa, Canada and beyond so you'll get to know people from around the world. If you'd like to know who is already booked on a tour that you're looking to join and if there are any other solo travellers, that's no problem, just call us and we can let you know.
Special Solo Traveller Departures in India
If you are travelling on your own you may want to take a look at our special solo traveller departures in India on our Taj Express and Taj Traveller group tours, providing a great opportunity to meet other solo travellers.