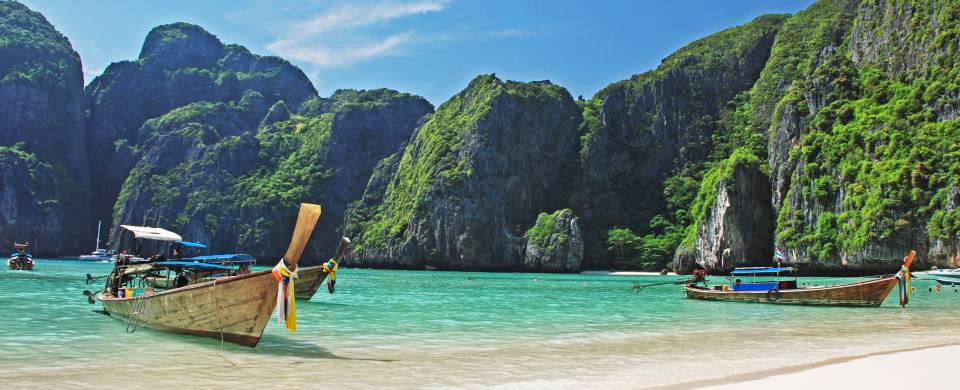 Trips and Tours to Phi Phi Island
About Phi Phi Island
Phi Phi Island gained global recognition in 2000 after being the filming location for The Beach, starring Leonardo Di Caprio and Tilda Swinton. Since then the tropical paradise has snowballed in popularity and, despite the whole island being levelled by the 2004 tsunami, it remains one of Thailand's most popular islands. The sea is an impossibly gorgeous shade of turquoise and the white sands are powder soft and perfect for lying on all day. From the shoreline there are some spectacular views of the dramatic mountains that form the bulk of the island and which are covered in dense, lush jungle.
Read More
Koh Phi Phi Leh, the second largest island of the archipelago and the exact location Leo's blockbuster was filmed, remains a hit with visitors as hundreds flock there every day to snorkel in the crystal clear water and soak up the endless sunshine. It is also home to the mysterious Viking Cave. For the active tourist, Tonsai Tower is a dream come true. The limestone cliff face has all sorts of established routes marked in to its face, making it accessible for rock climbers of all levels.
Diving is another popular activity for those visiting Phi Phi as the water is bath temperature and the visibility is near perfect. Divers often have the chance to witness the beautiful black tip shark or the more unusual leopard shark. If staying on dry ground is more appealing then there are plenty of opportunities to take guided tours through the jungle or to just relax on the beach with a good book and an ice cold, refreshing drink.