Latvia Trips & Package Tours
Save up to 30% on 2024 Latvia Group Tours & Trips
In Latvia we offer a mixture of short city breaks, festive tours and longer multi-country trips covering the rest of Latvia as well as Estonia, Lithuania, Poland and Finland. On all our tours you will stay in well-located 4 star hotels and will enjoy a great mix of guided sightseeing (including a Riga walking tour), optional activities and free time to help you get the most from your destination. Get in touch today to find out more about any of our Latvia packages.
From the medieval Old Town and Christmas markets of Riga to the coastal city of Liepaja, visit Latvia with an On The Go Tours package. Book today!
Riga is the perfect city break destination for those looking to get off the beaten track in Europe. Whether you visit in the warm summer months or embrace the famous Christmas markets in winter, you can explore all that the historic Old Town, a UNESCO World Heritage Site, has to offer.
Outside of the capital are the verdant green forests of Gauja National Park and Kemeri National Park in the Latvian countryside. Not to mention the pretty resort cities of Liepaja and Sigulda. There is also Cesis, known for its 13th-century castle and gardens. A great day trip option!
Our sightseeing tours in Latvia include plenty of guided touring, and we have a selection of short breaks and longer trips that also visit other Eastern European countries such as Estonia, Lithuania, Poland and Finland.
Explore more countries like Latvia
Frequently asked questions about our Latvia package tours
Will I have enough time to explore Riga on your Latvia tours?
The Latvian capital of Riga is only a small city and the two night we spend here on the majority of our tours is plenty of time to discover the main highlights. All our group trips include a private tour of the Old Town and you will also have free time to further sightsee and shop in Riga Central Market at your own pace.
How big are your tour groups in Latvia?
Our Latvia trips run with a minimum of two passengers, and the maximum group size is between 16 and 31, depending on the tour. You can see the group size information for each individual tour on the relevant web page.
What is the standard of accommodation on your Latvia trips?
In Latvia and the rest of the Baltic states, we stay in good quality, well-located 4-star hotels. You can find information about the hotels we typically use on each group tour page, though we do reserve the right to use different hotels of a similar standard if the need arises.
When is the best time of year to visit Latvia?
Latvia has four distinct seasons, each with its own pros and cons. The end of spring and summer from May - August offer the best weather for sightseeing. But Lithuania's winter months from November - February are characterized by beautiful winter snow and Christmas markets in Riga, which can also be a great time to explore the region.
Will I be escorted by a tour guide in Latvia?
Yes you will. All of our trips in the Baltic states are fully escorted by a bi-lingual tour guide, and will enjoy the services of English-speaking tour guides for your Riga walking tour and all included sightseeing. Your tour leader will be on hand throughout your trip to ensure you have a great tour!
Is Latvia a safe destination for travellers from the LGBTQ+ community?
According to the
2022 LGBTQ+ Travel Safety Index
, Latvia scores a D+ rating for LGBTQ+ traveler safety, ranking 74th out of 203 countries.
Same sex marriage isn't legal but there are civil partnerships and worker protections in place for people of all sexual orientations. 26 - 50% of consulted citizens consider Latvia a good place to live for gay and lesbian people. Most tours and trips for LGBTQ+ travelers to Latvia are trouble-free.
The LGBTQ+ Travel Safety Index is designed to provide a good overall picture of attitudes towards the LGBTQ+ community in each country and may not reflect the experience of foreign travelers to the country.
Can I drink the tap water in Latvia?
Yes, the tap water in Latvia is perfectly safe to drink. Why not bring a reusable water bottle on tour? This will save you money on bottled water and lower your plastic footprint!
How will I travel around Latvia?
On our Latvia trips you will travel in a private coach or minibus, depending on the size of the group. You will stop regularly for sightseeing, and guiding may be in another language as well as English.
What is the currency in Latvia?
Lithuania adopted the Euro in 2014, and this is also the currency for the rest of the Baltic states. Check
OANDA
for the latest exchange rates.
What is the current travel advice for Latvia?
As a UK-based tour operator, we follow the travel advice of the Foreign and Commonwealth Office (FCDO). You can see the most up to date advice for Lithuania travel
here
.
Discover the Christmas Markets of Riga
The Baltic capitals of Riga, Tallinn and Vilnius are blessed with winter snow most years. This, combined with their low prices compared to other European cities mean that the Christmas markets here are some of the most popular in the world and visiting is an unforgettable experience. Our 4-day Christmas Markets in Riga group tour is the perfect short winter break!
The Best of our Latvia Trips
Although Riga is the focal point for most Latvia trips, there is far more to this small European country than just its capital. From magnificent Rundale Palace to the resort city of Liepaja, discover Latvia's best sights and destinations on our group tours!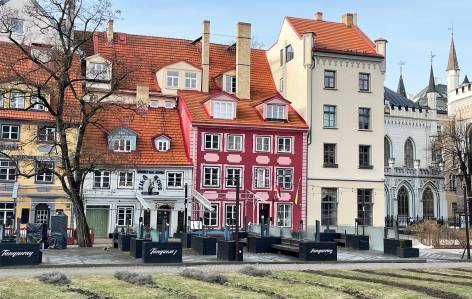 Riga
A perfect city break destination for Europeans looking to visit somewhere different, it's also easy to make Riga part of a longer visit as it is located slap bang in the middle of the Baltics. Straddling the Daugava River, first-time visitors will want to head straight into the Old Town, characterized by cobbled streets, impressive churches and the elegant House of the Blackheads.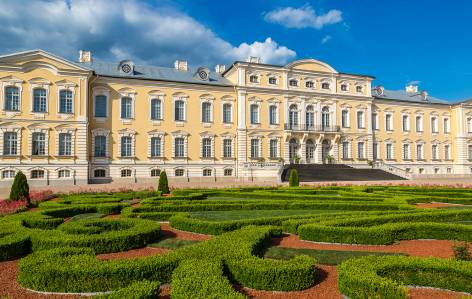 Rundale Palace
For much of its history, Latvia was ruled by Russia, and Rococo style Rundale Palace is the country's most elegant reminder of the past. A gift from Catherine the Great, it is extravagantly designed and set amongst traditional English-style lawns. Visitors can wander these gardens and explore the museum inside to find out more about the palace's history. The palace makes for a great day trip from Riga, located around 1hr 20 by car from the capital.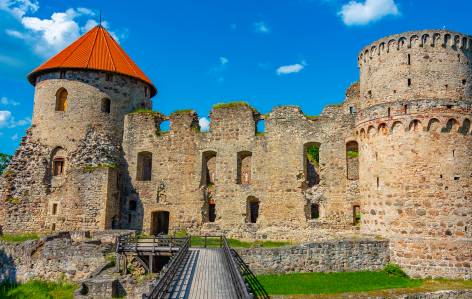 Cesis
Travelers to Cesis may feel they've stepped back in time, as the town boasts one of the most intact historic centers in the Baltic region, complete with timber facades, cobbled streets and ancient courtyards. Crowned by an 800-year-old castle, this Middle Ages town is a delightful place to explore and learn more about Latvia's chequered history.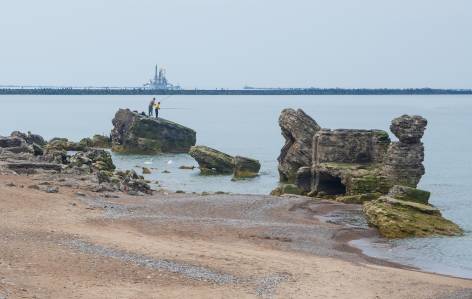 Liepaja
Although it's not particularly known as a sun-seeker destination, the long, windswept beaches of Liepaja are littered with ruined forts and certainly worthy of a stroll! Located near the Lithuania border, this industrial resort town is dotted with pretty Russian Orthodox architecture, crowned by the Cathedral of the Holy Trinity.