Safe Touring & Vaccination

On The Go Tours has received the World Travel and Tourism Council's Safe Travels stamp, which provides travellers with assurance that we have adopted health and hygiene protocols that are aligned with WTTC's Safe Travels Protocols.
In addition to following the WTTC's Safe Travel Protocols, it is a condition of travelling with us to Africa including Egypt, but excluding Morocco that all persons over the age of 18, provide proof of COVID-19 vaccination. These countries are still in the early stages of vaccination so it's important that we do not increase the risk of spreading COVID-19 in local communities or put additional strain on any country's healthcare system. Further details can be found HERE;
Prior to departure, we also recommend travellers keep themselves up to date with the latest COVID-19 regulations and recommendations via the Foreign Commonwealth and Development Office (FCDO) website;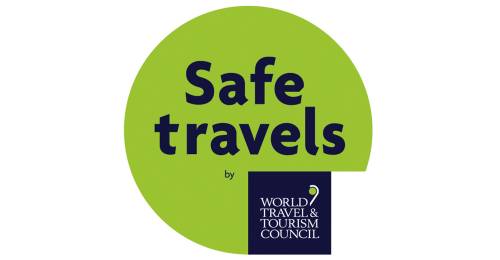 Safe Travels FAQ
How does On the Go Tours ensure proper safety and hygiene on its tours?
In line with recommendations from the World Health Organisation, we have implemented increased hygiene and sanitation standards, with a specific focus on the World Travel & Tourism Council requirements.
Will I need to undertake any COVID-19 testing or screening when I arrive?
Some destinations require upon arrival evidence of COVID-19 Vaccination and/or a negative COVID-19 PCR test taken no more than 72 hours prior to entry. Please check the entry requirements for the country you are visiting at The Foreign Commonwealth Office UK.
All travellers are expected to continuously monitor their health throughout their travels and report any related symptoms to our local team immediately.
Am I expected to wear a mask on tour?
In some destinations it may be compulsory to wear a mask in certain settings or in public places. Your international carrier, departure airport or a transit airport may require that you wear a face mask, please check the requirements with your airline.
As a solo traveller, can I share a room with another solo traveller?
Yes, we are able to offer room share arrangements for vaccinated solo travellers. Our room share option is only available in select destinations on our most popular tours at this point in time. If you have a medical exception you will only be able to room share with another member of your traveling party such as a friend that has booked separately.
Will I be refunded if I am unwell before my trip and unable to travel?
If you are unwell prior to travelling, please contact us to make alternative arrangements as you will need to stay at home.  Please refer to our Booking Conditions for more details on our cancellation policy.
Will I be covered by my travel insurance if I get COVID-19 while travelling?
We recommend that you check directly with your travel insurance provider for more details about the specific cover.
What if there is a confirmed case of COVID-19 on my tour?
If you or someone else on your trip has symptoms of COVID-19 while travelling with us, we will assist in seeking medical care. We will follow the advice of local health authorities in regards to testing and self-isolation. We will assist you and all members of the group to get the medical care required but all expenses for testing, treatment or self-isolation will be at a personal cost.
If I test positive for COVID-19 on my trip, will I get my money back?
If you are unable to continue travelling with us due to a suspected or confirmed case of COVID-19 we can offer you a credit for the unused services of your tour.
Further we will assist you to get all the medical care you require in country though all expenses relating to your care including testing, treatment or self-isolation (in country or at home) will be at a personal cost.
Vaccination FAQ
Which countries do you require COVID-19 vaccination?
We require all persons over 18 years to provide proof of COVID-19 vaccination if travelling to one the following destinations:
• Botswana
• Egypt
• Kenya
• Namibia
• South Africa
• Tanzania
• Uganda
• Zimbabwe

Why does On The Go Tours require vaccination for some countries and not others?
As our highest priority is the health and safety of our travellers, leaders, crew, suppliers, and local communities, customers are required to be fully vaccinated when travelling with us to countries that are still in the early stages of vaccinating and effectively managing Covid.

This practice also ensures that we are not adding additional and avoidable strain to any country's healthcare system.
What proof do I need to provide to show I am vaccinated?
Proof of COVID-19 immunisation (completion of the last dose of the primary series) must be provided to us no less than 4 weeks prior to travel. We accept COVID-19 digital certificates, NHS Covid Pass or Vaccination Record Cards emailed to
[email protected]
or you can upload your vaccination history yourself via our traveller login;
https://www.onthegotours.com/Login
The information you will need to upload includes; Administering national authority or government, document number, name of Vaccine, date/s of vaccination.
We do not require details of any booster injection given in addition to the primary series.
How soon before my departure do I need to be vaccinated?
Proof of COVID-19 immunisation must be provided to us no less than 4 weeks prior to travel, and you must be fully immunised. This means you must receive the full dosage of the COVID-19 vaccine and allow a minimum of 14 days before travelling in order for immunity to take effect. Each COVID-19 vaccine has different dosages and timeframes for immunisation, so please check the related medical advice relevant to your vaccine.
What vaccinations do you recognise?
We recognise any vaccine that has been authorised for use in the country where the vaccine was administered. This includes vaccines such as AstraZeneca, Covaxin, Johnson & Johnson, Moderna, Pfizer-BioNtech, Sinopharm, Sinovac and Sputnik.
Do children need to be vaccinated?
Children under 18 years are not required to provide evidence of vaccination.
Is it compulsory for your guides and drivers to be vaccinated too?
Most of our local guides and representatives are vaccinated, and we are encouraging the small remainder of our local teams to do so as a matter of priority. However, we are also respecting the eligibility hierarchy of each country, and trust that as a result, the last members will be vaccinated as soon as they possibly can.
What if I am unwilling or unable to be vaccinated for medical reasons?
If you are unwilling or unable to be vaccinated for medical reasons, you may be able to apply for an exemption. Exemptions will be assessed on an individual basis. To apply, you must provide supporting documentation from a medical professional. Please send your request of an exemption to
[email protected]
In addition, those who qualify for a medical exemption are still required to produce proof of a negative test in the form of written documentation (in English) conducted no more than 72 hours before day 1 of their trip, the details of which need to be emailed to
[email protected]
prior to the commencement of your trip.
What if I booked prior to the change in your Booking Conditions?
If you have booked holiday arrangements (ie a confirmed tour and departure date) made prior to 24 September 2021 (the date our Booking Conditions were updated) and are unwilling or unable to be vaccinated prior to your trip commencement, please e-mail us at
[email protected]
so we can advise on the options available to your individual circumstances.
What if I have a deferred booking?
If you are rebooking deferred holiday arrangements for travel after 01 November 2021, the Booking Conditions applicable to your booking are those at the time your rebooking is made. Accepting the current Booking Conditions at the date the rebooking is made is referenced in our
Booking Terms & Conditions.