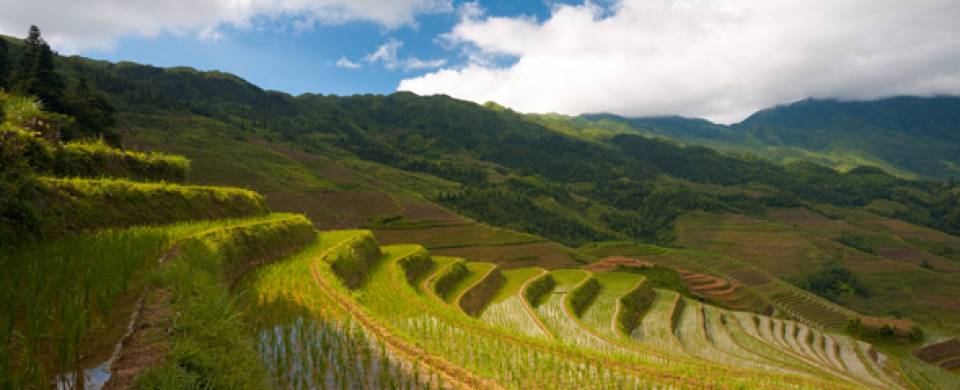 Trips and Tours to Longsheng
About Longsheng
Located two hours northwest of Guilin in a remarkably scenic corner of China, the county of Longsheng is home to some ten ethnic minority groups and surrounded on all four sides by forested mountains. The region is largely untouched by the modern world where wooden houses are squeezed between farmed terraces and villagers continue to use age-old farming techniques and dress in their colorful, traditional costume. However, the main attraction is the Dragon's Backbone terraces where verdant rice fields coil around Mount Longji, climbing layer upon layer to its summit. Covering 66 square kilometers and a resembling a luminous green contour map the terraces are over 700 years old, begun by the Zhuang people back in the Yuan Dynasty (1271-1368) and finally completed in the Qing Dynasty (1644-1911).
Read More
Hike along the stone paths that are no more than a meter wide for a couple of hours and you will have panoramic views of the ribbon-like terraces with picturesque valleys and meandering streams below. It also gives you the chance to see the different traditional costumes as the local women work the fields – quite a colorful sight. The whole area changes with the seasons, with snow covering the terraces in winter, the rice fields a rich green in summer, and a golden hue in autumn at the time of harvest.
Longsheng and the rice terraces can be visited on a day trip from Guilin but if you wish to enjoy the region at leisure it's possible to stay in one of the small rural villages where simple guesthouses offer cozy rooms and wonderful views of the terraces. The Zhuang village of Ping An is one of the best options with a number of short walks to nearby lookouts for great photo opportunities.