Israel & Holy Land Tours & Package Trips
Sacred sites, city streets, and sunny stretches of sand and sea. Immerse yourself in Israel with our award-winning guided package trips.
It's pilgrimages to sacred sites like the Western Wall and the Sea of Galilee. It's exploring city streets, old and new. It's lying back on sun-soaked beaches. It's the heights of northern mountains, to the depths of the Dead Sea.
A holy land of ancient tales, unwavering faith, and striking spirituality. But with twists at every turn, Israel tempts and enchants travelers on any type of adventure. With a long coastline on the eastern Mediterranean Sea and a small window onto the Red Sea at the Gulf of Eilat, Israel offers restful beach breaks as well as a fascinating history. The three major monotheistic religions – Christianity, Islam and Judaism – all have ties to the region and Jerusalem in particular. As a result, the Holy Land is a smorgasbord of cultures, making it a fascinating destination.
Our guided Israel trips and tour packages are led by experts. They'll fill you in on the insider information - and the local secrets. And in your group of like-minded adventurers, you'll make life-changing memories and life-long friends.
Israel & Holy Land Group Trips
Our escorted tours in Israel visit all the main sights of the country. From historic Jerusalem to modern Tel Aviv, the buoyant waters of the Dead Sea, and the biblical sites of Bethlehem, Nazareth, Galilee, and more. You can also combine Israel with neighboring Jordan. And our 19-day Pyramids, Petra, Promised Land tour package also takes in the highlights of Egypt!
Israel & Holy Land Private Trips
If you'd prefer to travel privately to the Holy Land with just your friends or family, then our private Israel package tours could be for you. You'll still have the services of our expert guides for sightseeing, but it'll just be you and your group on tour. Our 4-day Jerusalem & Tel Aviv break is great for those short on time, and we have a longer adventure for those who would like to do more comprehensive touring in Israel.
Explore more countries like Israel
Frequently asked questions about our Israel trips
Will I visit the Holy Land on my Israel tour?
The Holy Land is an area located between the Mediterranean and the eastern bank of the Jordan River, covering much of modern-day Israel and the Palestinian territories.
Sights in the Holy Land such as the Old City of Jerusalem, the Sea of Galilee, Capernaum and the Mount of Olives form an important part of our Israel tours. If you are keen on an extensive Holy Land tour then our
Biblical Lands
and
Heritage & Holy Land
tours are probably best suited to you. But please do reach out to our team for more information or for help finding the best trip for you.
Will I visit the Dead Sea as part of my Israel package?
On all of our group tours to Israel, you will visit the Dead Sea for a few hours to float in the therapeutic water and slap on some of the famous mud. Our longer Signature tours which also visit Jordan (Road to Jerusalem & Pyramids, Petra, Promised Land) include a full free day on the Jordanian side of the Dead Sea, so you can really enjoy the experience.
How big are your tour groups?
On our Signature small group tour, the maximum group size is 24 and tours depart with a minimum of four passengers.

Our Handpicked Israel coach tours have a maximum group size of 45, and depart with a minimum of two passengers. More detail can be found on each individual tour page.
What is the standard of accommodation on your Israel trips?
On both our Signature and Handpicked package holidays, we stay in 4-star, centrally located hotels. Each tour page has a hotels tab where you can find out a bit more about the hotels we regularly use on tour, though we reserve the right to switch to a different hotel of the same standard if the need arises!
When is the best time to visit Israel?
Spring and autumn are generally the best times for a trip to Israel, with pleasant, warm temperatures throughout the country. Spring lasts from March - May, and autumn is from September - November. There's more information about when to explore Israel with our guide and you can see the departure dates for each tour online.
Is Israel safe for travellers?
Although Israel is involved in several well-known conflicts with Hamas in Gaza and Hezbollah in Lebanon, this conflict rarely intrudes on tourist destinations like Jerusalem and Tel Aviv, or the wider country. It is mostly confined to Gaza and the West Bank. The country is generally considered to be safe for travelers. Ben Gurion Airport is widely considered the safest airport in the world - this just means you may experience additional security to what you are used to!

As a UK-based company, we follow the latest up to date advice from the Foreign and Commonwealth Office (FCDO). You can see the latest travel advice and local laws before departure here.
Is Israel a safe destination for travellers from the LGBTQ+ community?
According to the 2022 LGBTQ+ Travel Safety Index, Israel scores a B- rating for LGBTQ+ traveler safety, ranking 35th out of 203 countries.

Although same sex marriage isn't legal, foreign marriages are recognized, and there are constitutional and worker protections in place for people of all sexual orientations. Hate crimes against members of the LGBTQ+ community are partially criminalized and 26 - 50% of consulted citizens consider Israel a good place to live for gay and lesbian people. There are no legal punishments for same sex relations and most trips for LGBTQ+ travelers to Israel are trouble-free.

The LGBTQ+ Travel Safety Index is designed to provide a good overall picture of attitudes towards the LGBTQ+ community in each country and may not reflect the experience of foreign travelers to the country.
Can I drink the tap water in Israel?
The tap water in Israel is generally safe to drink unless you are explicitly told otherwise by your guide or staff in a particular hotel or establishment. Therefore we recommend taking a reusable water bottle on tour, so you don't need to buy plastic water bottles on your trip - good for the environment and your wallet!
What transport do you use on your Israel trips?
On our Signature tours, we travel in private, air-conditioned vehicles such as minibuses. On our Handpicked tours, the group sizes are larger and travel is in a private, air-conditioned coach. There is more information on each individual tour page.
SAFE, SECURE AND STRESS FREE ISRAEL PACKAGE TOURS
With On The Go Tours, you're in safe hands. You'll be led by an expert tour guide. And they'll show you the way to authentic Israel, leaving no stone unturned. From Jerusalem to Nazareth and Masada to Bethlehem, you'll see Israel's main highlights.

As expert Israel tour operators, we'll do the planning and paperwork. We'll deal with the legwork and logistics. It means we can lift the stress from your shoulders. And that means you can focus on what's important: enjoying every second of your holiday. So, come and join us!

You can book your trip in confidence. Our tours are ABTA and ATOL protected. They're award-winning, too.
The Best of our Israel Trips
From trendy Tel Aviv to historic Jerusalem, Galilee, the Dead Sea and everything in between, these are the must-visit highlights for every trip to the Holy Land of Israel.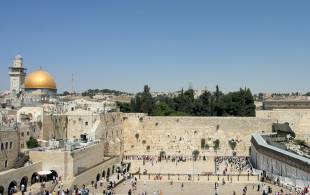 Jerusalem
An amazing ancient city of entwining histories and clashing cultures. Awaken your senses on Jerusalem's vibrant streets, and explore the scars of its turbulent past. From the iconic Temple Mount to the Western Wall, you'll enjoy guided tours of Jerusalem with all our trips.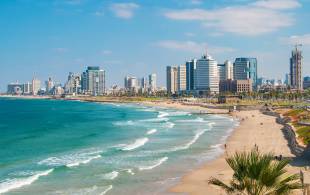 Tel Aviv
Where modern Mediterranean life meets traditional Middle Eastern culture. Head to Tel Aviv for a city break like no other - and an unspoiled stretch of shimmering sea and sand. A thriving nightlife scene and great shopping, Tel Aviv is modern Israel at its best. And the old port city of Jaffa is right on the doorstep.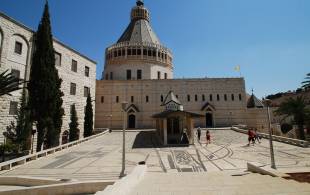 Nazareth
Once a quiet village in Roman-ruled Galilee, this lively Arab city now stands as a place of pilgrimage and spirituality. Nazareth defies expectation. It was the childhood home of Jesus Christ, and there are biblical and historical sites aplenty to explore on your trip, sites such as St Joseph's Church.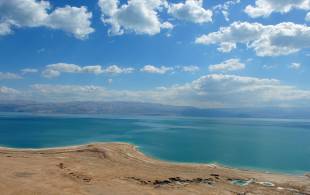 Dead Sea
Fed by the Jordan River and boasting astounding natural beauty, therapeutic and rejuvenating qualities, and famous buoyant waters. A trip to Israel isn't complete without a dip in the Dead Sea. Slap on some of the famous mud and watch its anti-ageing, and healing properties work their magic!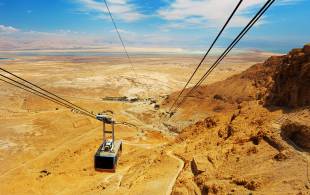 Masada
King Herod certainly picked a spectacular location for his palace. Overlooking the Dead Sea, these hilltop ruins are reached by cable car and were the last stronghold of the Jewish zealots during the First Jewish Roman War in 66AD. Definitely worth a trip!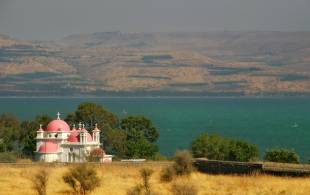 Galilee
The lowest freshwater lake on Earth and the location for many of Jesus Christ's miracles, including walking on water and a miraculous catching of fish. The Sea of Galilee is an important biblical site and a scenic place to relax. The 40km Jesus Trail is worth hiking if you have the time!