Keeping you safe on tour FAQs
The wellbeing of all our travellers, our local teams and the communities we visit is at the forefront of our minds and we are committed to ensuring a safe and responsible return to travel.
Health and safety protocols have been reviewed in all destinations, and increased hygiene policies are being implemented locally in accordance with new national regulations and recommendations from the World Travel & Tourism Council's (WTTC) Safe Travel Protocols for tour operators.
Before travel, it is imperative that travellers familiarise themselves with the health and safety measures and/or additional entry requirements for the destination they are visiting and the re-entry requirements when returning home. We also recommend travellers keep themselves up to date with the latest COVID-19 regulations and recommendations via the Foreign Commonwealth and Development Office (FCDO) website;


On The Go Tours has received the World Travel and Tourism Council's Safe Travels stamp, which provides travellers with assurance that we have adopted health and hygiene protocols that are aligned with WTTC's Safe Travels Protocols.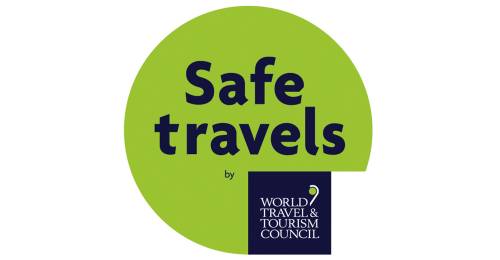 Frequently Asked Questions
How does On The Go Tours make the decision to resume touring in a destination?
When a destination opens its borders to international tourism, has effective health and safety protocols in place to prevent and reduce the spread of COVID-19 and where all guides have been properly trained in infection control
We also seek recommendation from foreign travel and health advisory bodies such as - The Foreign Commonwealth Office UK
Anyone who travels with us also has a duty of care to other travellers and our team to continuously comply with local regulations and laws, in addition to the 'COVID Safe' health & well-being guidelines that we publish for touring with us in the destination. This ensures that everyone can enjoy their travels and still stay safe.
How does On the Go Tours ensure proper safety and hygiene on its tours?
In line with recommendations from the World Health Organisation, we are implementing increased hygiene and sanitation standards, with a specific focus on the World Travel & Tourism Council's (WTTC) Safe Travel protocols for tour operators. Specific details of the hygiene, safety and well-being measures that will take place on your tour can be found in our 'COVID Safe' guide for the country you are visiting.
Our COVID Safe guides include detailed information on:
- Vaccination, COVID-19 PCR test and health screening requirements for entering the country
- Hand and respiratory precautions  
- Social distancing on tour
- Included meal arrangements
- Limiting contact/ physical touch
- If facemasks are required and where

Will I need to undertake any COVID-19 testing or screening when I arrive?
All travellers are expected to continuously monitor their health throughout their travels and report any related symptoms to our local team immediately.
Will I be refunded if I am unwell before my trip and unable to travel?
If you are unwell prior to travelling, please contact us to make alternative arrangements as you will need to stay at home. If you do opt to travel under these circumstances, you will not be able to join the tour and will be referred for medical care in-country. Please refer to our Booking Conditions for more details on our cancellation policy.
Will I be covered by my travel insurance if I get COVID-19 while travelling?
We recommend that you check directly with your travel insurance provider for more details about the specific cover. Many insurance companies have amended their policies to better accommodate the effects of the COVID-19 whilst travelling.
What if there is a suspected or confirmed case of COVID-19 on my tour?
If you or someone else on your trip has symptoms of COVID-19 while travelling with us, we will assist in seeking medical care. We will follow the advice of local health authorities in regards to testing, whether there is a need to self-isolate or quarantine or whether there is a risk to other travellers in the group. Should COVID-19 be confirmed, full health and safety protocols will be followed, including informing local health authorities and the group of the potential exposure. Please note that while we will assist to ensure that you get all the medical care you require but all expenses for testing, treatment or self-isolation will be at a personal cost.
If I test positive for COVID-19 on my trip, will I get my money back?
If you are unable to continue travelling with us due to a suspected or confirmed case of COVID-19 we can offer you a credit for the unused days of your tour. Further we will assist you to get all the medical care you require in country though all expenses relating to your care including testing, treatment or self-isolation (in country or at home) will be at a personal cost.
Am I expected to wear a mask on tour?
In some destinations it may be compulsory to wear a mask in public or in certain places. If it is compulsory to wear a mask in public or elsewhere this information will be noted in our 'Covid Safe' guide. Where a mask is required, you will need to source your own from home. Familiarise yourself with how to safely wear, handle and dispose of masks if wearing them when travelling. Your international carrier, departure airport or a transit airport may require that you wear a face mask, for information as to whether this is a requirement, please check with your airline.
Do I need to bring hand sanitiser?
Yes. We are working with our local teams to provide hand sanitiser though in some locations it is still in short supply. We recommend bringing your own personal supply for times when it is not available.
Will I need to bring cash on tour?
Yes. We recommend that all travellers have a contactless FX free debit or credit card to use whenever possible although there will be occasions where merchants do not accept credit/debit cards and you will need to use cash. In developing countries the need to use cash will be more frequent. When handling cash always use hand sanitiser afterwards.
As a solo traveller, can I share a room with another solo traveller?
We are no longer able to match up solo travellers in twin share rooms. All of our tours now offer a Single room option. If you are travelling solo you will be required to purchase a single room for your personal use. Our solo traveller match up will return in the future when its safe to do so.
Will there be a limit to the number of travellers in a vehicle?
We will abide by the local laws regarding physical distancing on transport .
Will I share a cabin on an overnight train journey?
If your tour includes an overnight train journey where the sleeping arrangement is a 2- berth cabin, the sleeping arrangements will be the same as if you were staying at any other hotel throughout the tour. Travellers who have booked a twin share room for their holiday will be accommodated together and travellers that have booked a single room will have a single cabin for their private use.

If your tour includes an overnight train journey where the sleeping arrangement is a 4- berth cabin, only 2 persons (your normal room share partner) will be accommodated in the cabin and the remaining 2 berths will remain empty. If you purchased a single room for your holiday, then tonight is the night to spread out. You'll be able to choose any one of the 4 berths to sleep in and the other 3 will remain empty.
Will my itinerary be changed due to COVID-19 related travel restrictions?
We may need to make some changes to the activities or destinations included on your trip to comply with advice from local authorities or updated health and safety protocols. We will endeavour to keep travellers updated before departure as our local teams continue to keep abreast of regional developments, including any closures or changes to sights and attractions. Although an open mind and sense of flexibility will help you get the most out of your trip, we will always aim to operate our tours exactly as per the original itinerary.