Greenland Trips & Package Tours
Greenland Trips & Expedition Cruises
Having launched in November 2022, the state-of-the-art Ocean Albatros expedition ship has been made with exploring the frozen lands of the Arctic in mind and will be home for the duration of your Greenland tour. With 95 comfortable cabins to suit a range of budgets and 18 zodiac boats for shore landings, it's the perfect vessel for your Greenland package. And it has been built with sustainability in mind, with a 50% lower carbon footprint than traditional expedition ships. When not relaxing in their cabin, travellers can look out for whales on the viewing deck, or relax in the onboard swimming pool and jacuzzi. There is also a spa, bar, and two onboard restaurants to enjoy.

Throughout your tour, you'll make regular stops to explore settlements, enjoy wildlife-spotting and hiking tours, and to see some of the natural wonders which abound in Greenland.
Experience this untouched icy wilderness with our Greenland trips and expedition cruises. Book today!
Wedged between North America and Europe, the remote frontier of Greenland is a once-in-a-lifetime travel destination. The world's biggest island is mostly uninhabited and practically untouched by mankind. 80% of the land surface is covered by the Greenland Ice Sheet. It's an island of majestic landscapes forged by ice with rugged mountains and spectacular glaciers, which in turn give rise to remarkable fjords and jaw-dropping icebergs.
Despite the remoteness and lack of commercialism, there's a veritable smorgasbord of activities and unique experiences to enjoy by sea, land, and air. With our Greenland trips, you can take a cruise to the ice fjords under the midnight sun, spot whales and seals out at sea and get up close and personal with thundering glaciers.
Our Greenland trips and package tours offer the best that this incredible destination has to offer. Staying aboard a purpose-built expedition ship, these tours take you to all the main highlights, from Nuuk and Ilulissat to the majestic icebergs and marine wildlife to be spotted out at sea.
Explore more countries like Greenland
Frequently asked questions about our Greenland trips & package tours
When is the best time to visit Greenland?
We only operate our Greenland tours in the summer months, from July - September. This is because, for most of the year, the waters around the island are locked in ice, and inaccessible for our expedition ships. Temperatures are also at their highest at this time of year, although they rarely get to be more than a few degrees above freezing.
What should I pack for your Greenland tours?
It goes without saying that warm clothing, boots, and waterproofs are essential. But it's easy to forget items such as sunglasses and sunscreen, which are important to remember.

The key to navigating Greenland is lots of layers of clothing. Whilst it is freezing outside when you are exploring the Arctic, things will be warmer aboard the ship, so you need to be able to add and remove layers easily.

Another piece of advice is to bring moisturizer. The windy conditions of Greenland are more inhospitable than anything you've experienced before, and your skin will thank you. Earplugs are a good idea too, especially if you are a poor sleeper. And don't forget your binoculars, you won't want to miss spotting whales on the horizon!
Will you always stick to the itinerary in Greenland?
Whilst we and our partners will always endeavor to stick to the itinerary on our Greenland trips as described on our website, this is not always possible depending on weather conditions.

Adverse weather or other issues mean that we must reserve the right to alter itineraries on the ground where necessary for safety reasons. However, your expedition team will always go out of their way to make sure you have the best experience possible.
Where can I find out more about the ship used on your Greenland package tours?
Our Greenland tours use the Ocean Albatros expedition ship. There is information regarding the ship on our tour pages.
Will I see the Northern Lights on your Greenland trips?
Although the Northern Lights (AKA Aurora Borealis) are visible in Greenland during the winter months, our expedition cruises only depart in summer, as this is the only time of year that the sea ice is thin enough to navigate. If you are wanting to see the Northern Lights, then we recommend checking out our Iceland tours.
Will I have phone signal and Wi-Fi?
Greenland is very remote, and whilst there is Wi-Fi in many hotels, bars, restaurants and destinations on land which you can make use of, there is no Wi-Fi on the Ocean Albatros. However, a 60-minute internet package to use onboard computers can be booked and paid for locally on your Greenland tour.

Similarly, when you visit Greenland, mobile phone reception will be mostly unavailable, and it is best to simply focus on enjoying your experience on our Greenland trips.
Will these Greenland trips damage the environment?
The Arctic ecosystem is particularly fragile and vulnerable to human interference, given its remoteness. As responsible tour operators, we and our partners in Greenland take the utmost care to leave the smallest footprint possible when exploring the area on your Greenland tour.

The Ocean Alabatros ship has been built using the latest green technology, and emits 50% fewer carbon emissions than a traditional expedition ship. All chemicals used for laundry onboard are biodegradable, single plastics have been eliminated and recycling stations are in use onboard. Sustainable seafood is served and our expedition team are trained to ensure that all land-based excursions on your Greenland tour leave no or minimal trace.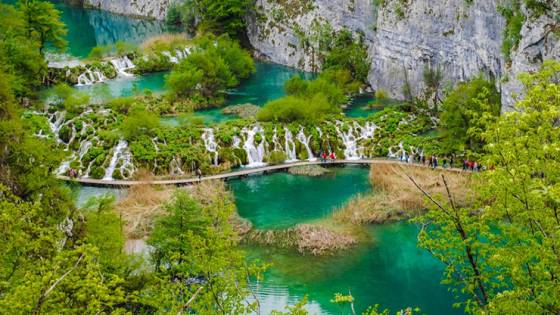 Europe
August 31, 2017 • Hollie Youlden
The continent of Europe encompasses 44 countries, each with their own unique cultural heritage,...
Wildlife to spot on our Greenland trips!
By far one of the highlights of visiting Greenland is searching for some of the island's iconic wildlife. Ilulissat and Disko Bay in west and south Greenland are some of the best places for whale watching, with many species travelling from the Caribbean to spend the summer in Greenland. You're unlikely to spot a polar bear on our Greenland tours as it is too far south for them, but land-based species to see include harp, ringed, and hooded seals, walrus, Arctic foxes, and Arctic hares. Numerous bird species live in Greenland, including snow bunting, white-tailed eagle, puffin and ptarmigan (a popular Greenland delicacy!)
The Best of our Greenland Trips
You probably aren't familiar with all the main sites in Greenland. From towns like Ilulissat and Nuuk to natural wonders including the Eqip Sermia Glacier and Disko Bay, these are the unmissable highlights of Greenland's west coast, which you'll discover on our Greenland package tours.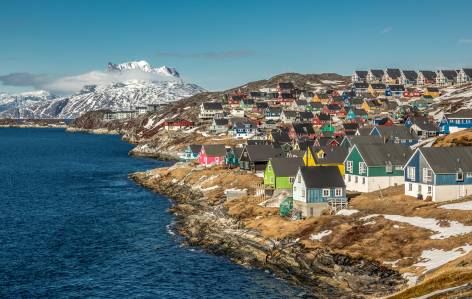 Nuuk
Nuuk is the Greenlandic capital, and by far its biggest settlement. Around 17,000 people call the town home. Located in south Greenland, it gets the "best" of Greenlandic weather and is home to Greenland's only shopping centre, the Parliament and the University. It's the world's most northern capital, being a few kilometres further north than Reykjavik. The scenery surrounding Nuuk is spectacular, although it has an average summer temperature of just 7 degrees Centigrade.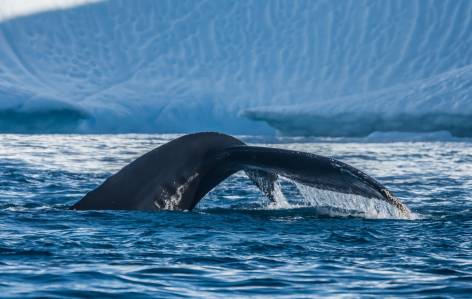 Disko Bay
Disko Bay and adjacent Ilulissat on the west coast are probably the most visited places in Greenland. The large Disko Island shelters the bay from the elements somewhat and it is a gathering spot for humpback whales and other species in summer, making it one of the best places for whale watching. And the bay is also known for giant icebergs which calve from several huge glaciers in the area. Just to the north of Disko Bay is Uummannaq, with its famous heart-shaped mountain.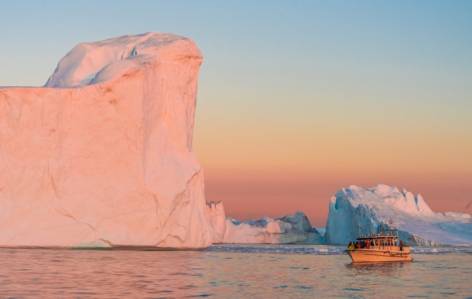 Ilulissat
Greenland's most famous town, Ilulissat is best known as the home of the ice fjord, which was listed as a UNESCO World Heritage Site in 2004. You'll want to explore the fjord on foot and by boat, which is an especially memorable experience at night. The ice shines a dazzling blue under the midnight sun. It's the best place in Greenland for dog sledding, too.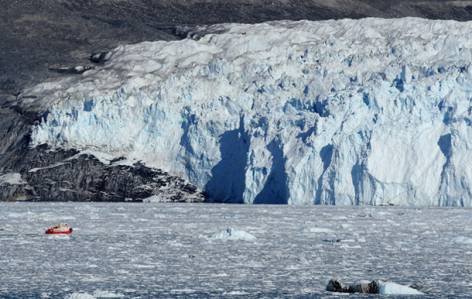 Eqip Sermia Glacier
Around 70 kilometres north of Ilulissat is the Eqip Sermia glacier, where travellers can see the thundering calving of new icebergs as they crash into the sea. This is Greenland's most active glacier, and the rumbling of the icebergs is deafening. Your expedition ship will get as close as is safe to enhance the experience, and you will also want to look out for whales and seals in the area.