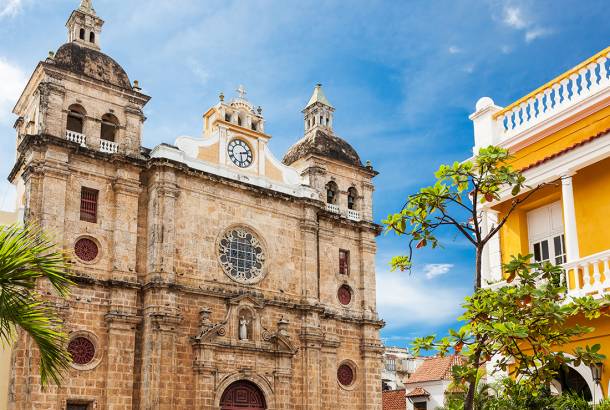 Travelling to Colombia and a little unsure of what to expect? Want to make sure you're properly prepared? Our handy guide covers everything from Colombian cuisine to tipping etiquette and shopping with plenty of tips and useful information to help plan your visit.
What vaccinations do I need for Colombia?
You should seek medical advice from your local health practitioner before travelling to Colombia and ensure that you receive all of the appropriate vaccinations. As a guide Tetanus and Hepatitis A are recommended. It's also advisable to check that you are immunised against measles.
Do I need a Yellow Fever certificate for Colombia?
You need a Yellow Fever Certificate if you are visiting the Santa Marta region (including Tayrona National Park - visited on our
Best of Colombia
tour) in Colombia. Yellow Fever certificates must be obtained at least 10 days prior to entering the National Park.
Do I need anti-malaria tablets for Colombia?
There is a high risk of malaria in the Amazon region of Colombia, which accounts for over a third of the country's land mass, as well as the coastal regions along the Pacific and Caribbean seas, which includes Tayrona National Park. Elsewhere there is little to no risk of contracting malaria and this encompasses the Andean region where most of Colombia's prime tourist destinations are to be found including Bogota, the Zona Cafetera, Popayan and Medellin. As a guide, anywhere above 1,700 metres altitude carries little risk.
As with any destination where malaria is present, take precautions against mosquito bites by wearing light coloured clothes that cover your arms and legs and apply a DEET-based insect repellent. This is especially important in Colombia where dengue fever and yellow fever are also present and spread by mosquitoes. For more information on the malaria risk in Colombia visit the NHS Fit to Travel page or the CDC Traveler's Health page.
Is it safe to drink tap water in Colombia?
While tap water is generally considered safe to drink in major cities, we recommend only drinking bottled water as the tap water in Colombia is heavily chlorinated and may cause mild stomach upsets. Bottled water is available in all towns and cities though there's no real problem with cleaning your teeth using water from the tap. You may wish to avoid ice cubes in drinks just to be on the safe side.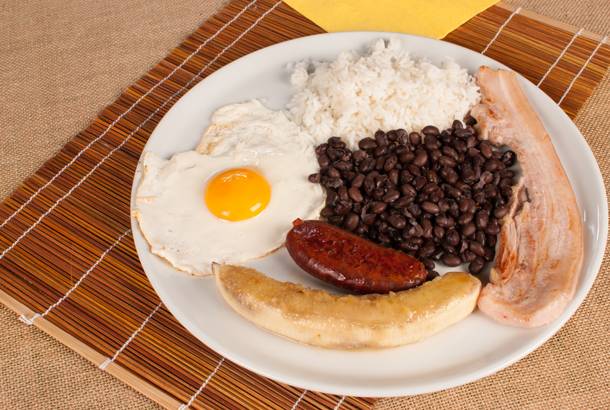 What's the food like in Colombia?
Colombian cuisine varies according to its topography and cultural influences from the coastal regions inspired by Afro-Caribbean heritage to the colonial towns of the Andes and indigenous villages in the Amazon. On the whole, Colombian food is a hearty combination of carbohydrates - rice, potatoes and plantains, meat or fish, and usually some beans and lentils thrown in for good measure.
The variety of vegetables is rather limited with root vegetables the most widely available. Vegetarians travelling around Colombia will have no difficulty finding potato-based dishes without meat, and cheese and eggs are popular ingredients though combinations of these three things can get a little tiresome. Colombia is home to a range of tropical fruits, including banana, pawpaw, mango, watermelon, pineapple and passion fruit, so vegetarians are well-provided for as far as snacks are concerned. In the larger cities, particularly Bogota, Cartagena and Medellin, the choice is much broader with restaurants and cafes catering to international visitors and their tastes.
Breakfast in Colombia tends to consist of huevos pericos, scrambled eggs cooked with onion and tomato, with a bread roll though visitors are more likely to be eating from American-style buffet breakfasts at hotels. Another popular breakfast choice locally is tamale, a corn-based dough with various fillings, or simply bread and cheese. Lunch tends to be the biggest meal of the day with a soup, main course and dessert while dinner is a smaller affair.
Colombia's bounty of tropical fruits lend themselves perfectly to fresh juices and milkshakes, which you'll find served across the country though perhaps the most famous of Colombia's beverages is that made with the black bean. Colombian coffee is known the world over for its rich and mild flavour, particularly the Arabica variety which you'll find throughout the Zona Cafetera, the country's prime coffee-growing region. Hot chocolate is another delight and usually spiced with cinnamon and vanilla. When it comes to alcoholic beverages, there's a number of locally-produced beers available while for something stronger, most locals opt for aguardiente, a firewater flavoured with aniseed. Along the Caribbean coast you'll also find a decent choice of local rums.
Safe eating while travelling in Colombia
Street food is a common part of the dining experience in Colombia with food stalls on street corners in the cities and smaller towns. From
tamales
to
empanadas
and the pattie-like
arepas
, street food makes a quick, easy, and sometimes, highly delicious snack though to avoid the risk of an upset tummy, make sure any food is well-cooked before consumption. If it looks like it's been sitting outside all day with the flies, don't eat it. Stick to stalls and restaurants that look popular - a queue is usually a dead giveaway.
Is it standard to tip in Colombia?
Tipping is not generally expected in Colombia though it's always appreciated. In smaller cafes and restaurants, and for taxi journeys, it's good practice to round up to the nearest thousand pesos. In nicer restaurants, a 10-15% tip is expected and this may be automatically added to your bill. In fancy hotels most guests will tip maids, doormen and bellhops between 50 cents and a dollar.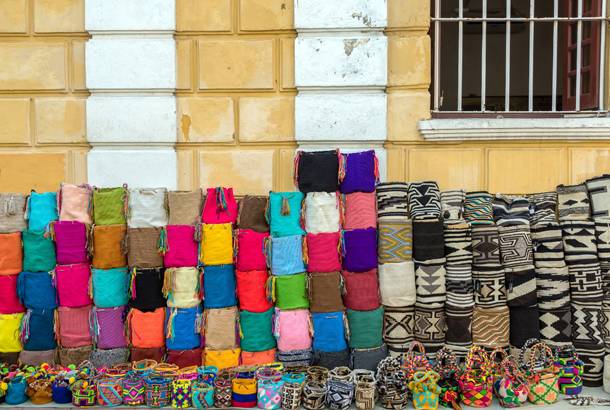 What is good to shop for in Colombia?
Colombia is home to a wealth of quality handicrafts that make perfect souvenirs and gifts for friends and family back home. Nothing screams "I've been to Colombia" more than a sombrero vueltiao, a national symbol worn by men up and down the country. Made from dried arrow cane leaves, the hats typically feature concentric rings on the brim and geometric patterns with the natural colour of the leaves used along with dyed black strands. Another great souvenir option is the mochila arhuaca, an artisan bag generally made with sheep's wool and decorated with indigenous patterns and representations.
The native Kuna people of Colombia and neighbouring Panama wear woven panels known as molas, colourful reverse-applique textiles that feature geometrical designs and make wonderful wall hangings. The best ones are found in the region of Colombia closest to the Panama border though you'll likely find them sold elsewhere.
Coffee lovers should be sure to purchase a bag (or two) of Colombia's finest before departing, whether from a coffee farm in the Zona Cafetera or a city supermarket where the quality of bean is superb. Colombia mines and produces more emeralds than any other country in the world so it's a great place to pick up a dazzling green precious stone though be careful as rip offs abound.
Is bargaining acceptable in Colombia?
Haggling over prices is generally only practised in local markets and street stalls where prices are usually inflated to factor in the fact that buyers will negotiate a lower rate. Learn a bit of basic Spanish (numbers and "Cuanto cuesta?" - "how much?" will get you far), stay friendly and go in low to reach a price you're willing to pay. In shops and boutiques, prices are fixed though it never hurts to ask.
Is it safe for a single woman to travel in Colombia?
Like elsewhere in Latin America, machismo is alive and well in Colombia and it's common for female travellers to experience cat-calls and attention from local men, especially along the Caribbean coast. Although this rarely poses a threat, it's best to ignore it and be cautious when chatting to men in bars and clubs where friendliness may be misconstrued as a come-on. Many solo women travel to Colombia each year and find it perfectly safe when exercising the usual level of caution and common sense.
What is the duty free allowance for Colombia?
Travellers over the age of 18 years are permitted to bring the following into Colombia:
200 cigarettes and 50 cigars and up to 50g of tobacco
Two bottles of alcoholic beverages
Goods for personal use up to the value of US$1,500
What is the currency in Colombia?
The official currency in Colombia is Colombia Peso, which is informally abbreviated as COL$. Banknotes come in denominations of 1000, 2000, 5000, 10,000, 20,000 and 50,000. Check OANDA for the latest exchange rates.
US Dollar, Pound Sterling and other major currencies can be exchanged at the airport, however, UK travellers should be aware that Pound Sterling can be difficult to exchange at banks and has very poor exchange rates at bureau de changes. ATMs are widely available in Bogota and Cartagena, and credit cards are accepted in most large shops, hotels and restaurants. Outside major cities you'll want to ensure you carry cash on you as ATMs and credit card facilities aren't guaranteed. It's advisable to request bank notes in smaller denominations, as it can sometimes be hard to get change from large notes and smaller notes are handy for smaller purchases and gratuities.
Traveller's Cheques are not recommended as they're often difficult to exchange and incur high fees.
What do things cost in Colombia?
Anyone travelling through Latin America or those who have visited other countries on the continent may find Colombia pricey in comparison but those visiting from the West will find it pleasantly affordable. Cheaper than Argentina and Brazil but more expensive than Ecuador and Bolivia, it's possible to get by on USD $25-40 per day depending on your love of shopping and food.
You can expect to pay around USD $3-5 per person for a simple meal at an inexpensive restaurant while a three-course meal at a nicer restaurant will only set you back USD $10-15. Overall food is fairly cheap in Colombia as is local alcohol with a domestically-produced beer costing less than a dollar. A small bottle of water is around 60 cents.
What sort of plugs do I need for Colombia and what is the voltage?
The voltage in Colombia is 110V-120V and sockets are the same as the US flat-pin variety. We recommend that you pack a universal travel adaptor that will allow you to use a hairdryer, electric shaver, charge a mobile phone and other electrical items.
Is WiFi widely available in Colombia?
Internet usage in Colombia has greatly increased during the last few years and the number of WiFi zones continues to increase. Many hotels will offer WiFi free to guests and a growing number of shopping centres, restaurants and bars now provide WiFi access though this is generally limited to the bigger cities and popular tourist spots. In smaller towns and villages WiFi access is less common but internet cafes are still present across Colombia.
What time zone is Colombia on?
Colombia is 5 hours behind GMT and does not observe Daylight Saving.
Is Colombia a dangerous place to visit?
For many years Colombia had a bad reputation as a dangerous destination with warring drug cartels, high murder rates and widespread street crime. This image of Colombia lingers in many people's mind but in fact the country has made huge strides in the last decade or so to bring peace between the government and guerrilla groups, cracking down on the drug trade and pouring investment into the larger cities to attract wealth and prosperity. Things are drastically different today and Colombia is now a relatively safe place to visit with most trips trouble-free.
That said it's wise to take care when travelling around Colombia as there are rural parts of the country where trouble does still exist, though well off the tourist trail. When visiting Colombia's cities, leave expensive jewellery at home and keep any valuables hidden. Avoid sketchy parts of the city, especially at night and take taxis rather than walking. If you're heading out to a bar or club for the night, don't leave your drink unattended.
See Also
When planning your trip to Colombia have a look through our handy Travel Guide resources:
Best Places to Visit - where to go and what to see in Colombia
Best Time to Visit - climate and weather in Colombia
Tourist Visas - entry regulations for visiting Colombia
Style of Travel - what our tours of Colombia involve and what to expect