Botswana is a once-in-a-lifetime safari destination, but there's a few things you'll need to think about before and during your travel. To make life easier, we've put together this useful guide, covering everything from vaccinations to food, bargaining to currency.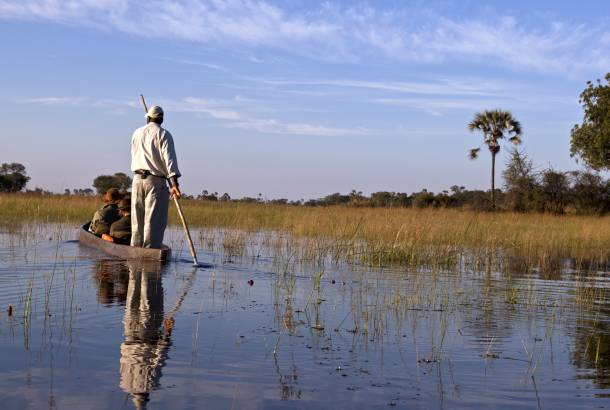 What vaccinations do I need for Botswana?
You should seek medical advice from your local health practitioner before travelling to Botswana and ensure that you receive all of the appropriate vaccinations. As a guide Polio, Diphtheria, Hepatitis A and Tetanus is strongly recommended. Rabies may also be recommended. A valid Yellow Fever vaccination certificate is also required if travelling into Botswana and you have previously been in an infected country.
Do I need anti-malaria tablets for Botswana?
There is the risk of malaria in certain areas of Botswana so it is very important to check with your doctor before you go, to see whether malarial medication is required for the areas you are visiting. Generally, it is a good idea to avoid mosquito bites as much as possible whilst there. This can be achieved by wearing long sleeves and trousers, sleeping under a mosquito net and covering yourself in an insect repellent that contains at least 50% DEET. For more information on the malaria risk in Botswana visit the
NHS Fit to Travel
page or the
CDC Traveler's Health
page.
Is it safe to drink tap water in Botswana?
People are sometimes surprised to hear that tap water in Botswana is generally considered safe to drink. However, there is always the risk of stomach upsets, so we recommend drinking bottled mineral water, which is easily acquired from shops, restaurants and hotels. Make sure you have plenty of water handy for long drives, especially if you're travelling in summer!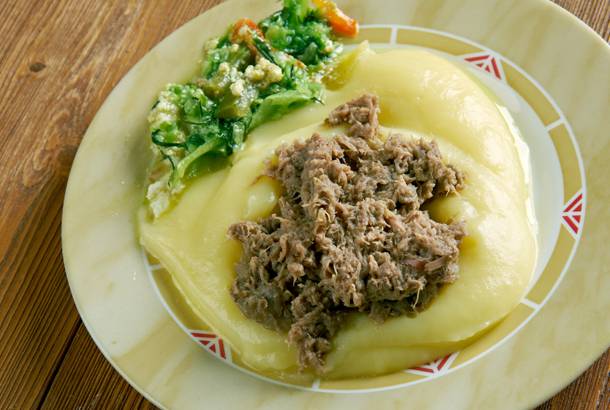 What's the food like in Botswana?
As with many countries in Africa, the cuisine of Botswana relies heavily on meat and maize. The national dish is a stew called seswaa, which is simply onions, peppers and meat boiled together and served with pap (maize porridge) or polenta. A common accompaniment to this dish is morogo, a leafy green vegetable.
One slightly more interesting dish that might not appeal to travelers but is very popular among locals is mopane worms. They contain a substantial amount of protein, vital in a country where meat can't always be afforded, and are smoked or sundried before being eaten. However, these are usually pushed aside when game meat is around, which is often served in traditional braai style (barbecued).
Pulses such as beans and peas make regular appearances on the dinner table as do dishes involving offal like oxtail. There are also a number of native fruits such as the lerotse melon, which grows abundantly when in season. All of these delicious treats are then washed down with a local beer, which is often home brewed and can contain a very high alcohol level so be careful.
Safe eating while travelling in Botswana
Generally, eating in Botswana won't cause you any problems but it is important to check that your food, and especially your meat, is properly cooked through before you eat it. If you are served something that does not look or smell right it is safest just to leave it. A handy trick when it comes to choosing where to eat is to look for an eatery with a long queue of locals outside. You might have to wait a bit to get served but there will be a reason that place is so popular.
Most visitors to Botswana will either be travelling on an overland camping safari or staying in lodge accommodation. For both styles of tours food is provided so there will be few times when you'll be eating out.
Is it standard to tip in Botswana?
When on safari in Botswana there are several people to consider when it comes to tipping. Park rangers will normally get the largest tip, around USD $10-15 per day, followed by porters, drivers and back-of-house staff, which can all be covered in one general staff tip of around USD $5-10 per day. The tips should be handed over in one go at the end of your stay. When not on safari, tipping 10-15% on top of a bill in a restaurant or bar, and USD $1-2 per day for hotel staff is a suitable amount. When it comes to taxis, a tip is not usually expected but rounding up the fare after a journey is common practice for travelers.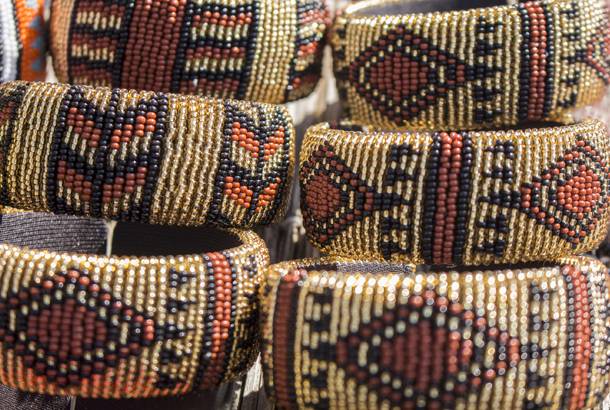 What is good to shop for in Botswana?
The real gems of Botswana's shopping scene are its homemade crafts. These knick-knacks include woven baskets made with palm fronds and jewelery made of ostrich eggshells. These delicate but unique gifts can be found in markets and boutiques throughout the country. In addition to these, you will also be able to find authentic Bushman crafts such as carved wooden masks and sculptures and brightly colored traditional African clothes.
Another popular purchase in Botswana, if your budget allows it, is diamonds. Botswana is one of the world's top diamond producers and relies heavily on the sale of this gem to support its economy. Of course, it is advisable to do your research beforehand or take a trustworthy and knowledgeable guide with you when buying in order to make sure you are getting the real deal.
Is bargaining acceptable in Botswana?
Haggling is not standard practice when it comes to shops, hotels and restaurants in Botswana but it is not unheard of. It is much more common, however, in markets. Vendors working in markets are streetwise and know exactly how much their products are worth, making it unlikely that they will ever part with one without making at least a bit of a profit. This means you are free to haggle away without worrying about under-paying, however, it is bad form to grind them right down to the bone and you will win a lot more smiles by handing over a little extra rather than bargaining for hours on end. Remember, they probably need the money more than you.
When it comes to roadside sellers in rural areas that are selling their own handmade crafts, it is advisable to go easy on the haggling as there is a chance that these sellers won't know the market value of their craft and might under-charge. Additionally, it is likely that the sale of these products is their only income and will go directly to feeding their family.
Is it safe for a single woman to travel in Botswana?
Botswana poses certain challenges for solo female travelers but none which should be seen as threatening or put you off travelling. Foreign women and especially white women will attract attention simply because they look different. For the most part this is simply curiosity, however, it can sometimes be an annoyance or unpleasant if local men decide to catcall or try and grope you. In order to avoid being a target as much as possible it is best to stay in crowded areas and limit your wanderings to daylight hours. When it gets dark, women should travel exclusively by taxi or Uber. The most important thing is to keep your wits about you and avoid any unnecessary risks.
What is the duty free allowance for Botswana?
Travelers are permitted to bring the following into the country:
200 cigarettes and 20 cigars and 250g of tobacco
2L of wine and 1L of spirits
50ml of perfume and 250ml of eau de toilette
Goods up to the value of R500 (USD $36) from within the SACU zone (Lesotho, Namibia, South Africa and Eswatini) and to the value of R3,000 (USD $218) from outside the zone
The following are banned from being imported: Firearms and ammunition, narcotics and pornography. You may bring in small amounts of fresh food, but you require an import license for larger amounts. Note that the import regulations on importing meat change regularly according to disease outbreaks in different countries.
What is the currency in Botswana?
The official currency in Botswana is the Botswana Pula. Check OANDA for the latest exchange rates.
Euro, British Pounds, US Dollars, South African Rand and other major currencies can be exchanged locally or in advance of departure. Exchange facilities are available at various bureau de changes and banks in major towns have ATMs. It's advisable to request bank notes in smaller denominations, as it can sometimes be hard to get change from large notes and smaller notes are handy for smaller purchases and gratuities.
Traveler's Checks are not recommended as they're often difficult to exchange and incur high fees.
What do things cost in Botswana?
Those travelling through Botswana on a safari tour will usually have all of their expenses included in the tour package. In order to make the most of everything the country has to offer it is best to plan a large budget as you will then be able to access private concession areas and enjoy more comfortable accommodation. If you are travelling through the towns and cities, mid-range hotels can be found for around USD $50 per night. Depending on how much you plan on eating, a food budget of around USD $10-20 per day is recommended.
In general Botswana is one of Africa's most expensive safari destinations due to a combination of largely high-end accommodation and the need for flights to get between places.
What sort of plugs do I need for Botswana?
Standard voltage is 220 - 240 volts. Primary sockets generally require the 3 square-pin or round-pin variety, similar to the ones used in South Africa and the United Kingdom respectively. We recommend that you pack a universal travel adaptor. You will need a voltage converter and plug adaptor in order to use U.S. appliances.
Is WiFi widely available in Botswana?
You are unlikely to find a WiFi connection in the national parks as guests are encouraged to disconnect during their safari in order to better immerse themselves in their natural surroundings. In the cities, WiFi can be found but it might be less secure and slower than you are used to.
What time zone is Botswana on?
Botswana is 2 hours ahead of GMT and does not observe Daylight Saving Time.
Travelling with Children
In southern Africa selected departures of our overland safaris are classified as 'Family Friendly' and these are noted under 'Prices and Dates' on the relevant tours. Family Friendly departures welcome children aged 6 – 17 years travelling with their parents on tour. Please note children will be occupying a seat on the Overland Truck, therefore they pay full price. Parents must be aware that travelers aged 18 years and older still frequent the trip and the tour is a participation overland tour.
Children aged 12 – 17 travelling with a parent or guardian are also welcome on Lodge Safaris on a request basis and subject to the agreement of the other passengers. Please note that children aged 12+ pay adult price. We can tailor-make private safaris for families.