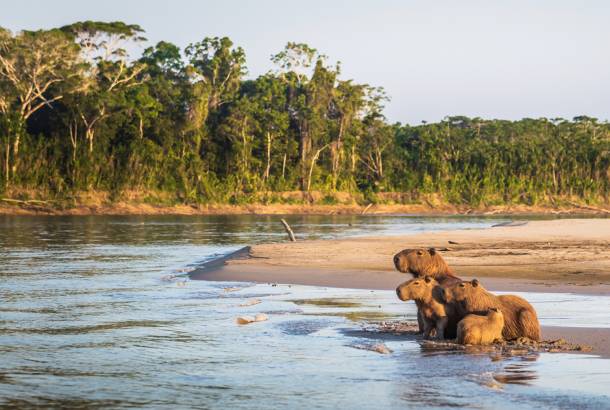 After Brazil, Peru contains the second-highest land area of the "Lungs of the Earth", the mighty Amazon Rainforest. In fact, more than half of Peru is covered in jungle and rainforest, and is separated into two areas called the high and low selva. Whereas the high selva consists of upland cloud forest and jungle in the Andean Highlands, the low selva forms part of the Amazon Basin and consists of dense, relatively flat jungle where rivers replace roads as the main form of transportation.
This region is one of the most biodiverse on the planet with over 14,500 animal species recorded, and there are surely more out there waiting to be discovered. Peru offers two main gateways for exploring the Amazon rainforest: Puerto Maldonado and Iquitos. So to help you plan your trip, here's a closer look at what each destination has to offer.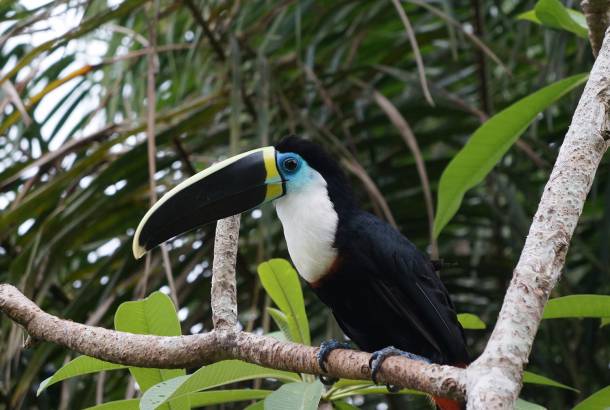 Best places to visit
Puerto Maldonado
Located in the southeast of Peru, near the border with Bolivia, Puerto Maldonado is a popular starting point for visiting the southern Amazon jungle. From the city, it's easy to reach the Tambopata National Reserve, a protected area that boasts around 600 bird species, 100 species of mammal and around 1,000 species of butterfly.
Puerto Maldonado is the place to go if you're looking stay in a jungle lodge. On several of our Peru tours, we visit this gateway to stay at a rustic jungle lodge close to Lake Sandoval which is home to wildlife including caimans, giant river otters and Howler monkeys.
From Puerto Maldonado, you'll find lodges to suit every budget, with great options located within and close by the Tambopata National Reserve. From your accommodation you can enjoy guided rainforest tours and night expeditions. There are also numerous options for day excursions in the region, with natural features such as ox-bow lakes attracting much wildlife.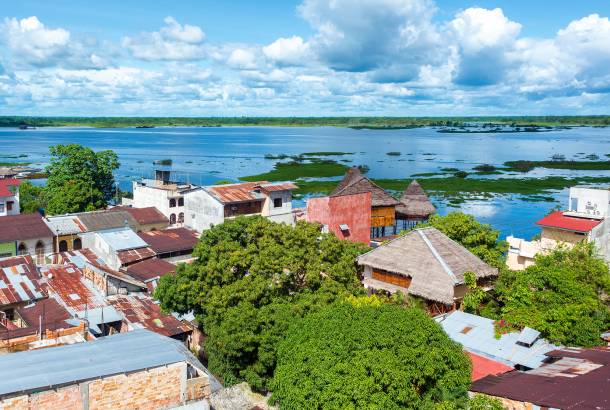 Iquitos
Whereas Puerto Maldonado is set at the confluence of the River Madre de Dios and the River Tambopata, Iquitos is situated on the River Amazon itself. Located in the northeast of Peru, it's also a much larger city and offers attractions such as the floating shanty town of Belen and its market.
Iquitos is well-placed for accessing the Allpahuayo Mishana and the Pacaya Samiria National Reserves by boat. The Pacaya Samiria National Reserve, in particular, boasts vibrant wildlife including pink river dolphins, caimans and over 500 species of bird.
You'll find plenty of jungle lodges close to Iquitos offering guided expeditions into the rainforest, as well as a variety of day tours offering different jungle experiences. Unlike Puerto Maldonado, Iquitos also offers a wide range of river cruises varying from luxury to adventure-style boats, making it a great starting point from which to begin a multi-day river adventure. You can experience this on our Peru and Iquitos Amazon Cruise Tour, where we enjoy a 3-night stay aboard the Aria Amazon luxury cruise ship.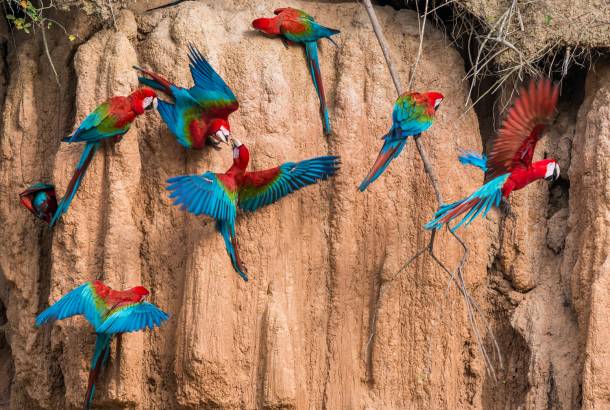 Claylicks
A highlight of visiting the Amazon in Peru, particularly for bird watchers, is that the country offers the highest concentration of claylicks in the world. A claylick is a naturally formed wall of clay on a riverbank created through erosion from the river. Claylicks attract mammals and birds to come and feed on the clay to obtain different salts and minerals, offering guaranteed sightings of iconic Amazonian wildlife.
The best place to see this is the Tambopata National Reserve by Puerto Maldonado, which protects the world's largest known parrot claylick. Hundreds of colorful macaws, parakeets, parrotlets and other species are attracted to this spot at around dawn each day resulting in one the Amazon's most colorful natural spectacles. Monkeys, tapir, capybara and even large cats visit claylicks in search of prey.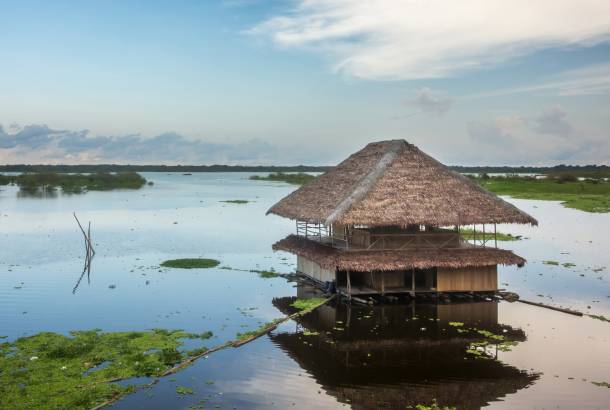 Best Time to Visit
When exploring the Amazon rainforest, it's important to expect rainfall any time of the year of visit. That said, Peru does experience two distinct seasons which are worth noting when planning your trip.
High-water season:
During the high-water season from December to May, the Amazon region of Peru receives more than half of its total annual rainfall. Rivers rise seven meters higher than in the low-water season, allowing boats to navigate further into the Amazon's wildlife-rich waterways. Turtles, caimans and monkeys are much easier to spot in these months, although the chances of wildlife sightings overall are not significantly different to the low-water season.
Low-water season:
From June to November, the Peruvian Amazon experiences its low-water season. This is a warmer season, however it still receives some heavy rains. As jungle trails that were flooded in the high-water season become accessible again, this allows travelers to explore more of the Amazon by foot. There are also fewer mosquitoes and a greater number of migratory birds to be spotted.
How to get there
Puerto Maldonado
Puerto Maldonado is accessible by plane, boat and car. With regular flights from Cusco and Lima, this gateway city can easily be added to a Peru itinerary after visiting Machu Picchu or the Sacred Valley of the Incas.
Iquitos
The largest city in the world which can't accessed by road, Iquitos can only be reached by air or slow boat. The journey by slowboat from the port city of Pucallpa in eastern Peru takes three to five days, with sleeping arrangements normally in hammocks and toilet and shower facilities on board.
Recommended Tours
In addition to the tours below, we also offer tailor-made holidays to Peru. Our experts can put together your very own itinerary visiting the Amazon Rainforest with your preferred standard of accommodation, style of travel and all the sites you want to see. We'll do the work for you. Your dream holiday can really come true!
Signature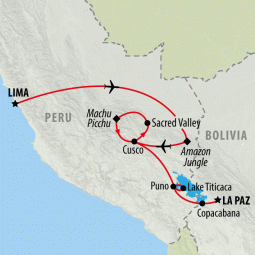 14 days FROM $3,645
Signature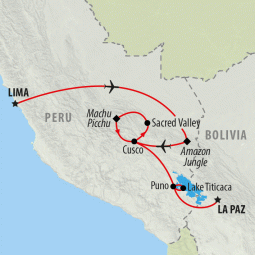 14 days FROM $4,695
Private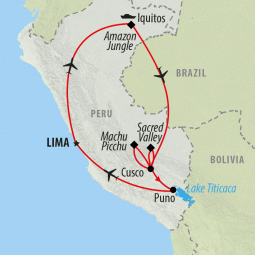 11 days FROM $6,325
Peru Trip Styles

Group Tours

Private Tours