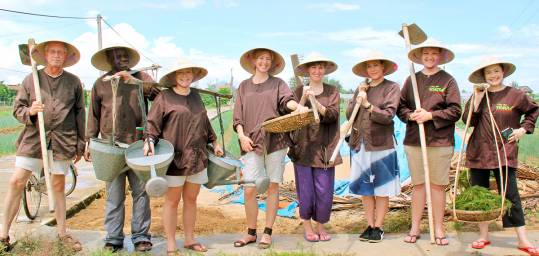 Flexible Group Tours
Travelling as part of a group is a great way to meet like minded people and lasting friendships are often formed. With many departures which are all guaranteed to run, exciting highlights, great itineraries, comfortable & centrally located 3 - 5 star hotels, authentic cultural experiences with local interaction and a varied range of exciting bolt-ons, on the go is one of the world's leading organisers of escorted group tours. We hope to welcome you on one of our tours soon!
Many of our tours include:
Excellent English speaking qualified local Tour Guides escorting your group, with specialist guides used at some key sights. In Egypt we use professional Egyptologists!
Our Tour Guides have a passion for their homeland and offer an invaluable insight into the society and culture of today.
A balanced mix of sightseeing and free time to explore on your own
Breakfast daily and often other meals throughout the itinerary included
Comfortable, clean, centrally located hotels, ranging from 3 - 5 star depending on tour
Airport arrival transfer on day 1 ensuring a hassle free start to your tour
Guided sightseeing included (see itineraries for further details)
Experience the local way of life with a combination of private transport and sometimes public transport such as trains, flights and ferries.
Some of our most popular group tour destinations:
Flexibility
Our group tours are far from being regimented affairs where every hour of every day is organised to a strict schedule. We aim to strike the right balance between a well planned itinerary that includes key highlights and giving you spare time and freedom to do your own thing on holiday. We organise all the elements required to make your holiday smooth and hassle free - all your accommodation, transportation whilst in the country, sightseeing visits, guiding and some meals. A definite bonus on our tours is our passionate local tour leaders. Captivating, informative and caring, they will ensure your holiday is kept hassle-free.
We also offer the flexibility for you to somewhat tailor your group tour experience. Arrive a day early, add an extra day, bolt-on an additional activity or two, upgrade aspects of your tour or extend your holiday with one of our many tour extensions. Whatever your preference, we will be happy to arrange it for you - putting together all the finer details to ensure you get the very most out of your holiday.
No Mandatory Single Supplements
If you're travelling alone on one of our group tours, you will not have to pay the single person supplement if you are happy to share a room with a fellow traveller of the same sex (subject to there being another solo traveller already booked on the tour you wish to join). Additionally we have a 'no mandatory single supplement' policy on the majority of our group tours, whereby you do not have to pay the single person supplement even if we cannot match you up with another traveller. Please enquire for further details. For all other tours, we will try our best to match you up with a room mate. If this is not possible a modest single supplement will need to be paid.
Hassle Free and Affordable Travel
Our considerable reputation has been earned from operating value for money, fun filled tours that show you the culture, history and landscapes of our destinations. Group tours are ideal for a first-time visit, with our carefully planned itineraries showing you the key highlights and offering you a fun, relaxed an hassle-free experience.