Walk with Lions
Zimbabwe to Zanzibar - 16 days
Travel from magnificent Victoria Falls in Zimbabwe and Botswana's Chobe National Park to Livingstone in Zambia, Lake Malawi & the island of Zanzibar in 16 days.
More Details
Zimbabwe Safari Tours
Landlocked Zimbabwe is a classic safari destination and with mighty Victoria Falls, Hwange National Park and an impressive population of elephant, buffalo, zebras and giraffe, it's no wonder why. The area around Victoria Falls has plenty to offer too, with activities to entertain all ages and interests, from horseback rides and elephant safaris, to walking with lions, bungee jumping and rafting on the Zambezi River. Our overland camping, lodge accommodated and private safaris in Zimbabwe follow set itineraries and we can also create a tailormade holiday to Zimbabwe to your exact requirements too.
Camping & lodge accommodated safaris
Lots of authentic experiences
Top sites and hidden gems
Excellent value
See the real Zimbabwe
Local tour guides
Guaranteed departures
International travellers of a wide age range
Expert advice from our well-travelled team
Victoria Falls
The Smoke that Thunders
Known locally as Mosi-oa-Tunya, translated as The Smoke That Thunders, mighty Victoria Falls has been named one of the Seven Natural Wonders of the World and is claimed to be the largest single sheet of failing water in the world. Located between Zambia and Zimbabwe, the Zambezi River widens to 1.7 kilometres and then the full width of the river plunges 108 metres down into the Zambezi Gorge, sending clouds of spray up to 500 metres in the air, helping to sustain the surrounding lush rainforest.
A sunset cruise on the Zambezi
Any number of activities can be found in and around Victoria Falls and there are endless ways to experience the mighty Zambezi River too. Whatever your interest, be it white water rafting, jet boating, canoeing or a sunset cruise, the Zambezi has it all. For a spectacular bird's eye view opt to take a microlight flight over the falls, or if you are feeling brave there are five different high wire activities, from gorge wings to the famous bungee jump from Victoria Falls Bridge.
When I travelled to Zimbabwe I felt
Awestruck
"It was my first few days in Africa, taking a sunset cruise down the Zambezi River and we came across these hippos. I couldn't believe that I was all -..."
by Sarah Billy
Posted on 01 Aug 2015
Read More >
Our top picks for Zimbabwe
Our Top Pick for Zimbabwe
#1 Victoria Falls
As one of the Seven Wonders of the World, the legendary falls and rising mist of 'the smoke that thunders' are certainly a sight to behold. While Victoria Falls is not the highest or the widest falls in the world, it...
Read More >
More about our safaris to Zimbabwe
"
I don't normally like camping but really enjoyed this tour - awesome crew and great itinerary!"
The Inside Track
Our Latest Updates from across the globe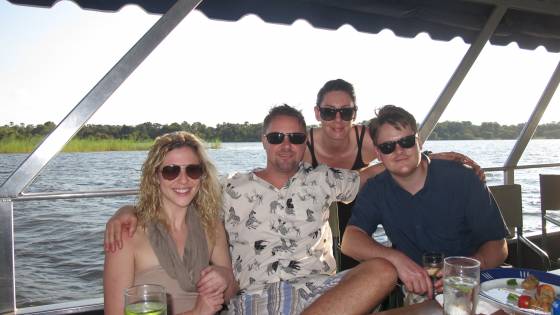 Photo Showcase
Overlanding from Vic Falls to Jo'burg
May 6, 2015 • OTG Team
Our own Miles Walker recently returned from Africa after travelling on an overland adventure from to...
Read Full Story News Tips and Trivia
Best places to visit in June
April 6, 2015 • OTG Team
The ninth part in a twelve part series on the best places to visit when. June is all about the and ...
Read Full Story
Video of the Week
Soaring over Africa
March 20, 2015 • OTG Team
As much as it is easy to appreciate the natural beauty of Africa at eye level, nothing quite to it ...
Read Full Story