Zimbabwe Safari Tours
Landlocked Zimbabwe is a classic safari destination and with mighty Victoria Falls, Hwange National Park and an impressive population of elephant, buffalo, zebras and giraffe, it's no wonder why.
The area around Victoria Falls has plenty to offer too, with activities to entertain all ages and interests, from horseback rides and elephant safaris, to walking with lions, bungee jumping and rafting on the Zambezi River.
Our overland camping, lodge accommodated and private safaris in Zimbabwe follow set itineraries and we can also create a tailor made holiday to Zimbabwe to your exact requirements too.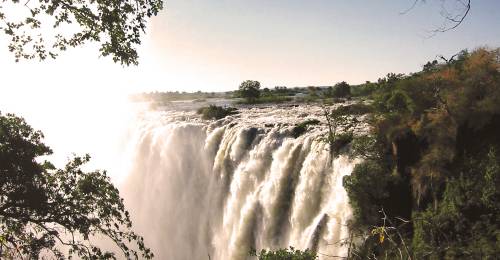 Styles of Travel to Zimbabwe
The Smoke that Thunders
Known locally as Mosi-oa-Tunya, translated as The Smoke That Thunders, mighty Victoria Falls has been named one of the Seven Natural Wonders of the World and is claimed to be the largest single sheet of failing water in the world. Located between Zambia and Zimbabwe, the Zambezi River widens to 1.7 kilometres and then the full width of the river plunges 108 metres down into the Zambezi Gorge, sending clouds of spray up to 500 metres in the air, helping to sustain the surrounding lush rainforest.
Zimbabwe Overland Safaris
Overland Budget Accommodation Upgrade Available
Our overland safaris to Zimbabwe are multi-country itineraries, combining the highlights of many of Africa's top destinations. With lots of overland safaris that start or finish in Victoria Falls, you can visit the famous waterfalls and enjoy adrenaline activities galore. Other highlights of our Zimbabwe overland safaris include wildlife rich Hwange National Park and Gweru Antelope Park. You'll travel aboard our overland trucks that seat 28 - 30 travellers and carry all the equipment necessary for camping and cooking on the trip. On our camping safaris, group participation is crucial and you'll assist with camp chores, preparation of meals and erecting & dismantling your tent. If you don't mind getting your hands dirty, possess relative fitness, a relaxed attitude, and are not averse to the odd hiccup, then overlanding is for you.
Zimbabwe tour reviews
Scoring an average traveller rating of 4.87 out of 5 based on 15 recent reviews — See All Zimbabwe Reviews
A sunset cruise on the Zambezi
Any number of activities can be found in and around Victoria Falls and there are endless ways to experience the mighty Zambezi River too. Whatever your interest, be it white water rafting, jet boating, canoeing or a sunset cruise, the Zambezi has it all. For a spectacular bird's eye view opt to take a microlight flight over the falls, or if you are feeling brave there are five different high wire activities, from gorge wings to the famous bungee jump from Victoria Falls Bridge.
When I travelled to Zimbabwe I felt
amazing and in awe or these beautiful, yet deadly animals.
"Nit every day you get to walk with & see 12 month old lion cubs."
by Thomas Rastall
Posted on 20 Aug 2015
Read More >
Our top picks for Zimbabwe
Our Top Pick for Zimbabwe
#1 Victoria Falls
As one of the Seven Wonders of the World, the legendary falls and rising mist of 'the smoke that thunders' are certainly a sight to behold. While Victoria Falls is not the highest or the widest falls in the world, it...
Read More >
"
I don't normally like camping but really enjoyed this tour - awesome crew and great itinerary!"