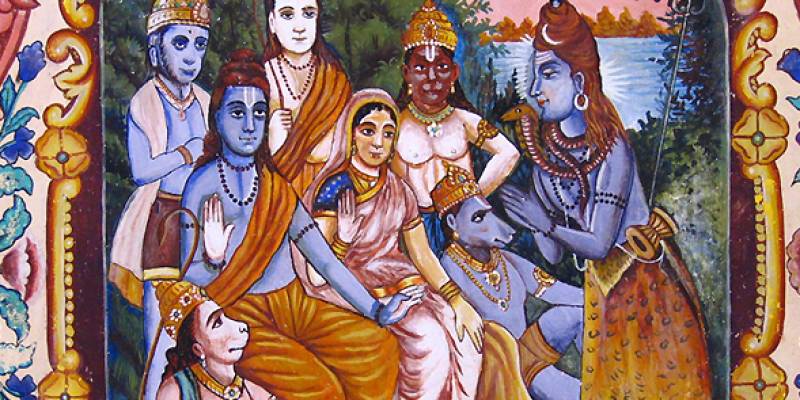 Tailormade Holidays and Tours To India: Rajasthan
Alsisar
Alsisar Tailormade Holidays
Often called the 'open air art gallery of Rajasthan', the region of medieval Shekhawati in northeastern Rajasthan lies in the triangular area between Delhi, Jaipur and Bikaner. Starting around the 14th century, a number of Muslim clans moved into the area and the towns, which developed in the region, became important staging posts on the trading routes emanating from the ports of Gujarat. Riding on the wave of success, local merchants grew wealthy and constructed residences in the form of havelis (mansions) painstakingly internally carved, painted and decorated with frescoes and murals. Most of these buildings date from the 18th to early 19th century.
Most of the villages of Shekhawati have kept their rustic charm intact and an exploratory walk around one or a few of these painted towns can be a wonderful experience.
From outside, many of the havelis (some of which are run-down) look relatively unremarkable. It isn't until one steps inside through the large fortified doors to the inner courtyard that the full beauty of these unique Rajasthani architectural gems can be appreciated. The major towns of interest in the region are Fatehpur, Nawalgarh, Mandawa, Ramgarh and Jhunjhunu, although virtually every town in the Shekhawati region possesses a few surviving havelis.
Some havelis have been extremely skillfully restored and now serve as guesthouses and hotel complexes. Strolling around some of these small villages also lends charm in that one can see first-hand the village at a local level.
To get you started with planning your holiday to Alsisar, we have showcased below some popular itineraries requested by our clients which we hope will inspire your visit to India
Tailormade Holidays to Alsisar
On the Go are expert at planning holidays in India — tailored to suit your individual requirements. Please have a look at some of the tailormade itineraries below that we have created for our clients which include Alsisar.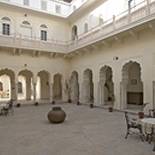 Alsisar Mahal, Alsisar
Alsisar Mahal is a glorious heritage hotel, with extremely large, luxurious rooms. Indra Vilas, Alsisar
Indra Vilas is a beautiful haveli with spacious rooms and set in 10 acres of land.
For all our tours and tailor-made holidays we provide you with a clear categorisation of all hotels we use. The REGIONAL CATEGORY indicates the local rating of each hotel in each respective country. We have also rated each hotel using OUR CATEGORY, which will be in line with generally accepted western hotel grading standards.
Simple
Basic hotels and simple accommodation is a no frills option with an adventurous authentic feel.
Standard
Standard accommodation equates to a Western 3-star standard, always featuring en-suite rooms and usually a restaurant.
Superior
Superior accommodation equates to a Western 4-star standard, featuring en-suite rooms and usually a restaurant and often a swimming pool and/or a fitness centre.
Deluxe
Deluxe accommodation equates to a Western 5-star standard, usually featuring spacious, en-suite rooms, a restaurant, swimming pool and fitness centre and an array of amenities, excellent service and customer care.
Lavish
Lavish accommodation equates to a Western 5-star plus standard - the creme de la creme. Featuring spacious, en-suite rooms, a restaurant, swimming pool and fitness centre and an array of amenities, this accommodation is a cut above the rest. Sheer opulence!
Inspired?
Our team is standing by to help build your perfect Indian Subcontinent itinerary
Create Your Holiday