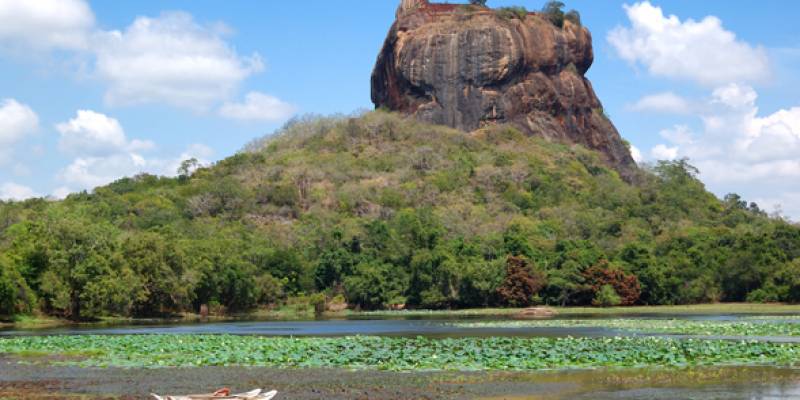 Tailormade Holidays and Tours To Sri Lanka
Sigiriya
Sigiriya Tailormade Holidays
Sigiriya, meaning 'lion rock' in Sinhalese, is an ancient rock fortress and palace surrounded by jungle in central Sri Lanka. The entrance to the tip of the palace was designed in the shape of a lion's mouth.
A UNESCO World Heritage Site, and declared the 8th Wonder of the World, it is enclosed by the remains of an extensive network of gardens and reservoirs. These gardens are some of the oldest landscaped gardens in the world and include water, boulder and terraced gardens. From the 5th century BC the site was used as a rock shelter mountain monastery with caves prepared for the Buddhist Sangha. King Kashyapa built the remaining complex between AD 477 and 495. Sigiriya is renowned for its ancient paintings which would have once covered most of the western face of the rock.
The elaborate plan of Sigiriya combines man-made geometrical forms with the natural forms of its surroundings. It consists of an ancient castle and the remains of an upper palace situated on the flat top of the rock. The lower palace clings to the slopes below the rock and leads to moats, walls and gardens. The park even contains sophisticated working hydraulic systems. The famous Mirror Wall is so called because it was once so polished that the king could see himself whilst he walked alongside it.
To get you started with planning your holiday to Sigiriya, we have showcased below some popular itineraries requested by our clients which we hope will inspire your visit to Sri Lanka Delhi to Colombo
15 days FROM $3,069
Combine the incredible sites of India's Golden Triangle with Sri Lanka's ancient ruins, verdant jungles, cool mountains and amazing wildlife. Explore the legendary Taj Mahal and pink city of Jaipur, Dambulla's rock temple and the elephant orphanage in Pinnawala, sip pure Ceylon tea and discover the bustling city of Colombo. Sri Lanka Culture & Beach
8 Days FROM $0
Enjoy a wonderful 8 days exploring the island of Sri Lanka. Head to the caves, temples and ancient wonders of the Cultural Triangle, meet the elephants of Pinnawela and the local villagers of Hiriwaduna before some relaxed beach time at the end.
Totally Sri Lanka
11 Days FROM $0
Explore Sri Lanka's Cultural Triangle, meet the country's resident elephants in Pinnawala and Minneriya and finish off with a few days rest and relaxation on the beautiful Indian Ocean on the west coast!
Tailormade Holidays to Sigiriya
On the Go are expert at planning holidays in Sri Lanka — tailored to suit your individual requirements. Please have a look at some of the tailormade itineraries below that we have created for our clients which include Sigiriya.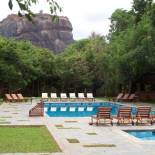 Hotel Sigiriya, Sigiriya
The beautiful Hotel Sigiriya has spacious bright rooms with high ceilings and gorgeously spacious terraces. The outdoor pool has amazing views of Lion Rock.
For all our tours and tailor-made holidays we provide you with a clear categorisation of all hotels we use. The REGIONAL CATEGORY indicates the local rating of each hotel in each respective country. We have also rated each hotel using OUR CATEGORY, which will be in line with generally accepted western hotel grading standards.
Simple
Basic hotels and simple accommodation is a no frills option with an adventurous authentic feel.
Standard
Standard accommodation equates to a Western 3-star standard, always featuring en-suite rooms and usually a restaurant.
Superior
Superior accommodation equates to a Western 4-star standard, featuring en-suite rooms and usually a restaurant and often a swimming pool and/or a fitness centre.
Deluxe
Deluxe accommodation equates to a Western 5-star standard, usually featuring spacious, en-suite rooms, a restaurant, swimming pool and fitness centre and an array of amenities, excellent service and customer care.
Lavish
Lavish accommodation equates to a Western 5-star plus standard - the creme de la creme. Featuring spacious, en-suite rooms, a restaurant, swimming pool and fitness centre and an array of amenities, this accommodation is a cut above the rest. Sheer opulence!
Inspired?
Our team is standing by to help build your perfect Indian Subcontinent itinerary
Create Your Holiday