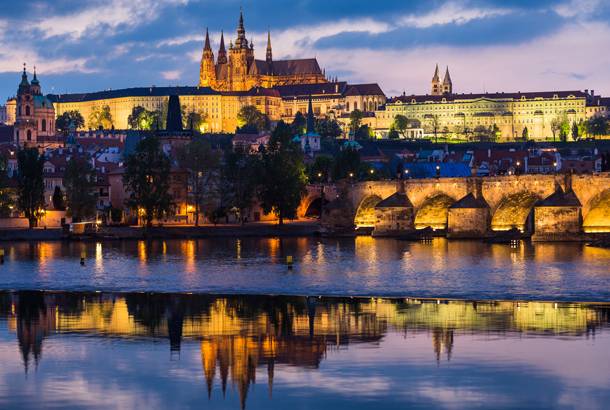 Seasons and Weather
Peak tourist season in the Czech Republic coincides with the summer months when temperatures are pleasantly warm and humid with occasional thunderstorms. Between May and September the Czech Republic is at its busiest with major festivals held at this time to benefit from the good weather.
The early spring months of March and April can be unpredictable when it comes to the weather. The winter snows are beginning to melt and temperatures begin to rise above freezing but it can still be quite chilly with strong winds. The autumn months of October and November can be equally as unpredictable with temperatures starting to drop though the countryside comes alive with colour.
Winters in the Czech Republic are cold, cloudy, icy and wet with freezing temperatures. It's still possible to visit most of the country's monuments though opening hours are reduced.
Climate | Prague
| | Jan | Feb | Mar | Apr | May | Jun | Jul | Aug | Sep | Oct | Nov | Dec |
| --- | --- | --- | --- | --- | --- | --- | --- | --- | --- | --- | --- | --- |
| Temp Min °C | -3 | -2 | 1 | 4 | 9 | 12 | 14 | 13 | 9 | 5 | 1 | -2 |
| Temp Max °C | 3 | 5 | 9 | 14 | 20 | 23 | 25 | 25 | 19 | 14 | 6 | 3 |
| Rainfall (mm) | 22 | 21 | 31 | 27 | 50 | 66 | 61 | 65 | 41 | 26 | 32 | 25 |
See Also
For further information to help plan your visit to the Czech Republic, check out our handy Travel Guide resources:
Best Places to Visit
- top sites to see in the Czech Republic
Tourist Visas
- know before you go with visa procurement and regulations
Top Travel Tips
- useful information on money, food and shopping