Sustainable Travel
The future is green
Tourism is one of the largest industries in the global economy and employs more people worldwide than any other. For those of us privileged enough to travel, we take on a responsibility to aid people relying on tourism and to treat their country with respect. We believe travel should be a rewarding experience for you, as well as for the people you meet, and that preserving the natural environments we pass through is essential.
Ensuring our footprint is light and that the benefits of travelling reach the local communities you visit is paramount to us. We're proud to say that when travelling with us, the large majority of your holiday funds remain within the countries you visit, supporting local economies at a grass roots level. Find out more about what we're doing to make our tours and holidays that bit better for the planet below.
Animal Welfare
In many countries, the use of captive animals has been part of the culture for generations and this has become a complex issue as the travel industry has grown. Many of our tours offer the opportunity to see animals in their natural habitat, such as gorilla trekking in Uganda or staying in a jungle lodge in the Amazon rainforest. Here's our stance on some of the animal welfare issues that have garnered the most attention recently.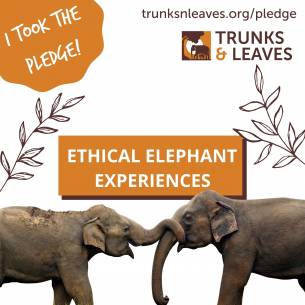 Elephant Rides and Orphanage Visits
For many years we had supported local businesses in Thailand, India and Sri Lanka that relied on elephants held in captivity to generate income. Although we had always engaged with locally accredited operators bound to particular standards of animal welfare, after feedback from our travellers we decided to remove elephant rides and visits to elephant orphanages from all of our tours effective 1st October 2016. We were a significant supplier of business to these areas and strongly believed that in order to minimize any unnecessary suffering that these elephants may experience due to a lack of income for the businesses that own them, a gradual and sustainable withdrawal was required.
As larger tour operators pulled out of these practices overnight, we saw many elephants go hungry as their owners no longer made enough money to feed them and did not have the time to invest in other sources of income. Over the course of several months we worked closely with the local communities we support to explore new income revenues and ensure these animals were well-looked after. The elephant rides and camp visits originally included on our tours were replaced with free time and other activities.
In September 2020, we also partnered with the organisation Trunks & Leaves. We have taken a pledge to ensure we only engage in ethical elephant experiences. We were one of the first tour operators to end elephant rides and we no longer run group tours to the Kandy Festival. The only places you'll see elephants on tour with us are in national parks, where the animals are free and safe from human persecution. The funding from our visits to these national parks also helps to protect them from future development, ensuring ethical tourism thrives in Sri Lanka.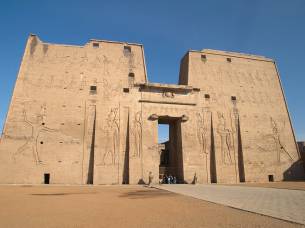 Horse and Carriage Rides
For many years, we have included Edfu Temple as a sightseeing stop on most of our Egypt tours. It is possible to arrive at the temple by vehicle or, if travelling by Nile Cruise, by taking a short transfer from the dock to the temple. However, following a change in policy by the Aswan Governorate, the only mode of transport now allowed for those travelling by Nile Cruise and arriving at Edfu is to use locally managed horse and carriages for transferring to the temple.
The unhealthy and sad state of many of the horses involved in this operation has raised a number of animal welfare concerns and, as advocates for responsible travel, we do not want to promote any activities where animals are subject to mistreatment. Consequently, from 1st December 2018, we decided to no longer include sightseeing at Edfu Temple for those travelling aboard a Nile Cruiser with us. If arriving to Edfu Temple by road, visitors are not required to use horse and carriages and so Edfu Temple can be included as a sightseeing stop on any tailor-made itinerary.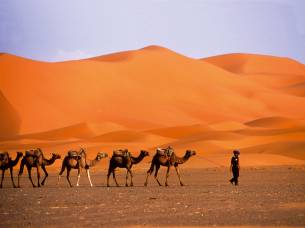 Camel Trekking
Camel trekking is, for many people, a bucket list item when visiting Morocco and we offer this experience in the Sahara Desert and Erg Chebbi sand dunes. However, as advocates for responsible travel, the welfare of these camels is of great importance to us. For those travelling on our Signature Morocco tours or a tailor-made holiday, we use a local supplier who meets our standards of animal welfare. The camels only carry our travellers a short distance to our desert camp and are fed and watered at each end. They also have comfortable padding or a thick rug beneath their saddle bags.
On our longer trekking adventures, the camels aren't ridden and only allowed to carry picnic food, water and their own fodder, with the weight monitored and balanced evenly across their saddlebags. The main luggage and tents are then transported by a 4x4 vehicle to the overnight campsites. One additional camel without any baggage accompanies the trek to be ridden if needed or to swap the bags between animals. The Rabat Government also ensures that these camels are checked at regular intervals by a vet. As each camel is generally the sole livelihood of its owner, their health and wellbeing is of their highest interest and they are well looked after.
Conservation
We are fortunate enough to take our travellers to experience some of the world's most beautiful scenery and national parks. Therefore, preserving the natural environments of the destinations we visit is key part of our sustainable travel ethos. Here's a look at how we're helping protect our planet's remaining wild spaces.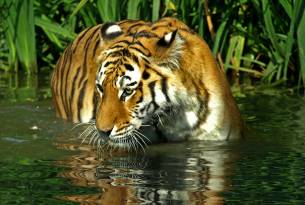 TOFTigers
We are members of Travel Operators for Tigers (TOFTigers) and pledge a contribution for each person that travels on a wildlife tour in India with us. The Travel Operators for Tigers campaign is aimed at those within the nature travel industry and all visitors to India's wildlife parks, advocating and supporting a more responsible use of national parks and tiger reserves, in order to save the forests of India and its tiger population.
Local Communities
We care about the countries we take our travellers to and give back to the communities we visit by employing local guides, dining in local eateries and staying in locally owned hotels wherever possible. When travelling with us, on average over 70% (*) of your holiday funds remain within the local economies and we are proud to say that this approach has led to very successful and close partnerships around the world. Here's a closer look at the community-focused initiatives we also run.
(*) We based this figure on the total cost of your holiday excluding international flights. We include the price of your tour, any local payment element, entrance fees, tipping kitties and an approximate daily spending budget for food.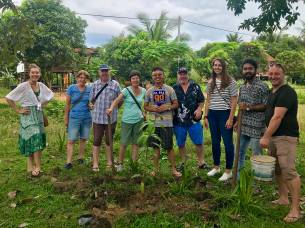 Tree Planting Initiative
In Cambodia we run a tree planting initiative at the village of Preak Dak, located 8km from Siem Reap. On many of our tours to Cambodia, travellers spend time at this village planting mango and jack fruit trees with saplings purchased from local growers.
The majority of villagers here are on low incomes and by providing them with trees that bear fruit, they can feed their families and make an income by selling the fruit. It's also a way of offsetting carbon emissions - a win all round. What's more, it means our travellers get to experience rural life in Cambodia and participate in a local community project. We aim to plant some 3,000 trees and cover an area of 15-20 hectares, providing the village of 200 with a sustainable source of income.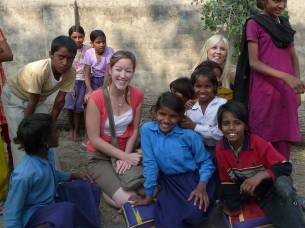 Change For Children
A few Rupees from everyone on a group tour adds up. And that's why we provide our travellers with an envelope to donate their unwanted local currency to our Change for Children initiative in India. This money is put to good use, providing educational supplies and other much needed items to two schools in the state of Rajasthan. On several of our India group tours, our travellers then get the chance to visit these schools and donate classroom materials themselves.
One project the funds have contributed towards is building a second toilet block in the Abhaneri Primary School for female students. Previously, one toilet block was used by both male and female students and this new, separate toilet will have a positive impact on the children's educational experience. Following the country's new approach towards Clean India, we are incredibly proud to be part of this project.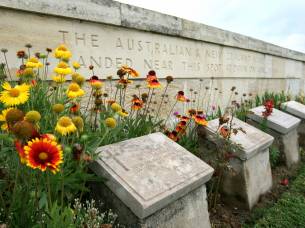 Commonwealth War Graves
Over 1,700,000 men and women of the Commonwealth forces died during the First and Second World War. Today, the tireless effort of maintaining graves and building memorials dedicated to those whose lives were lost is carried out by the Commonwealth War Graves Commission.
In recognition of the effort they have undertaken at memorials as far as Vladivostok in Russia, Gallipoli in Turkey and El Alamein in Egypt, we are proud to make donations to the Commonwealth War Graves Commission.