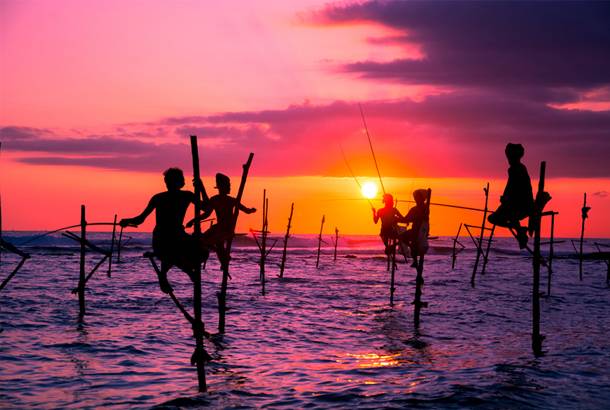 Sri Lanka at a Glance: Best Time to Visit
Recommended time to visit: December - April. Sri Lanka is a year round destination with very unpredictable weather. Generally, December - April avoids the monsoons whilst temperatures are warm.

Less popular time to visit: The main monsoon hits the south and western parts of the island from May - September. But monsoon rains tend to be quick and heavy, with the sun returning instantly! And vegetation is looking lush during the rains.

Best time for beaches: Sri Lanka's southern beaches are best visited from January - April and July - September, when temperatures are highest and rainfall lowest.

Best time for wildlife: From March - October the water table is at its lowest, forcing shy animals such as leopards to emerge from the bush to drink. From November - April, whales can be seen off the coast.
Want to know more about Sri Lanka? Check out our latest blog posts
Seasons Overview
For such a small country, Sri Lanka has an extremely varied climate. The island is a year-round destination thanks to its proximity to the equator guaranteeing warm temperatures. However two monsoon seasons affect different sides of the country. From October to February monsoon rains affect the country's northeast, then pour from April to September in the southwest. If you get your timing right, you're bound to find beach weather and sunshine on one side of the island. It is simply a case of knowing where is best to go when.
The easiest way of explaining Sri Lanka's weather is by dividing the country into several regions – the southwest, which includes Galle and Bentota; the northeast, which includes Trincomalee; the central region where you'll find the Cultural Triangle, and the hill country around Nuwara Eliya and Ella. To help you plan when to go, here you'll find a breakdown of the weather patterns throughout the year:
Weather patterns throughout the year
What's Sri Lanka like from January to April?
Southwest: Between January and March is a beautiful time to visit the beaches in Sri Lanka's southwest. You can expect dry, sunny days and a sea that is usually calm. The region's monsoon then begins in April.
Northeast: The first few months of the year see the continuation of monsoon season in the northeast, with heavy rains lasting until February before the region becomes relatively dry.
Central: Sri Lanka's centre is reasonably dry during these months and it is a great time to visit the UNESCO World Heritage sites of the Cultural Triangle including the Sigiriya rock fortress (pictured here).
Hill Country: Likewise, these months are a beautiful time to visit Sri Lanka's Hill Country. Although, be aware that temperatures are a touch cooler here than in the rest of the country.
What's Sri Lanka like from May to August?
Southwest: This period sees the monsoon rains in full swing in Sri Lanka's southwest. Although there is a large amount of rainfall, luckily it is not constant. Instead, there are bursts of intermittent showers at intervals throughout the day, which quickly clear away to blue skies.
Northeast: The best time to visit the northeast, including the beaches of Trincomalee (pictured here), these months see plenty of sunshine with consistently high temperatures along the east coast.
Central: This is also a good time to visit central Sri Lanka as the area remains reasonably dry. June and July are the hottest months of the year here, however visitors may also have to face the strong winds that keep the southwestern monsoon at bay.
Hill Country: Whilst there is an increase in rainfall during these months, it is not unusual to still have some completely dry days. This is still a great time to visit the Hill Country, however temperatures remain cooler than elsewhere on the island.
What's Sri Lanka like from September to December?
Southwest: September finally sees the southwestern monsoon draw to a close. However, the inter-monsoonal season means that there can still be rains and thunderstorms. The region's dry season then officially begins in December.
Northeast: The north-eastern monsoon blows into this region from October. The heavier of Sri Lanka's two monsoons, it brings a huge amount of rain that sometimes leads to flooding and difficult road conditions.
Central: Compared to the relative dryness of the rest of the year, this period sees high rainfall during the months of November and December to Sri Lanka's centre.
Hill Country: Similarly, this period sees the heaviest amount of rainfall in Sri Lanka's Hill Country, which encompasses the small town of Ella and its surrounding tea plantations (pictured here). Despite the rain, it's a beautiful time to visit as the rains help keep the landscape looking lush and green.
Climate and Rainfall Averages
These weather charts give you an idea of the average temperatures and amount of rainfall each month in some of Sri Lanka's most popular touring spots:
Climate | Colombo
| | Jan | Feb | Mar | Apr | May | Jun | Jul | Aug | Sep | Oct | Nov | Dec |
| --- | --- | --- | --- | --- | --- | --- | --- | --- | --- | --- | --- | --- |
| Temp Min °C | 22 | 22 | 23 | 24 | 26 | 25 | 25 | 25 | 25 | 24 | 23 | 22 |
| Temp Max °C | 30 | 31 | 31 | 31 | 31 | 29 | 29 | 29 | 29 | 29 | 29 | 29 |
| Rainfall (mm) | 89 | 69 | 147 | 231 | 371 | 224 | 135 | 109 | 160 | 348 | 315 | 147 |
Climate | Sigiriya
| | Jan | Feb | Mar | Apr | May | Jun | Jul | Aug | Sep | Oct | Nov | Dec |
| --- | --- | --- | --- | --- | --- | --- | --- | --- | --- | --- | --- | --- |
| Temp Min °C | 14 | 15 | 15 | 14 | 14 | 14 | 15 | 17 | 15 | 16 | 17 | 16 |
| Temp Max °C | 29 | 31 | 33 | 34 | 33 | 31 | 30 | 32 | 31 | 32 | 30 | 29 |
| Rainfall (mm) | 108 | 66 | 63 | 129 | 90 | 12 | 33 | 27 | 75 | 159 | 192 | 132 |
Festivals and Events
Home to four major religions on the island, Sri Lanka has many festivals religious in nature, following the lunar calendar as many countries in Asia tend to do. For this reason the dates vary year to year with 25 public holidays to contend with. The country can grind to a halt at these times of year, though if planned properly - a coinciding visit can be made extra special by attending these special events. Here's our selection of some of the best.
What happens on Sinhalese and Tamil New Year?
For the Sinhalese and Tamils the new year starts with the beginning of the astrological cycle as well as the the start of the southwest monsoon and the end of the harvest season. Celebrated by both Buddhists and Hindus, it's a colourful event with large family dinners held at home and parties and fireworks out on the streets.
What is Vesak Poya?
This is the most important of Sri Lanka's Buddhist poyas to celebrate Buddha's birth, enlightenment and death. The country comes alive with lamps outside homes, streamers attached to cars and buses and decorated platforms erected in towns and cities. While devout Buddhist mediate and fast, free food is handed out from roadside stalls. For six days the sale of alcohol, meat and fish is prohibited. Vesak Poya also marks the end of Adam's Peak pilgrimage season.
What is Duruthu Poya?
Taking place on the day of a full moon, Duruthu Poya celebrates Buddha's very first visit to Sri Lanka some 25 centuries ago. It was at this time that Buddhism began to take a hold in Sri Lanka and today Buddhists celebrate with a parade at the Kelaniya Temple in Colombo. It's also a public holiday and marks the beginning of Adam's Peak pilgrimage season.
What is Navam Poya?
Another Buddhist event held on the day of a full moon, Navam Poya marks the day Buddha appointed two chief disciples, proclaimed a code of fundamental ethical precepts for the monks and announced his impending death. It's celebrated with a major perahera at the Gangaramaya temple in Colombo featuring over elephants, dancers and musicians.
Recommended tours
Signature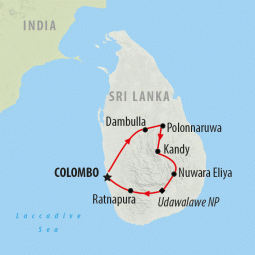 8 days FROM £1,235
Signature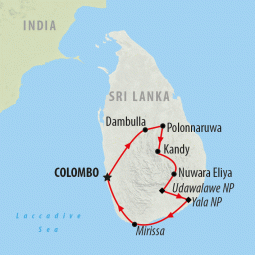 10 days FROM £1,815
Signature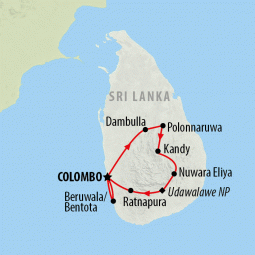 12 days FROM £1,315
Tourist Site Closures
Yala National Park, though more often only parts of the park close in September - October each year. Closure occurs when drought is experienced in the area and keeping areas off limits allows animals the maximum space to roam freely. It also gives the Department of Wildlife opportunity to fill temporary water holes and carry out other strategies to assist wildlife during this time.
The Colombo Museum is closed on Fridays throughout the year.
Sri Lanka Trip Styles

Group Tours

Family Holidays

Private Tours