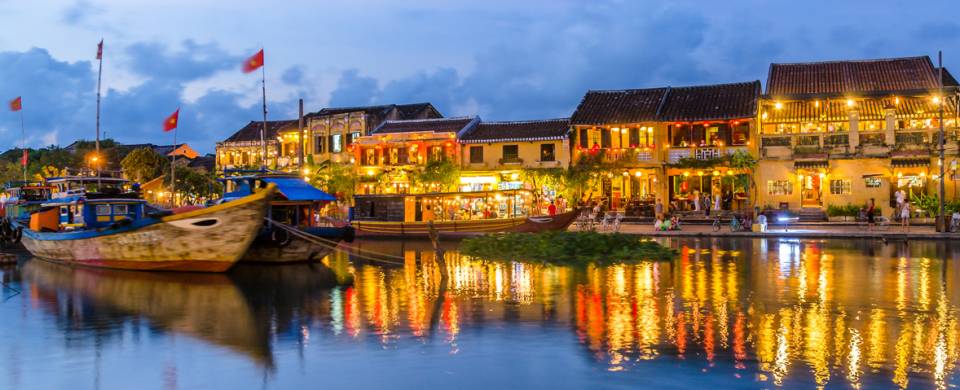 Trips and Tours to Hoi An
UNESCO Listed Hoi An in central Vietnam is a historic former merchant trading post, famed for its beautifully preserved Old Town with distinctive architecture, ancient cobbled streets and picturesque riverside location. The influence of past traders from Japan, China and Europe is evident in Hoi An with backstreets lined with large, attractive merchant houses, quaint tea stores and colourful pagodas. Walking through the Old Town is like travelling back in time several centuries. Over 800 historical buildings have been preserved, a handful of which are accessible to the public, and there are restrictions on modern development with no cars or motorbikes allowed in the Old Town.
Read More
Hoi An is awash with art stalls and markets, fabulous restaurants and cooking schools, not to mention streets lined with tailor-shops (there are said to be over 300), all catering for the town's thriving tourist trade. Nevertheless Hoi An still manages to retain its traditional character and charm and Hoi An's quiet and relaxed pace of life adds to its effortless appeal and this picturesque town is undoubtedly one of Vietnam's finest gems.
Within striking distance of Hoi An lies gorgeous countryside ideal for exploring by bicycle. Here you'll find small villages where farmers tend their fields with age-old methods. Out of town you'll also fine the white sand expanses of Cua Dai Beach where you can soak up some rays. Spending time strolling through the Old Town, exploring the merchant houses and museums, relaxing on the beach or by the river and experiencing rural life in the neighbouring villages is the perfect way to relax and unwind.
Best Time to Visit Hoi An
Vietnam experiences a dry season and a wet season and it's better to visit during the drier periods when the skies are largely clear, especially if you're planning on spending time on the beach. The monsoon rains affect parts of Vietnam at different times of the year but for Central Vietnam and Hoi An, the dry season is between March and August with near constant sunshine and high temperatures. September is a month of transition as rainfall starts to increase with the months between October and December experiencing the most rainfall with flooding in the Old Town fairly likely. January and February is the tail end of the wet season so the rains are easing and some nice weather is possible so it's not a bad time to travel to Hoi An.