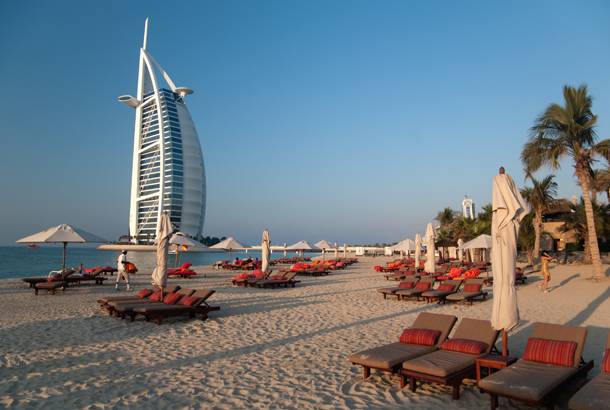 Seasons and Weather
Sitting right in the middle of the desert, Dubai only really has one season: the hot and dry season. Sometimes it is just hot as opposed to really, really hot but the heat never dissipates, making it an ideal location for those who want to bask in the sun's warming rays and top up on vitamin D - especially if escaping the cold winter of Europe. Despite the year round sunshine, there are times that are more popular for visiting than others.
November through to March tends to see bright blue skies and what some might consider to be ideal beach-going weather or an opportunity to also visit The Miracle Garden for the best floral attractions. The heat still packs a punch during these months but slightly less so than the fierce weather that extends from April to October. This summer period is better for avoiding crowds but the heat can get truly intolerable as can the humidity so choose your vacation window carefully. Having said this, all shopping malls, hotels and restaurants are well air-conditioned so touring Dubai's indoor attractions can be done at any time during the year.
Thinking of visiting Dubai? Download a copy of our Middle East and North Africa brochure for inspiration.
Climate | Dubai
| | Jan | Feb | Mar | Apr | May | Jun | Jul | Aug | Sep | Oct | Nov | Dec |
| --- | --- | --- | --- | --- | --- | --- | --- | --- | --- | --- | --- | --- |
| Temp Min °C | 15 | 16 | 18 | 21 | 25 | 28 | 30 | 31 | 28 | 24 | 20 | 17 |
| Temp Max °C | 24 | 25 | 28 | 33 | 38 | 40 | 41 | 41 | 39 | 36 | 31 | 26 |
| Rainfall (mm) | 8 | 2 | 5 | 1 | 3 | 0 | 0 | 1 | 1 | 1 | 1 | 7 |
Upcoming events
To help plan your visit to Dubai, here's an overview of the festivals and events taking place over this year. This is by no means an exhaustive list so if you are thinking of heading to Dubai outside of these dates and want to know what's on, check out this comprehensive list.
2021:
January 1st-February 1st -
Dubai Shopping Festival
January 28th-31st -
Dubai Desert Classic
February 26th-28th -
Dubai International Jazz Festival
March 11-13th -
Taste of Dubai
May 12th-13th -
Eid ul Fitr
There's also a number of national holidays in Dubai and on these dates many businesses and some tourist sites will close for the day so plan your visit accordingly.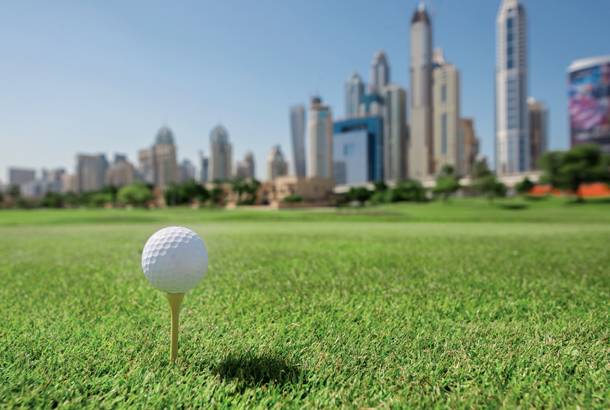 Festivals and Events
A gleaming oasis in the middle of the desert, Dubai is one of the world's most luxurious holiday destinations but its appeal isn't just limited to fancy hotels and endless sunshine. Throughout the year, this city plays hosts to a number of festivals celebrating everything from religion to retail. Time your visit so that you can take part in some of the most extravagant events on the planet.
What is the Dubai Desert Classic?
Teeing off at the world famous Emirates Golf Club, this golf championship draws in some of the top players in the world for some intense ball-hitting and club-swinging action. Sponsored by Omega, winners of this tournament are rewarded with generous cash prizes. The winner of the 2016 tournament was awarded a staggering 400,000 euros!
What is the Dubai International Jazz Festival?
Based in Dubai's Media City, the Dubai International Jazz Festival is one of the biggest music events in the Middle East which draws in A-list artists to perform from all over the world. The award-winning event has seen the likes of Sting, John Legend and James Blunt on past line-ups, with each year bringing bigger names and bigger crowds to match.
What is the Taste of Dubai Festival?
What is better than good food? A whole festival devoted to it! Among the many events at Taste Dubai is the cooking challenge, where visitors can sign up to cook alongside a celebrity chef and the best creation will win a prize. There will also be cookery shows as well as plenty of opportunities to buy and eat all kinds of gastronomic treats. Live music will also take place on the big open-air stage, while children can play in the allocated kid's zone.
What is Eid ul Fitr?
This festival celebrates the end of the holy month of Ramadan, an Islamic ceremony, which involves fasting from dawn to dusk. Live music, singing, dancing, smoking and even chewing gum are all strictly forbidden during this period. However, once the sun sets, banquets are set up under Iftar tents and people eat and mingle until bed time. Needless to say, when Ramadan comes to an end, people celebrate with lavish Arabian feasts and endless festivities, making it a good time to visit Dubai.
What is the Dubai International Film Festival?
Created in 2004, the Dubai International Film Festival aims to promote cinema from the Arabic world by giving fresh talent a platform from which to showcase their work. Encompassing both feature films, documentaries and many other genres, attendees of the festival need never tire of watching just one type of film. There is also a range of competitions for which filmmakers and actors can win hefty cash prizes.
What is the Dubai Shopping Festival?
Lasting the whole month of January, this is a retail-fest unlike any other. Prices plummet as millions of shoppers flock from every corner of the globe to get their hands on a bargain. Along with the shopping frenzy, this festival is celebrated with live concerts, raffle draws for cash and cars, fireworks and flash mobs. You might even witness a Guinness world record being set if you're lucky.