Northern Thailand
Northern Thailand is a region of breathtaking natural beauty. With its verdant mountains, forests and rivers, it's a landscape that offers endless opportunities for trekking. Yet what makes this part of Thailand even more appealing is the colourful hill tribes that call it home.
Located at an important and historical junction between Laos, Myanmar and China, northern Thailand has long been a place where people, trade and ideas meet. Several hundred years ago, ethnic minority groups migrated from these three surrounding countries to settle in northern Thailand as a result of civil war and political pressure. Inhabiting the highlands and hilly areas, they became known as 'hill tribes', or Chao Khao in Thai.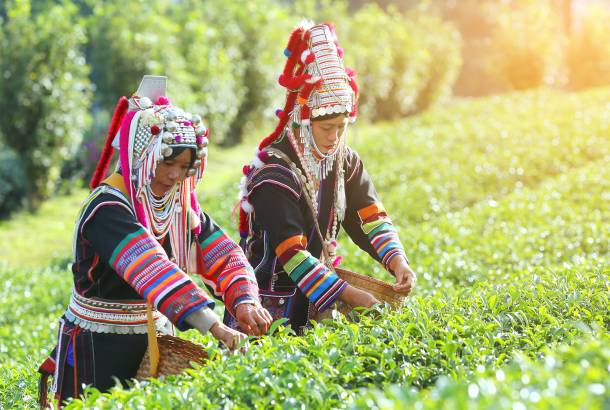 An Introduction to the Hill Tribes of Northern Thailand
Traditionally, Thailand's hill tribes have lived as subsistence farmers. There are seven main tribes, known as the Akha, Lahu, Karen, Hmong/Miao, Mien/Yao, Lisu and Palaung. However, as the term collectively refers to all of the ethnic minority groups living in the region, it fails to distinguish the important differences between them. Although different hill tribes share some festivals, they each have their own cultures and languages. Here's a closer insight into the main hill tribes you can expect to encounter when trekking in northern Thailand.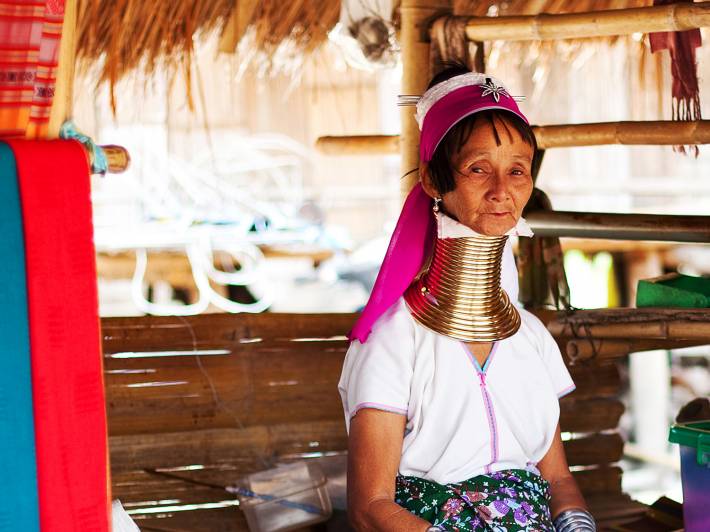 Thailand's Hill Tribes
Karen
The Karen Hill Tribe is the largest in Thailand, with a population numbering in the millions. There are several different subgroups of Karen, each of which also have their own customs, dress and language. The most recognizable is the long-neck Paduang or Kayan Lahwi. Women of this hill tribe are known for wearing stacks of metal rings around their necks, which have been placed since birth and distort and elongate the appearance of their necks. They also traditionally wear sarongs and a colourful cloth headpiece.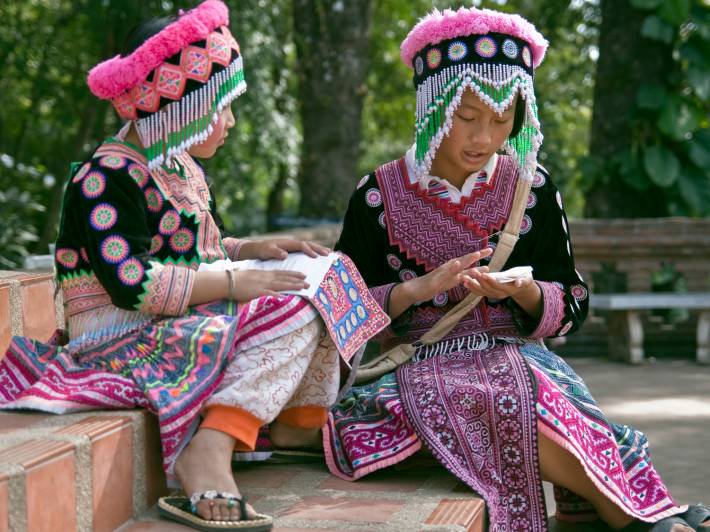 Thailand's Hill Tribes
Hmong
Also known as Miao, the Hmong Hill Tribe have migrated from the mountainous southwest of China to northern Thailand, Laos and Vietnam. With a population of around 125,000, they are the second largest hill tribe in Thailand and have three subgroups: the Black Hmong, White Hmong and Striped Hmong. Each subgroup is distinguished by their costume, however the easiest way to recognize a Hmong village is by their wooden houses. Unlike the raised stilt bamboo houses of other tribes, the Hmong build on ground level.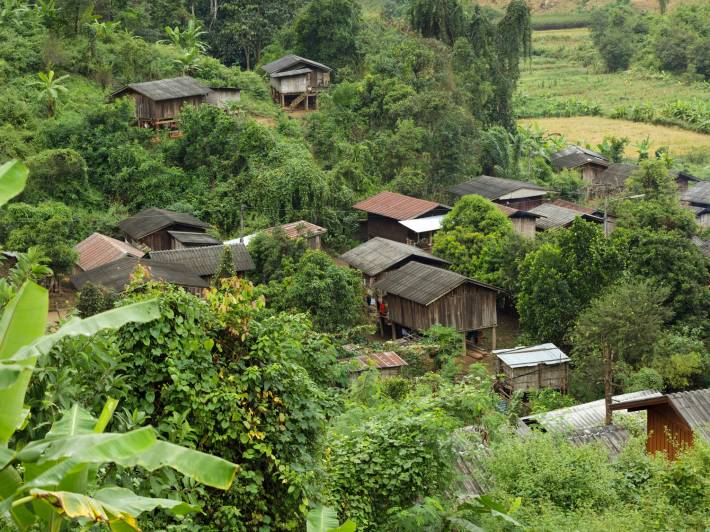 Thailand's Hill Tribes
Lahu
Numbering around 60,000, the Lahu hill tribe originally lived on the Tibetan Plateau before migrating to the Chinese Province of Yunnan. Under pressure of Chinese domination, they then moved to northern Thailand in the late 19th century. Similarly, the Lahu have around five subgroups including the Red Lahu, Yellow Lahu, White Lahu, Lahu Sheleh and the Black Lahu. The latter of which are the largest subgroup, with distinctive costumes of black cloaks with cream stripes and bright red on their sleeves.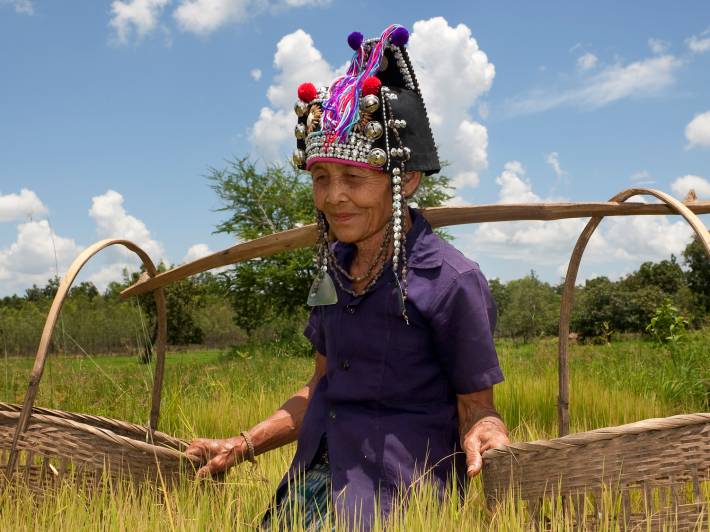 Thailand's Hill Tribes
Akha
The Akha Hill Tribe have a population of around 40,000 in Thailand and just two subgroups, the Loi Mi and the U Lo. The women of this hill tribe are famous for their traditional costumes, with their colourful patterns and elaborate headdresses which define the age and marital status of the wearer. Each headdress is unique and decorated by the owner with embroidery, beads, shells, feathers, coins, bells and much more. Whereas the Loi Mi wear a distinctive metal plate on the back of their headdresses, the women of the U Lo subgroup wear headdresses of a conical shape.
Best places for Hill Tribe Trekking in Thailand
All of the seven main hill tribes in Thailand can be found in the northern region, with Chiang Mai and Chiang Rai providing the perfect base for trekking and experiencing these villages. With good infrastructure and a range of activities and accommodation options, these two cities could be visited separately or combined in one trip. Here's a closer look at what they have to offer.
Situated in a lush valley on the banks of the Ping River, Chiang Mai is known as Thailand's second city. Founded in 1296, it was once the capital of the ancient Lanna Kingdom and its long history is evident in the array of wats and temples that remain today. Wat Phra That Doi Suthep is the most famous, with its gleaming gold stupa overlooking the city.
The surrounding area offers green countryside and pristine rainforests, with markets, waterfalls and, of course, peaceful hill tribe villages. And once you've finished exploring or trekking, Chiang Mai also has an abundance of restaurants and street food to enjoy.
Drive 3-4 hours further north from Chiang Mai and you'll discover the city of Chiang Rai. Overlooking the Kok River in the highlands, Chiang Rai is often hailed as Chiang Mai's smaller sister. Its sights include the historic Wat Phra Kaew, the most important temple in the city, and the unconventional White Temple, with paintings of modern characters such as Superman inside.
The hills and mountains surrounding Chiang Rai are dotted with hill tribe villages. And if you're looking for more outdoor activities besides trekking, you can enjoy a scenic ride along the river in a traditional longtail boat or visit the Golden Triangle, for views of the intersection where Thailand, Laos and Myanmar meet.
Ways to Visit Thailand's Hill Tribes
There are three main ways to visit Thailand's hill tribes. So to help you decide what's best for your itinerary, here we take a look at each one.
Day Trips and Centres
In both Chiang Mai and Chiang Rai, you'll easily be able to find day trips offering short treks, visits to a waterfall or temple, as well as a visit to a local hill tribe community. These are a great opportunity for those short on time, that would like to see Thailand's hill tribe communities in their own villages and gain an insight into their way of life.
Alternatively, there are established hill tribe centres that you can visit such as the Baan Tong Luang Hill Tribes Village. Located a 30-minute drive from Chiang Mai, this exhibition village has been created to display and educate visitors about five of Thailand's hill tribe groups. Whilst this is an easily accessible way to see Thailand's hill tribe communities, visitors should be aware it does not offer the same experience as visiting one of the actual villages.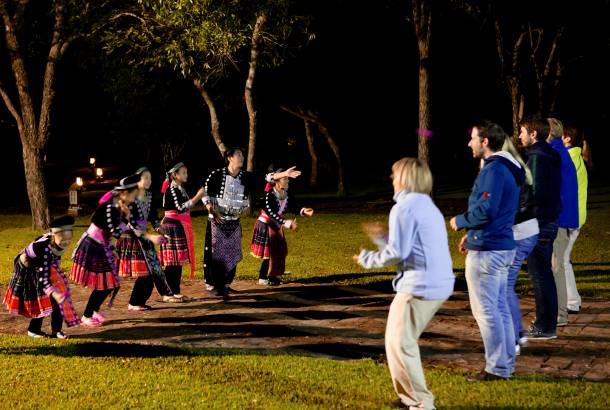 Staying in a Community-Run Lodge
Another option for visiting Thailand's hill tribes is to stay at a community-run lodge such as the Hmong Hilltribe Lodge, found a one-hour drive from Chiang Mai.
From the lodge, guests can explore the surrounding countryside and visit nearby hill tribe villages. In the evening, there's a BBQ dinner before Hmong people from the village of Mae Khi come to perform and communicate their culture through song, rituals and dance.
Other lodges offer an insight into different hill tribes, with differing levels of involvement with the local community and a range of prices. Staying at a community-run lodge provides employment and a source of income for these communities, whilst you enjoy the comforts of your accommodation.
Trekking and Homestays
There's a range of trekking options available in northern Thailand, from 2-day 1-night treks to 7-day adventures. Generally, the longer the trek, the more remote the hill tribes that are visited. Trekkers tend to stay with these communities in either small trekking huts or homestays, eating meals with their groups or their host families depending on the location.
The difficulty rating of these treks can vary, however, as you will be visiting hill tribes, the routes certainly won't be flat. Longer treks may also incorporate porters to carry the main luggage, any equipment and food needed for the duration. Overall, 3-day 2-night itineraries are the most popular choice, with additional activities included such as visiting waterfalls and bamboo rafting.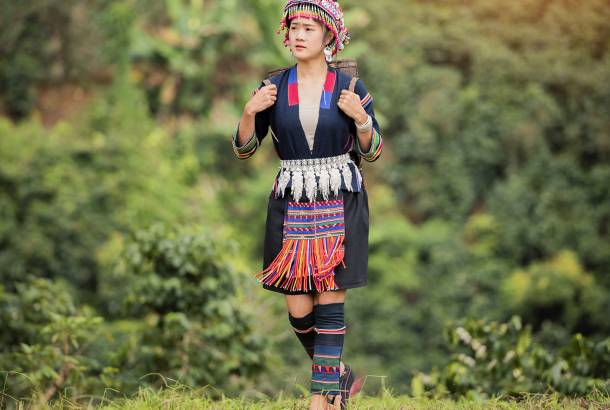 Best Time for Hill Tribe Trekking
Thailand's hill tribes can be visited year-round, however, between March and May, slash and burn agriculture can cause a great deal of smog. Rainy season then runs from June to October, when wet conditions can cause some of the trekking routes to be closed.
The best time for hill tribe trekking is therefore from November to March. This is also the cool season in Thailand, so be sure to pack some warmer clothing as the evenings can get chilly in the north.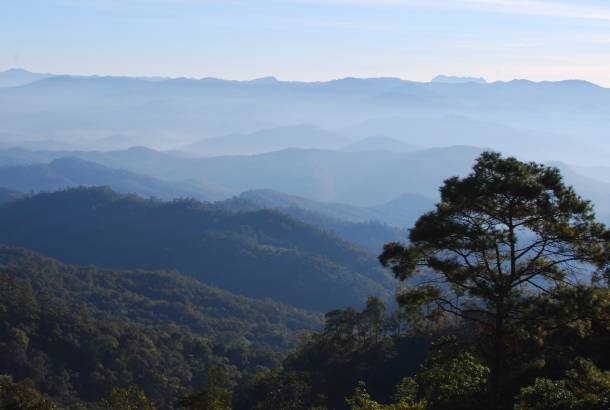 Getting Off The Beaten Track
Hill tribe trekking is one of the most popular activities in northern Thailand, so trails can get crowded during busy times, particularly those starting less than two hours' drive from Chiang Mai. If you're looking for a more remote experience, the best destinations are the towns of Pai or Mae Hong Son.
Whereas Pai has a distinct backpacker atmosphere, Mae Hong Son sees fewer visitors due to the 5.5-hour twisting drive to get there from Chiang Mai. Depending on your chosen trekking route, it is possible to visit all of Thailand's hill tribes from these towns.
What to Expect
Whilst visiting Thailand's hill tribes does offer a unique insight into their lives and cultures, it's important to have realistic expectations about what you'll see. Traditional costumes in many hill tribes are worn for special occasions only, so don't be disappointed to see local people in more typical t-shirts and jeans when you're visiting their village.
Many local communities have also embraced the economic opportunities that come with having tourists visit their homes. Therefore you'll find some villages to be more commercialized than others and it may be worth going further afield if you're after a more authentic experience.