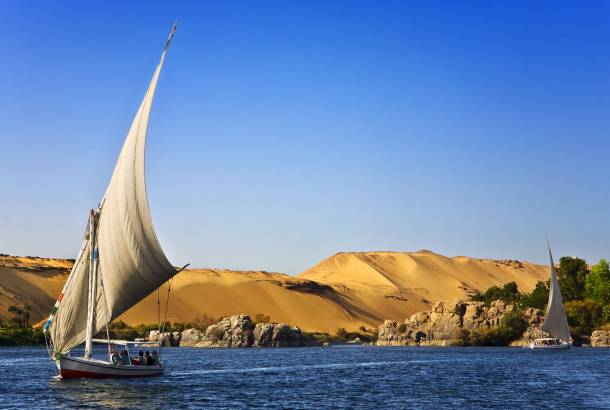 What is Felucca Sailing?
Feluccas are simple, traditional Egyptian sailboats, that have plied the mighty Nile since ancient times. Our feluccas are proudly owned and crewed by friendly local sailors and they have been adapted to comfortably carry our travelers. Felucca sailing is frequently hailed by our travelers as one of the highlights of their trip. The majority of our Egypt trips include a 2-night felucca cruise, with the option to upgrade to a 5-star Nile cruise instead.
Being a wind-powered craft with no motor, feluccas are dependent upon the breeze to propel them forward. During a felucca cruise, out tour itineraries are not rigid, they are adapted depending on the conditions and the progress we can make downstream. However, during our cruise, we make plenty of stops at points of interest and ideal places for swimming, so you won't miss a thing regardless of the wind.

On our Signature tours we have a Felucca Support Boat with western toilets, running water and an additional lounge / dining area. This support boat escorts the felucca downstream, making for an even more comfortable and enjoyable experience.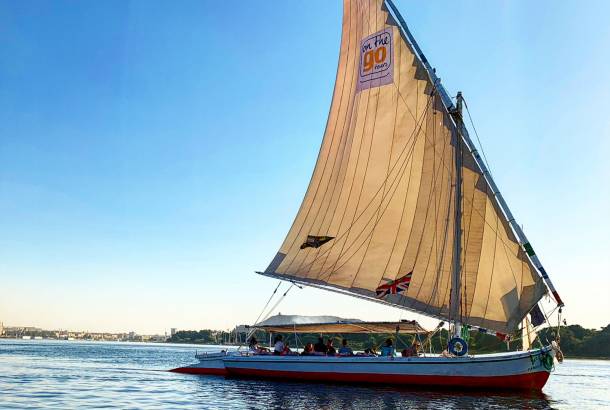 What's on board?
Feluccas carry between 8 - 12 people comfortably and there are also some larger feluccas, which can accommodate up to 18 passengers. The boat's deck is draped with soft colorful cushions that serve as your lounging and meal area during the day and as your sleeping area at night. Relax under the shade of the canopy, top up your tan in the sun and share evenings with new found friends after whiling away another leisurely day.
You need to bring a towel with you and can opt to bring a sleeping bag/sleeping sheet if you wish, though we suggest hiring locally a freshly laundered winter warmth blanket for USD$15 (total) for the 2-night stay. The crew, as well as being experienced sailors, are responsible for the preparation of the included meals, though they welcome helpers! The food is simple but there's plenty of it. Water, soft drinks and beer can be purchased aboard at a very reasonable cost, a tally for which is kept. On the last day, everybody pays his or her drinks bill.
To give you more of an idea of what to expect on our feluccas, check out this video by our friends Stephen and Jess at Flying the Nest.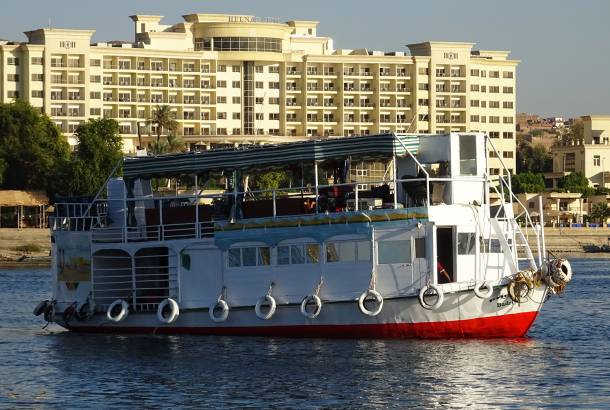 Felucca Support Boat
On all of our Signature range tours we include a support boat which accompanies our sailing feluccas. Our support boat offers two toilets, running hot and cold water and washing facilities. There is also a cozy seating area at the rear of the boat, outfitted with colorful fabrics and cushions and a table offering an alternative location (in addition to the deck on your felucca) to share a meal or cold drink with fellow passengers.
Preserving the natural state and beauty of the Nile basin and in support of reducing environmental damage on board our felucca cruises, we operate a simple yet effective and hygienic waste disposal system. Please ensure that you abide with our request that all toilet paper and sanitary items are deposited in the waste paper baskets provided. Drink cans should be compacted and cigarette ends disposed of responsibly.